An Open Letter to Virginia, From DC: I'm Sorry for the Trash Talk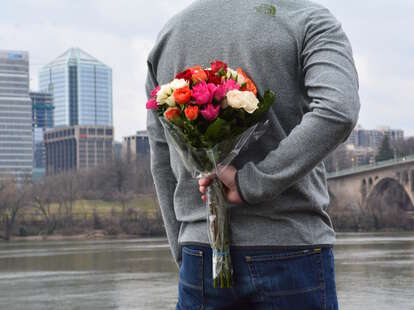 Dear Virginia,
Hi, it's me.
DC.
Look, this isn't easy... but I need to apologize. Sometimes, a city needs to grow up and tell a state how deeply sorry it is. Today's the day, Virginia.
I've taken you for granted for decades, and twisted the knife so many times. My denizens have penned stories like "Virginia sucks," then poured salt into the wound by saying stuff like, "It takes a lot to get me to Virginia for dinner." Come on... this isn't the Oregon Trail. Crossing the Potomac doesn't necessitate caulking a goddamn wagon. Besides, getting to many of my nightlife neighborhoods is just as problematic -- that H Street NE streetcar, for example, is about as useful as a pogo stick. I'll freely admit that.
And let's not even discuss Georgetown.
The shaming and complaining about the Commonwealth ends now. DC residents: don't let snobbery keep you from missing out on some of the best food and drink the area has to offer. Virginia, I owe you a formal apology, for downgrading you, overlooking you, and pooh-poohing you as something less than a treasure trove of good eats. I'm genuinely smitten with your food scene. Despite your shortcomings (Gate 35X at Washington National Airport -- just burn it), the truth is, I love you.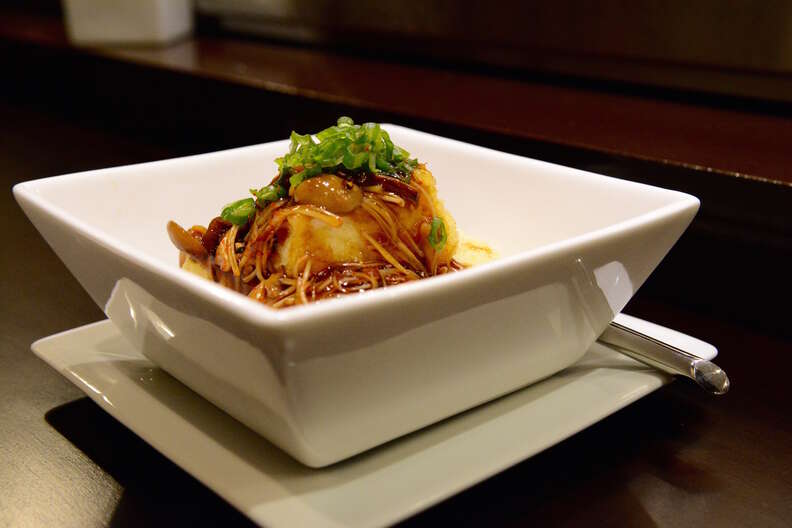 Oh, how I dig your food scene, VA. Name a cuisine, and there's a restaurant on your turf that's batting 1,000. Old Town newcomer Hank's Pasta Bar can call the Washington Post's Tom Sietsema an early fan; Peter Chang in Arlington can take you to Sichuan province without 15 hours of air travel; Nostos, in Vienna, is a big fat Greek wedding; Japanophiles find Takumi Sushi in Falls Church sugoi thanks to its menu of izakaya dishes; southerners taste home at Vermilion in Old Town, where classed-up hushpuppies and pimento dip are on point; and Texas Jack's offers more-than-decent 'cue.
Then there are the areas where you outright trump me. Aside from a few food trucks (and Taqueria Habanero, natch), I can offer nothing like the bliss that is Taco Bamba in Falls Church. There, RAMMY award-winning chef Victor Albisu slings $3 tacos like "el beso," which comes packed with crispy pork and beef tongue; "birria," filled with spicy goat; and "la poutina," which combines fries, barbacoa jus, Cotija cheese, and bacon in one hell of a play on poutine. Plus, it recently launched a guest chef series, which means we can all look forward to crazy taco collaborations.
You also destroy me at ramen. While I'm left weighing the merits of Toki Underground and Daikaya, you have myriad options. Places to slurp noodles are as pervasive in Northern Virginia as 13.1 bumper stickers. Yona in Ballston serves five takes, from the seductive miso pork ramen -- which comes in a rich, silky broth -- to the decadent king crab ramen with uni butter. Other top players in the VA ramen scene: Tanpopo Ramen House in Annandale; Marumen Ramen Shop in Fairfax; and Gaijin Ramen Shop in Arlington.
You can't see it, but right now, I'm flipping the bird to my frequently overvalued "restaurant concepts" and "cocktail programs," in favor of super solid Korean barbecue in Annandale. I'd rather singe my eyebrows at places like Yechon, Kogiya, and Honey Pig, gulping soju with the crowd.
When I want to eat food so spicy I sweat like I'm entering the ring against Ronda Rousey, I'll head straight to China Star in Fairfax. But for that scary, numbing style of spice, I'm bound for Hong Kong Palace in Falls Church, where every bite of that mapo tofu feels like a science experiment: after one bite, a sip of water tastes like potpourri, and after three gulps, we're talking a full-on LUSH bath bomb.
There's also the amazing Vietnamese playground that is Eden Center. Thanks, Virginia, for allowing me to mainline fish sauce at places like Huong Viet and Rice Paper. The menus are long, which always leaves me with a nasty case of FOMO, but I've learned to look beyond pho and banh mi in favor of dishes like Bún Riêu Ốc (rice vermicelli noodle soup topped with crab, snails, and shrimp paste, served in a tomato-based broth. Yes, it's delicious).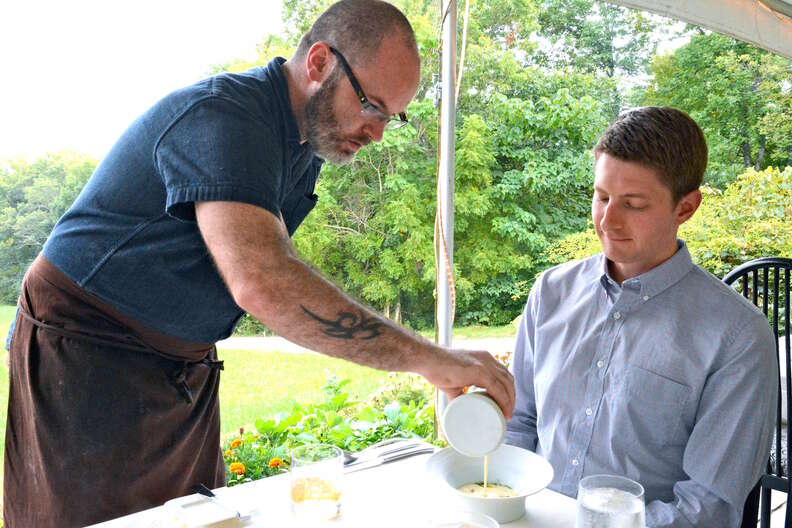 Virginia, you're also my favorite place to splurge: the Restaurant at Patowmack Farm is worth every penny, with its postcard setting in Lovettsville and savant of a chef. Trummer's on Main in Clifton is so charming it could make John Oliver's Janice in accounting smile (oh, that barbecue bone marrow). Restaurant Eve in Old Town is a seal-the-deal spot, as the setting and service wraps diners in romance. BRABO channels Belgium. And 2941 Restaurant in Falls Church offers a solid wine list and tranquil views -- despite its office park address.
If my love for you had previously been a slow burn, it's now reached hot, hot honeymoon heat. A couple of your neighborhoods have become gastronomic destinations in the past two years, which inspires me.
Ballston, for example: I'd like to do a Mike Isabella trifecta, first warming up with cocktails at the restaurateur's Pepita Cantina, then tackling a seafood tower at the raw bar at Kapnos Taverna, and finishing at Yona with what may be the best dish in the DMV: a waffle topped with ikura, caviar, taramasalata, and uni.
Ballston can also boast SER Restaurant, which serves as a reminder that Spanish food is more than just tapas -- chef Josu Zubikarai makes paella like a boss.
I love a full day in the Mosaic District, starting with strong drinks and charcuterie at B Side, then onto Brine, where it's all about bivalves... and another round of drinks, because hey, it's cool, I took the Metro. For the main event, I'm down for dinner at Requin from former Top Chef contestant Jennifer Carroll, who offers stellar Mediterranean fare in the former Gypsy Soul space.
Virginia, I also need to tip my hat to your markets. I love coming home with a full trunk of goods from Red Apron Butcher, MediterraFish, or the butcher shop at Sehkraft Brewing. Yes, a butcher shop in a brewpub: in addition to having 30 draft lines and brewing its own beer, this Arlington spot will make sausages from your own recipe, if you ask nicely. Another butcher that brings serious game: the Organic Butcher in McLean... which pairs well with Society Fair in Alexandria, Cheesetique in Shirlington, and Planet Wine in Del Ray.
Finally, I'm sorry for discrediting your bar scene. The aforementioned Pepita Cantina in Ballston has a cocktail list longer than Kirk Cousins' contract demands, and Alexandria's bar scene glows with Bar PX and Captain Gregory's.
For beer, Space Bar in Falls Church is a temple of craft beer and grilled cheese that lets me be myself. And when it's time to unwind with something red or white, Northside Social is there, serving intriguing, esoteric bottles and old favorites alike.
For all these reasons and more, I can't get enough of you, VA. I'm sorry for the cheap shots. I'm sorry for the put-downs. I'll do better. In return, I just ask that you let it go -- you've upped your game hard in recent years, and proven that Virginia truly is for hustlers.
With love,
The District
Sign up here for our daily DC email and be the first to get all the food/drink/fun in town.
Laura Hayes is a DC-based food, drink, and travel writer who also contributes to Washington City Paper, Food Network, Arlington Magazine, Northern Virginia Magazine, and others. She's a recovering Virginia hater who now "crosses the river" twice a week. Follow her on Twitter @BTMenu.