The Best Places to Go Apple Picking in Virginia
Fall is on the way: The Onion's Mr. Autumn Man is set to emerge from his slumber, people will soon be exceptionally passionate about decorative gourds, and everyone is about to go pick some apples. A majority of Virginia apples come from the northwest corner of the state, though there are plenty near Charlottesville, too. Fun fact: Virginia is at the southernmost reaches of apple-producing regions in the United States. Apples should be grown when nighttime temperatures are cool, and -- in a state that can get as warm as Virginia -- it's one reason why apples are grown 800 feet above sea level. 
If you're in the mood to drive out from DC to go get some fresh apples, then here are seven great orchards for a daytrip. Though, don't wait too long -- apple picking in Virginia only lasts through the end of October.
Markham
How far is it: 1-hour drive 
Stribling Orchard traces its roots back through six generations of farmers to 1812. There are 35 acres of apple trees, 15 acres of peach trees, and a bakery that's open on the weekends. Stumble across quietly stacked boxes of beehives and wonder how the honey tastes. Though, as you're doing this, don't forget the advice they gave to the Fauquier Times: there's rain this time of year, so check the forecast before you go to see if you should wear your boots.
Price: One peck is $15
Roseland
How far is it: 3-hour drive
Slightly southwest of Charlottesville is Dickie Brother's Orchard. It's one of Virginia's oldest continuously operating farms, too, soldiering on in one form or another since 1750. If its harvest calendar is any indication, then you should be on the lookout for Red Delicious, Empire, and Granny Smith apples this fall.
Price: $1/pound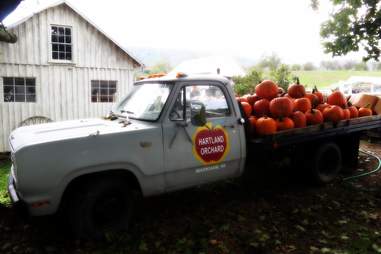 Hartland Orchard

| John M/Flickr
Markham
How far is it: 1-hour drive
Here's a fun fact: there's such a thing as a Summer Rambo apple. And while it's tempting to imagine an apple personifying Sly Stallone, it's simply a corruption of the word "Rambour d'été" -- or "an apple that's grown in France in the summer" -- and it's one of the many varieties you can find at the Hartland Orchard. You can also see if the cows will follow you up the road, as this video sought to investigate. 
Price: $12 for half-a-bushel bag, $20 for a full bushel
Lovingston
How far is it: 3-hour drive
At Drumheller's Orchard, a fifth generation farm, you'll have Jona Gold apples waiting for you (which, apparently, will give you a sense of how apples tasted for some folks in the 1820s) as well as Virginia-native Grimes Golden apples, and Mutsu apples from Japan. There's also Stayman, Winesap, and, if you're lucky, a late-season selection of peaches.
Price: $7 a peck
Carter Mountain Orchards apple cider doughnuts

| Via Tsuji/Thrillist
Charlottesville
How far is it: 3-hour drive
The Gala apples are ready, and the gorgeous views continue at the Carter Mountain Orchard in Charlottesville. (Allegedly, it's a "40-mile view.") Go for the cider donuts. Go to gather on the hill with others to watch the sun set. Go to let your dog run around. Go for the on-site tasting cellar, which is sure to top off your day quite nicely.
Price: You pay by the pound, but there's no fee for picking.
Bluemont
How far is it: 1-hour drive from DC
Super exciting news! This year, Great Country Farms is opening a cidery, that's slated to launch in mid-September. (Keep an eye out for "Henway Hard Cider.") More broadly, however, it's best to get to the farm mid-day before the crowds and good apples run out, and be sure to grab a freshly baked apple cider donut for the drive home.
Price: Admission is $8 for children 3+, $10 for adults 18+
Berryville
How far is it: Hour-and-a-half drive
Complete with a guide for "how to harvest" its apples, Mackintosh Fruit Farm also offers lovely farm dinners, like the one they're hosting on October 12. It's free to pick samples at the farm, but the owners urge you to limit yourself to just that -- a sample -- and tip for the taste. Visitors should expect to find slightly smaller, sweeter strawberries this year.
Price: Prices are posted in Mackintosh's weekly newsletter.
Sign up here for our daily DC email and be the first to get all the food/drink/fun in town.
Evan Fleischer is a writer and a fiction editor at Hobart Pulp.