Gorgeous Orchards for Apple Picking Just Outside of DC
No matter where you are in the District, perfect apples are in reach.
Come for the scenic drive through Maryland and Virginia (and the Galas and Granny Smiths, of course), and stay for the farm markets filled with apple cider donuts, cheeses, and pies. Traipsing through verdant orchards full of red and green fruit is one of the DMV's greatest fall pursuits, and you won't want to miss it this fall. So we've rounded up eight orchards in Maryland and Virginia where you can go apple picking and made note of other activities on site as well as nearby cideries blending apples into boozy beverages so you're sure to have the full apple picking experience.
Germantown, Maryland
Distance from DC: 40 minutes
Located on 300 acres, Butler's Orchard offers pick-your-own apples from early September to mid-October. Reserve a 1.5-hour time slot on the website and select the fruit and vegetables you plan on picking from options like red raspberries, apples, herbs, and pumpkins. The orchard's market also offers seasonal fruit and vegetables, local meat and dairy, and apple cider donuts.
Woodbine, Maryland
Distance from DC 1 hour
Drive through scenic Western Howard County to Larriland Farm, where you'll find nearly two dozen varieties of apples, including Braeburn, Golden Delicious, and Magnolia Gold from August to early November. The family owned farm features a daily harvest on its website so you know what to expect before you arrive. Stop in the Red Barn Farm Market, where you can pick up local free range eggs, cheeses, Larriland honey, and Fisher's popcorn and peanuts to take home.
Purcellville, Virginia
Distance from DC: 1 hour
The no-frills farm in Western Loudoun County has been in the Brown family for more than 250 years. Fall at the farm brings pears, pumpkins, apple cider, and apples that are already picked, in addition to a pick-your-own experience. Enjoy the fruits of your labor on one of the picnic tables available on the orchard.
Thurmont, Maryland
Distance from DC: 90 minutes
Catoctin Mountain welcomes apple pickers every Saturday and Sunday in September and October, when guests can choose from Blondee, Cameo, Cortland, Mountain Honey, and other varieties in the pick-your-own orchard. Get some jarred jams and pickles, pies, and popcorn at the market or pick up some fresh cut flowers while you're there.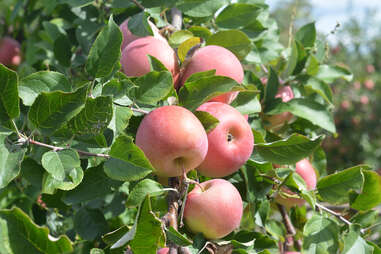 Bluemont, Virginia
Distance from DC: 90 minutes
Apple season begins late August and lasts through early October at Great Country Farms, featuring Honey Crisp, Gala, Jona Free, and other varieties. Maintain social distancing measures and don a mask inside in the market, where shoppers will find cider donuts, sandwiches, soups, and eggs, which can be ordered online in advance for pickup. After all of that picking, grab some peach or rose cider afterwards at Henway Hard Cider, located next door.
Berryville, Virginia
Distance from DC: 90 minutes
This farm allows you to reserve a time slot online between 9 am to 2:30 pm, but we recommend getting there early to ensure you get a good selection. Note that the admission fee ($12 for adults, $10 for kids) doesn't include fruit, which is sold separately. The farm has reopened its play area, so kids can go gem mining, play mini golf, and visit chickens and other animals, and adults can take a quick drive to Henway Hard Cider for drinks post-picking.
Winchester, Virginia
Distance from DC: 90 minutes
Pick-your-own apples cost $8, $12, and $16 for small, medium, and large bags. The farm also lets visitors select their own blackberries, tomatoes, peaches, and flowers. Bring the kids to enjoy the wagon rides, playground, and cow train.
Charlottesville, Virginia
Distance from DC: 3 hours
Located down the road from Monticello, the dog-friendly Carter Mountain Orchard offers Gala, Ginger Gold, and Lodi apples available for picking through late November. Make a day of it and visit Bold Rock Tap Room to taste the hard ciders made with local apples while drinking in the view. Swing by the country store and bakery to pick up the fresh-baked apple cider donuts, pies, and ice cream.