The Best Places to Exercise Outside in Washington, DC
SAUL LOEB/AFP/Getty Images
SAUL LOEB/AFP/Getty Images
With its varied architecture and low skyline, DC is a gorgeous, sunny place to spend time outside -- and offers a multitude of outdoor spaces in which you can get fit. DC even ranked a respectable second place in Forbes' "America's Top Healthiest Cities," (whatever, Minneapolis). We spoke with Josef Brandenburg, founder of the city's own True 180 Fitness, to learn more about how to turn the whole city into your gym -- regardless of your level of expertise.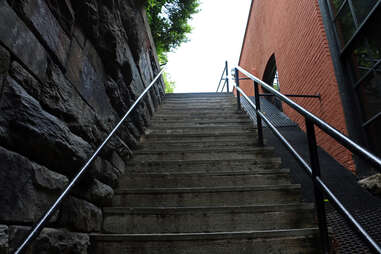 Give yourself a scary good workout on "The Exorcist Steps"
Georgetown
These three flights of famously steep stairs -- which were named a DC landmark in 2015 -- may be one of the most intense workouts in the city. While the staircase really is great for cardio and leg definition, you'll have to avoid tourists and students who travel along this gateway that connects Canal Rd to Prospect St. Brandenburg suggests warming up for at least five to 10 minutes before attempting to scale this official DC landmark. "Run up the stairs, but walk down them," he tells Thrillist. "Going down the steps is incredibly stressful on your joints." Bonus safety tip: make sure to run with your head facing forward.
Team up on the National Mall
Downtown
Surrounded by eight memorials and more museums than you could shake a, uh, Shake Weight at (sorry not sorry), the National Mall is a place where you can get a truly quintessential DC experience -- and get your heart rate up simultaneously. From the Capitol Building to the Lincoln Memorial, you'll see people playing soccer, flag football, and even volleyball. You can join some of the teams spontaneously, or look up teams on Meetup to secure yourself a spot ahead of time.
Ride a pony through Rock Creek Park
Adams Morgan/Woodley Park
Rock Creek Park is a semi-hidden gem within the city, providing over 32 hiking trails, including the Western Ridge or Valley Trail -- plus fitness-specific items to help you out along the way. "There's an exercise area located at the Calvert St entrance that has pull-up bars among other apparatuses to use," Brandenburg says. "When doing a pull-up, try not to kip, as it places more stress on your rotator cuffs." And for anyone who's looking to really mix up their workout routines, the park also offers tennis, golf, aquatic activities, and horseback riding.
Bike up (and down) the Metropolitan Branch Trail
NoMa
If you've fallen off from a fitness routine, we super-recommend getting back into action on the Metropolitan Branch Trail: this lovely eight-mile stretch extends from Silver Spring to Union Station, and once connected the nation's capital to the main line of the Baltimore and Ohio Railroad. It's perfect for beginners because the Capital Bikeshare program has locations at both its ending and starting points -- so if you're feeling super-spent after biking one way, you can always just hop on the Metro to get back to where you started.
Exercise with elephants at the National Zoo
Woodley Park
"Lions and tigers and bears… oh my!" The National Zoo's 163 acres is free to the public and open 364 days of the year, so you really don't have an excuse. Whether you choose just to walk throughout the entire zoo, or specifically explore certain areas like the giant panda habitat (um, do not miss the giant panda habitat), this is a peaceful, healthful way to indulge in the animal kingdom. "High-intensity interval training is popular and super effective," Brandenburg says. "However, everything doesn't need to be an aggressive or competitive workout. Sometimes it's just nice to spend some quality time walking around outdoors with some of the important people in your life."
Get scandalously fit on the Watergate Steps
Southwest quadrant
Known as the Watergate Steps, these 40 stairs lead to absolutely nowhere, but do provide gorgeous views of the Lincoln Memorial and Potomac River. Though you may not have a Rocky moment when you arrive at the top, running up and walking down a few times will have your cardio game on point.
Go for broke in Meridian Hill Park
16th Street
Located along 16th St, one of DC's most coveted avenues, Meridian Hill Park is kind of an oasis. The 13-basin cascading fountain creates this incredibly tranquil setting, which is matched by breathtaking views overlooking the city skyline. Take a deep breath and workout in what is designated as "a garden fit for an aristocrat, [but] open to the public," and is open until dusk. Brandenburg tell us that while this is a great place to spice up running and sprinting, your muscles, heart, and lungs get fitter much faster than your connective tissue -- so careful with the sprints if you're just getting back into shape.
Hit the water at the Key Bridge Boathouse
Georgetown Waterfront
The Key Bridge Boathouse allows water seekers the option to kayak and canoe, among other aquatic activities, while giving you a fish-eye's view of the monuments to boot. You can enjoy the river, which is conveniently situated in between faster upstream rapids and calmer waters downstream, no matter what your fitness level is. Brandenburg tells us that canoeing is a great entry-level activity, while those more skilled will go for the speed and difficulty of kayaking -- and reminds us that either way, it's a solid idea to always wear a lifejacket.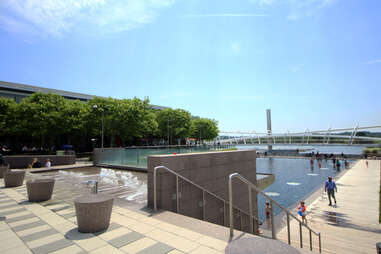 Find inner peace (or just a strong core) at Yards Park
Capitol Riverfront
Views of the Navy Yard make this place stand out already, but it's the free workout classes throughout the week, including Zumba and sunset yoga, that really make this place shine. This is definitely a great outdoor spot to get fit and/or find your zen. Plus, the Anacostia Riverwalk Trail is only a few feet away in case structured classes aren't your thing.

Challenge yourself on the Mount Vernon Trail
Theodore Roosevelt Island
Stretching from Theodore Roosevelt Island to George Washington's Mount Vernon Estate, the Mount Vernon Trail is one of the best ways to see the city while getting some cardio in. It connects with other trails like the Woodrow Wilson Bridge and Rock Creek, and it's a doable trail without competing for the road. "For beginners, the goal is to finish the trail, but if you're more advanced, work on getting the entire round trip (36 miles) done in two hours," Brandenburg says.
Sign up here for our daily DC email and be the first to get all the food/drink/fun in town.
Jai Williams is a freelancer for Thrillist, and a published photographer/writer who is addicted to 62.5-degree eggs. Follow @januarijai on Twitter or @januarijaimedia on Instagram.