Sometimes being a cheap date can be a very good thing; after all, the rent in DC is too damn high. Fortunately, these low-budget outings are so much fun, your date will hardly notice that you spent a Jackson instead of a Benjamin.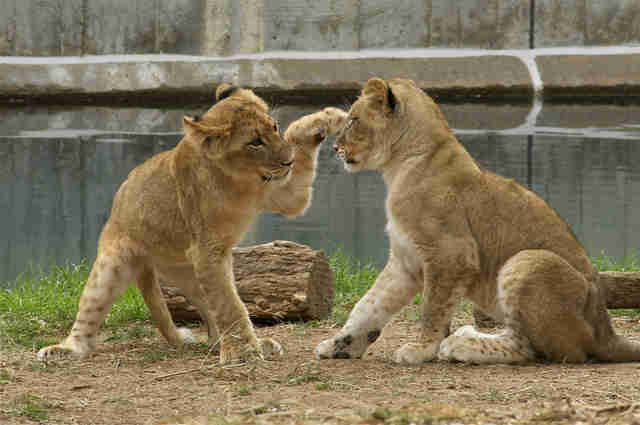 1. Take a walk around the zoo, then hit up Duke's Counter for a snack
Work up an appetite exploring the world-class National Zoo, where you meet cute animals 364 days a year, free of charge. After you've finished waving to the elephants, walk across the street to Duke's Counter, where you can split an order of the burrata and the chicken liver pate.
2. Challenge your date to a pinball tournament
Head over to Lyman's, where you can get into a serious pinball-off, and nab an order of sliders for $8, a pair of hot dogs for $6, and a draught for as low as $3. There's also free popcorn, with a topping station that offers such delicious options as Sriracha butter. Bonus: this is a dog-friendly bar, so it's a great spot for your date to meet your best friend… or just pet some of the regulars'.
3. Take your date to the cemetery (just… trust us)
The Congressional Cemetery is kind of poppin', you guys. There are movie nights, concerts, yoga classes, tours… catch one of the regular film screenings for $10 a pop, BYO picnic (including booze).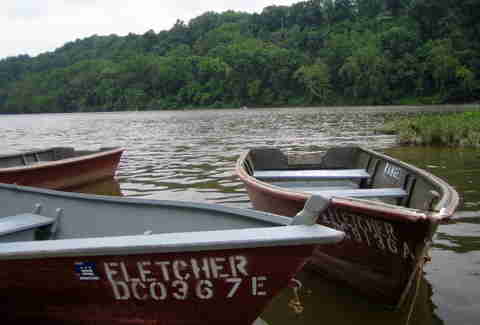 4. Go for a romantic rowboat ride
Rent a rowboat from The Boathouse at Fletcher's Cove and take a mini tour of the Potomac. Taking a rowboat tour of a beautiful river is a classic for a reason, y'all. It's $16 for an hour, which leaves you $4 worth of airplane bottles of booze to sneak aboard.
5. Check out the view from the roof of DC9
Head to the roof deck on Saturdays or Sundays, when entry is free, and an order of the requisite fried pickles is $6. Enjoy the sweet cityscape, accept that you want to take some selfies, and even consider dancing.
6. Pretend you know how to play pool at Atomic Billiards
Show up on a weeknight, when a game of pool and two beers will set you back $17 during happy hour. Avoid Mondays, though -- that's when the people who actually know what they're doing show up for tournaments.
7. Take on four hours of happy hour at a piano bar
Georgetown
Two hours into an epically long happy hour, and you're both singing along to an Elton John tune. Sure, you may not have an amazing singing voice, but think of it this way: if it works out, you'll feel comfortable singing in the car in front of them from now on. From 5-9pm daily, Georgetown Piano Bar sells half-price appetizers, $3.50 rail drinks, $5 house wines, discounted beers, and half-priced appetizers. For the most in-your-face experience, grab seats at the actual piano... just hope you're better looking than whoever is playing.
8. Take a tour and work your way through some weird beers
Navy Yard
Bluejacket offers free tours Saturdays on the hour from 11am-1pm, which conclude with one complimentary taster pour. Stick around this beautiful space and have a few more from one hell of a draft list (including three cask ales). There are sure to be some conversation starters, as Greg Engert and his beer team don't hold back. Take the dry, spicy Scarecrow saison, for example. Taster pours of all drafts are available for $3 or less, so you can each assemble a flight.
9. Assess up-and-coming comedic talent
Dupont Circle
DC Improv regularly offers a Five Minutes to Funny graduation showcase featuring folks who hopefully came out of comedy school funnier than they were before. You be the judge for $10 a ticket (significantly less than regular shows). You and your date should feel like you're on the set of Last Comic Standing, only slightly more amateur... so no booing, please. Your date will think less of you.
10. Catch a cult classic at midnight
Downtown
E Street Cinema has a little more fun at midnight when it screens throwbacks like Rosemary's Baby, Grease, and The Naked Gun as well as cult classics like The Rocky Horror Picture Show and The Room (which we heard comes with some cool rituals). Two tickets to a midnight show will run you $20.

11. Be a two-person trivia team
Logan Circle
Sure, the odds are against you when other teams pool the talent of up to six people, but there are ways to set your duo up for trivia success at Stoney's. In advance of Wednesday night trivia, the bar posts some of the topics on its Facebook page, giving you a little extra time to study up. That's how we once learned everything there is to know about Jimmy John's. Free trivia starts at 8pm and goes exceptionally well with a $15 pitcher of beer. Keep in mind that the first-place team wins a $50 gift certificate to the restaurant.
12. Skip out of work for a quick food-truck date
Farragut West
If you don't actually know the person you're going on a date with -- like, say, you met them on Tinder -- it's best if you have a cutoff time. Enter food truck Friday: after snacking on some reasonably priced eats, you have to get back to the office. Plus, you can totally judge your date based on the food truck they gravitate towards. A chain in food truck disguise? Boring. Chatpat truck? Hell yes.
13. Do the wine bar thing without feeling pretentious
Adams Morgan
Wine bars are both notoriously romantic and notoriously expensive, but Jug & Table, on the first floor of Roofers Union, makes things more accessible during happy hour when a red, white, and rose are each available for $5. Have a couple of glasses from 5-7pm in a relaxed setting backed by vinyl music, or go over-budget and order an entire jug of wine -- about 2.5 bottles' worth -- for $25, which is either going to be the best or worst idea, depending. And if you're more into beer, you can nab a quality one -- like a DC Brau pilsner -- for $3.
14. Eat late-night $1 oysters
Shaw
Surely aphrodisiacs have a short shelf life, so make Eat the Rich your last stop of the night. This spot serves late-night $1 oysters -- along with discounted drinks -- Tues-Sat, from 11pm-close, and Sundays from 9:30pm-close. Expect a nice variety of briny bivalves.
15. Play a round of mini golf
H Street NE
Visit the only country club in the area that doesn't force you to wear a collared shirt. H Street Country Club is more about margaritas and mini golf, both of which come on the cheap. Play a round ($7 per person) indoors and appreciate the quirkiness of the holes. If your round ends in a tie and you still need a winner to settle some kind of score, move along to Skee-Ball or shuffleboard -- both are available here.
16. Compare two DC distilleries
Ivy City
New Columbia Distillers and One Eight Distilling are less than a half-mile apart, and both offer free tours and tastings on Saturdays from 1-4pm, which presents the opportunity to compare their products in one afternoon. Start at relative newcomer One Eight, which is about to release a new line of whiskeys, then shuffle over to New Columbia to sample several types of Green Hat gin.
Sign up here for our daily DC email and be the first to get all the food/drink/fun in town.