How to Support the Black Community in DC Right Now
From nonprofits and community organizations to restaurants and bookstores.
Earlier this month, the nation witnessed the historic swearing in of the nation's first Black female VP Kamala Harris accompanied by 22-year-old poet Amanda Gorman. Her uplifting speech on unity was delivered in the wake of the U.S. Capitol building riots that left five dead just two weeks earlier and seven month after protesters around the country took to the streets after the deaths of George Floyd, Breonna Taylor and Ahmaud Arbery in police custody.
Virginia Ali, who has run the legendary DC institution Ben's Chili Bowl for 63 years, says the Janunary 6 violence coupled with the pandemic, made the last few months the worst in her lifetime—surpassing even the four days of civil unrest in 1968 after the assassination of Dr. Martin Luther King Jr. "I think about the 1968 riots, which is nothing compared to what we're going through now," Ali says.
Witnessing Harris take office offers some hope. "That's the thrill of my lifetime. And imagine that—a graduate of Howard University," Ali says. "Imagine what little young girls can see when they see her now."
But as the pandemic rages on and the nation's racial struggles continue, it's crucial to continue supporting DC's Black community, especially as we head into Black History Month.
Being the nation's capital, DC has dozens of educational resources and nonprofit organizations committed to fighting for change, and the city's Black-owned restaurants and shops are the lifeblood of this city. From places to donate and resources for becoming a better ally to shops where you can use your cash to support local businesses, here are some of the ways you can make a difference right now.
Donate to nonprofits and community efforts
There are many charitable organizations you can donate to in DC, including the DC branches of Black Lives Matter, the ACLU, and the NAACP.
Support protestors by following DC's chapter of Black Lives Matter and FreedomFightersDC on Twitter to keep up with donation requests and information about where to drop off supplies like masks, medical supplies, and water.
DC eliminated cash bail about three years ago, but you can still donate to local bail funds for protesters like Maryland's Baltimore Action Legal Team, Virginia's Richmond Community Bail Fund, or the national Bail Project -- which seeks to combat mass incarceration by paying bail for low-income individuals and disrupting the bail system.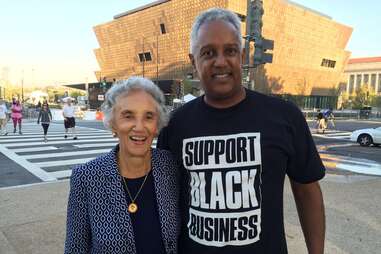 Order takeout and delivery and support restaurant funds
While DC's indoor dining ban is still in effect due to COVID-19, you can support the city's many Black-owned bars and restaurants that still offer outdoor dining, takeout and delivery.
Order half-smokes for takeout and delivery from Ben's Chili Bowl, and donate to the Ben's Chili Bowl Foundation, which funds various scholarships, employment support organizations, and more. "I have had the wonderful support of the community from people who donate, which we're able to turn into feeding hospital staff or protesters or the National Guard, all those people that are trying to keep us safe," Ali says.

Another place to get DC's iconic smoked sausage is from the aptly named HalfSmoke, whose Shaw location has been transformed into a winter oasis with 12 heated igloos. The restaurant also sells wood-fired pizza, salads and sandwiches, and breakfast sandwiches through its popup Butter Me Up. Owner Andre McCain, a former Wall Street investment banker, also just opened a HalfSmoke in Baltimore.
Recently featured in a new Pepsi campaign, Cajun Cray offers catfish, crabcakes and other seafood dishes to go on H Street and in Lanham. Oohhs and Aahhs is a staple of soul food on U Street that has ramped up takeout and delivery from its two locations and DCity Smokehouse has some of the best BBQ in the District.
For healthy to-go options, head to Turning Natural juice bar and Nuvegan and buy calming tea, aromatherapy, and other spices from Calabash Tea and Tonic through its online store.
Grab takeout cocktails from Service Bar DC and stock your wine rack with bottles from Cork Wine Bar. Purchase organic German vinos from Black-owned winery Edelheiss Wines, which is partnering with Baltimore catering company H3irloom Food Group to pair its sparkling rose with a Valentine's Day menu available for pre-order.
These options barely scratch the surface of all the great eateries in DC, so don't stop there. Here's a list of more than 80 Black-owned bars and restaurants in the DMV area that are still open for business compiled by Anela Malik, who runs the food blog, Feed the Malik. For more ways to support Black-owned restaurants, download the Eat Okra app to get a map of all the spots in DC and check it the next time you want to order takeout. And when you do order, remember to tip generously so you can support employees, too.
Shop at local Black-owned businesses
Shoppe Black is a great resource for ensuring your everyday purchasing decisions are diverse no matter what city you're in. But here are some bookstores, boutiques, and other shops right in your backyard where you can use your spending power to support the local community.
If you're looking to add to your bookshelf, check out Mahogany Books. The store specializes in selling books for all age groups written by, for, or about people of the African Diaspora, and it stocks a great selection of anti-racist reads. You can still order books online to be shipped across the country or call the bookstore at 202-844-2062 to order books you can pick up at its Anacostia location. Sankofa has a similar mission, and you can still shop from its online store or watch videos from a lecture series it previously hosted in-store. Loyalty Bookstore, which sells a number of books from BIPOC authors, offers contactless pickup at its two locations open in Silver Spring and Petworth and online ordering through Bookshop.
Brown Beauty Co-Op in DuPont Circle offers hair care, skincare, and makeup services and products designed with people of color in mind. Lettie Gooch is a women's boutique that sells a mix of emerging designers and more well-known clothing makers, while Nubian Hueman's gift collection includes a Kamala Harris pencil pack with the VP's famous sayings emblazoned on them. And if you want to translate your social activism into your wardrobe, check out District of Clothing for clothing emblazoned with messages like "MVP Kamala aunty" and "trust black women."
A staple of U Street for 76 years, Lee's Flower Shop offers online pickup and delivery across the country. And Frères Branchiaux Candle Co. is an artisanal, 100% vegan candle company that sells candles, snuffers, and room sprays through its online store. The company was started by three brothers all under the age of 14 so you'll be supporting young Black entrepreneurs with every purchase, plus they donate 10% of their profits to area homeless shelters.
More ways to help?
Check out a list of national organizations we've compiled here. If you have thoughts on other businesses you'd like to see included in our local stories, please email feedback@thrillist.com.
Sign up here for our daily DC email and be the first to get all the food/drink/fun in town.
Liz Provencher is an editorial assistant at Thrillist and a former DC resident. You can talk to her at lprovencher@thrillist.com.