How to Support the AAPI Community in DC
Nonprofits, restaurants, and small businesses to support during American Asian and Pacific Islander Heritage Month and beyond.
The DMV area is home to more than 70,000 AAPI-owned businesses, which represents just over 12% of all businesses in the area. These businesses range from eateries where you can get top-notch dumplings, sushi, and jjajangmyeon to boutiques, cosmetics brands, and more that make up the fabric of our vibrant city.
As we head into May, which is also known as Asian American and Pacific Islander Heritage Month, there's no better time to patronize local AAPI-owned small businesses or show your support in other ways. So whether you're looking for ways to lend a hand, get educated, or find a new favorite local DC shop, we've got you covered—so get out there and show your support during AAPI Heritage Month and beyond.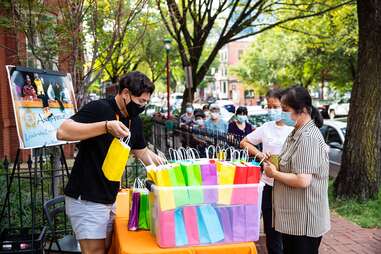 Donate your time and money to a local nonprofit or advocacy group
You can find a wide range of nonprofits and organizations in DC and across the country that seek to advance equality and progress among the AAPI community.
Support the mission of Asian American Government Executives Network (AAGEN) to promote and expand Asian American and Pacific Islanders' leadership in government, and Asian Americans Advancing Justice, which tackles issues of importance including anti-Asian violence prevention/race relations, census, immigration, language access, television diversity, and voting rights.
If you're interested in meeting like-minded professionals in this space, look into the Conference on Asian Pacific American Leadership (CAPAL), which conducts monthly forums and workshops on issues of interest and concern to the APA community, or the DC chapter of the National Association of Asian American Professionals, a nonprofit that cultivates, supports, and promotes Asian American leaders.
To learn from one of the longest-standing nonprofits in this space, look into the DC-based Organization of Chinese Americans, founded in 1973, that includes more than 50 chapters and affiliates around the country to empower the next generation of AAPI leaders.
Stop AAPI Hate offers resources in 11 languages to help you report incidents of hate or violence you witness. The nonprofit uses the community reporting tool to aggregate data needed to ensure better protection, education, and policies. Asian Americans Advancing Justice also hosts a virtual training that reviews the five strategies for intervention and how to ensure your own safety while taking action on behalf of others.
And if you're looking to help someone make an impact earlier in life, Asian American Youth Leadership Empowerment And Development (AALEAD) supports low-income and underserved AAPI youth, offering school, summer, and mentoring programs that promote educational empowerment, identity development, and leadership opportunities.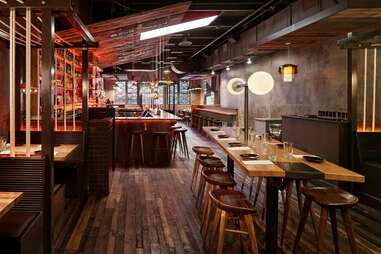 Book a spot at these AAPI-owned restaurants
From Japanese restaurants offering ramen or sushi to dumpling counters and destinations for Korean fare, DC has a wide array of Asian restaurants from chefs and restaurant owners who could always use your support.
For quick and delicious southeast Asian food any time of the day, check out RASA, the fast-growing concept from childhood friends Sahil Rahman and Rahul Vinod. The duo has recently launched its newest location in Arlington in addition to a couple DC outposts.
You also can't go wrong at Queen's English, a Cantonese restaurant specializing in reimagined Hong Kong cuisine from husband and wife team Henji Cheung and Sarah Thompson. At Tiger Fork, executive chef Jong Son is offering a large menu of Hong Kong street food, traditional dim sum, and classic Chinese dishes with an emphasis on family-style plates and the communal dining experience.
Chef Tim Ma's Lucky Danger set out to elevate the concept of Chinese takeaway food, and Ma has done so by combining his classical training with traditional Chinese dishes. Mama Chang in Fairfax celebrates the women from Peter Chang's family and features Hunan, Szechuan, Hubei, and home-style Chinese cooking and recipes. Chris Zhu is the powerful force behind not one, but two Chinese mainstays in the DC area, including Han Palace in Tysons and China Garden in Rockville.
Of course, there are plenty of Asian-owned businesses in Chinatown, but Reren Lamen & Bar stands out from the crowd, where ramen is the main draw. Other popular ramen spots by the Daikaya Group include the group's namesake, Bantam King, and Haikan.
For additional Japanese options, look no further than the renowned Sushi Taro in Logan Circle and Roll'd Sushi in Arlington, both the product of Michelin-starred chef Nobu Yamazaki. Another incredible option is Santouka, which opened its first restaurant nearly four decades ago in Sapporo, Japan and just opened a new location at Tysons Corner to delight diners with Hokkaido-style ramen and Japanese karaage-style fried chicken.
Whether you're looking for fast-casual Korean food or trying to recreate Korean barbecue at home, Seoulspice in Noma has you covered. Or check out Mandu in Mount Vernon Triangle, which specializes in homestyle Korean cooking. Mandu shares an owner and chef with Anju in Danny Lee, who is also behind CHIKO.
Erik Bruner-Yang is well known for Maketto, a combination Cambodian and Taiwanese restaurant, cafe, and shopping experience all in one airy, multi-level space. For another contemporary experience, head to Moon Rabbit at The Wharf, where Kevin Tien is dishing out innovative Vietnamese food that reflects his upbringing.
For Thai fare you won't soon forget, look to Soi 38 in the West End, where Dia Khanthongthip creates street food and creative cocktails, and Baan Siam in Mount Vernon Triangle, where Chef Jeeraporn "P' Boom" Poksupthong brings traditional Thai recipes from her mother and grandmother to her kitchen in DC. For Laotian food, Thip Kao in Columbia Heights has introduced diners to crispy pig ears and fish sauce caramel from chef Seng Luangrath.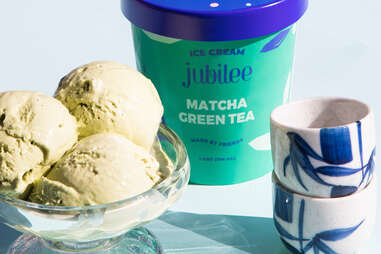 Patronize these other small businesses
Beyond all of the great restaurants and bars in the city, there are a number of AAPI-owned small businesses that can also be visited to show your support. Shopkeepers on H Street is a one-stop shop created by Seda Nek, offering a retail experience featuring dozens of brands, a cafe, and a grocery store all in one setting. Sharon Cao and April Johnson's Happied is a COVID-born concept that delivers kits to you and your friends. The company also hosts Race, Equity and Inclusion Social Hours, which helps participants facilitate change in their organizations through guided communal conversations.
For some sweet ways to show your support, head to one of the several locations of Ice Cream Jubilee, a passion project that was born when Victoria Lai started making ice cream in her kitchen over a decade ago. Today she offers flavors like Thai Iced Tea, plus a slate of AAPI Heritage Month flavors like Key Lime Pandan Pie and Miso Caramel & Peanut Butter Cookies. Rose Ave Bakery is a delicious spot for Chinese-inspired baked goods. And if you're craving some tea to pair with a pastry, visit Valley Brook Tea in Dupont Circle.