How to Support the Black Community in Baltimore Right Now
Here's how you can help.
The death of Freddie Gray in police custody sparked days of protests and civil unrest in Baltimore five years ago. Now, in the wake of the murders of George Floyd, Ahmaud Arbery, and Breonna Taylor, activists in Baltimore and around the world are again demonstrating against police violence.
But this time, Baltimore's peaceful protests set an example for the world to behold with no curfews, mass arrests, or tear gas aimed at activists. Some credit the social justice warriors who have lobbied for police reform and policy changes. But there's still plenty of work left to do to help the Black community.
"Right now your voice needs to be heard one way or another," says New Secrets Tea owner Natalie Antoinette, who is encouraging everyone to write letters to their representatives, sign petitions, and promote Black businesses. "I'm feeling more hopeful than ever because more people are recognizing that they have to stake a stand for things to change."
There are plenty of ways Baltimoreans can be part of that change. Volunteer with and donate to grassroots organizations that support the Black community, shop at Black-owned small businesses, and get carryout from Black-owned restaurants.
Donate to nonprofits and advocacy groups
Baltimore is home to many organizations committed to social justice, including the nation's preeminent 111-year-old civil rights group, the NAACP. Follow its Twitter, Facebook, and Instagram pages to participate in its latest virtual town hall meetings with thought leaders who address hate crimes, public health, and other issues impacting Black lives.
Donate or volunteer on behalf of groups that support protestors and civil rights, including the Movement for Black Lives and ACLU Maryland. Purchase baked goods at a fundraiser hosted by Charm City Night Market at Peabody Heights Brewery June 14, which will benefit the Baltimore Action Legal Team and the Black Yield Institute. Donate to Baltimore United for Change, which has bailed nearly 100 individuals since its inception in 2015, three days after the murder of Freddie Gray.
Another way to effect change is through public policy. Volunteer for the Leaders of a Beautiful Struggle, which advocates for civil rights, ending housing segregation and reforming the legal justice system, or BUILD, which improves housing and job opportunities. Hire The Architects of Justice, to host training sessions and workshops to promote equity in your organization.
Support Black Baltimore cultural attractions, like the Pennsylvania Black Arts & Entertainment District, once home to storied clubs and theaters. The state last year officially designated this section of West Baltimore an arts district to spur a revival black art, food and entertainment. The district seeks donations, volunteers, and board members.
Peruse the online collection of The Reginald F. Lewis Museum of Maryland African American History & Culture to learn more about the contributions of Black Marylanders. Join its virtual story time and other online events listed on its Facebook page and they're also taking donations for protest signs to add to future collections.
Order from one of these Black-owned restaurants
Several Black-owned restaurants serve the bivalves, crustaceans, and fish for which this region is known. Pick up some chargrilled oysters, shrimp tacos, or seafood nachos at Locust Point's The Urban Oyster. At Mount Vernon Marketplace, Fishnet serves regionally sourced catfish, ahi tuna, and salmon, available for carryout and delivery.
Order French toast, pancakes and other brunch and breakfast favorites include Water for Chocolate in Butchers Hill, Federal Hill's Home Maid, and Nancy by SNAC in Station North.
Try inventive Asian-fusion dishes from Ekiben, at its Hampden and Fells Point locations. Another Fells Point favorite, Connie's Chicken and Waffles, is serving its signature dishes for carryout and delivery at the Broadway Market.
Vegans can order carryout from the longstanding soul food restaurant Land of Kush or the newly opened Gangster Vegan at the renovated Cross Street Market.
Don't neglect your sweet tooth. Purchase pies, cookies, and cakes to go from Crust by Mack at the recently opened Whitehall Mill and delectable chocolate-dipped strawberries from Berries by Quicha. Get some tea to go with dessert from New Secrets Tea or Teavolve, which also sells sandwiches, wraps and waffles for pickup or delivery.
Before your next virtual happy hour, buy some mixers from Cane Collective that you can blend with your favorite spirit, or purchase probiotic refreshments from Tortuga Kombucha.
For more food inspiration, head to the Will Drink For Travel blog for a list of more than 100 Black-owned Baltimore restaurants.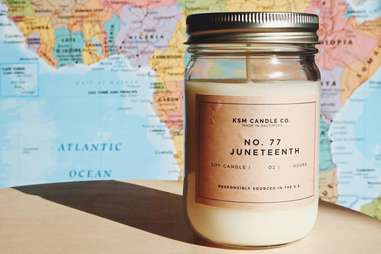 Shop at these Black-owned businesses
Though COVID-19 forced the Ivy Hotel to shut its doors, you can still support the Black-owned luxury hotel. Book a room for October and beyond, when the hotel is slated to open, or purchase a gift certificate for the hotel, fine dining restaurant Magdalena and spa.
Shop for home goods and gifts at these businesses, which need support now more than ever amid a pandemic that has hurt retail. Purchase art from black-owned galleries Galerie Myrtis and Gallery About Nothing, whose second floor is home to the Mini Hip-Hop Museum. Buy soy candles from KSM Candle Co., new and vintage furniture from Cedar & Cotton, and an eclectic assortment of gifts from We Are Maud.
You can wear your support for Black businesses in public with T-shirts emblazoned with social justice messages from Mess In a Bottle and get your clothes altered (and even purchase face masks!) at Bushelers of Baltimore.
Find even more products on Made in Baltimore's list of Black-owned businesses.
Sign up here for our daily DC email and be the first to get all the food/drink/fun in town.