The coiffed hair. The power suits. The empty promises. There's something in the air: the crisp smell of an impending election year.
But in DC, election season means something more than just obnoxious political ads on repeat (though, also that). Live here long enough -- or longer than four years -- and you'll become attuned to certain telltale signs that you're in the middle of an election year. Here are 10 ways to know that season has kicked off in DC.
Traffic medians have been completely redecorated
And candidates, don't forget to remove those signs after November 8th, 2016. You'll do that, right? Right?!
You've turned down three debate party invites -- because you are going to another debate party
Election bingo. Debate drinking games. Don't blame that hangover on yourself. It's all Donald Trump's fault. You were forced to take a shot every time he said something crazy about China or Mexico. The party ran out of liquor.
You turned down more exciting plans -- because you are going to another debate party
Your buddy scored some last minute Caps tickets from the office? Too bad you've already resigned yourself to a long evening of admiring Lincoln Chafee looking like a deer in headlights.
Recommended Video
Model, Influencer & Entrepreneur Lindsey Pelas Reveals Celebrity Pick Up Stories
DC and Maryland residents start to think they may actually be living in Virginia
Television commercial after television commercial is directed towards Virginia voters. Ditto the radio spots. Face it, in a presidential election, only Virginia matters. They just aren't that into you, Maryland. And, well, we all know the problem with DC. Thanks Electoral College!
Your politically appointed friends start frantically searching for jobs
On Capitol Hill, nobody is eating lunch during their lunch break. They're editing their resume before heading to a job interview on K St.
The second floor of Starbucks on Capitol Hill becomes "the place" to meet
So your boss isn't going to be an incumbent after all? All the sad face emoji! Better visit the second floor of Starbucks. Just out of sight from the downstairs coffee crowd, this retreat is where you and many other Hill staffers can meet in relative secrecy to informally network for your next job.
Bars are forced to pick sides
Even drinking becomes political in an election year. Bars are forced to pick sides. Republicans have been known to congregate at Capitol Lounge. Democrats seek solace at Local 16. Libertarians will thank you for not asking about their private business, okay?
You start to worry about your friend who works at a polling firm
Calls go straight to voicemail. His parents called you last night. Have you heard from Fred? They haven't heard from Fred. Is Fred dead? Nope! Just working. Though, up until Election Day, you may as well think of him as dead.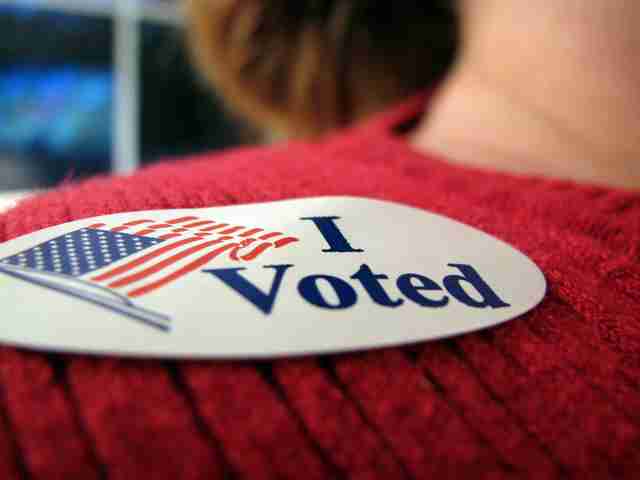 The opportunist inside you plans to vote to get free shit
That "I voted" sticker -- it's kind of like a golden ticket. Except this isn't Willy Wonka's Chocolate Factory. This is Washington DC. Use it to cash in on free stuff at restaurants, which may not have fizzy lifting drinks, but are known to dole out free coffee, donuts, and beer. Democracy!
If you didn't register to vote, or donate to your favorite campaign, you will by the time you walk through Chinatown
Those volunteer campaigners and get-out-the-vote-getters are everywhere. Just try walking down 7th St. These are skilled assassins who will look for and find you (Liam Neeson style). Actually, if the dude asking for your signature looks like Liam Neeson, definitely sign that shit.
Sign up here for our daily DC email and be the first to get all the food/drink/fun in town.
Tim Ebner write about food, travel, and culture in Washington, DC (taxation without representation!). Follow his political ambivalence on Twitter: @TimEbner.