How to Hire a Cannabis Coach in DC
Shake hands with Natalie Carver and you might come away a little sticky icky. That's because the chief employee of Buds Organic has likely been pruning the sexiest, healthiest fronds of marijuana you've ever seen.
"Did you know buds are flowers? They're big beautiful flowers!" As you can probably guess, Natalie is an enchanting, green-thumbed mix of urban farmer, free spirit, hipster, and hippie.
But most importantly, think of Natalie as your cannabis coach. One whose parents are finding out what their daughter does for a living right about... now. You can hire her, or one of her Buds Organic colleagues, to install the growing equipment best suited for your home. Count on them to stick with you through an entire grow cycle, which lasts about four months, from seed to you hitting the bottom of a Ben & Jerry's pint.
Laura Hayes/Thrillist
It's a job that only became possible when the government permitted its residents to grow three mature cannabis plants per person at home, or six plants for a household of two. (Time to move in together.)
"We're in changing times, and there's a real satisfaction in growing anything yourself," she says. Like the local food movement, growing your own plants means you know exactly where your bud comes from -- no more sketchy dealers. "Plus, when you have friends over for dinner and you can smoke something homegrown, it's something to be proud of," Natalie says.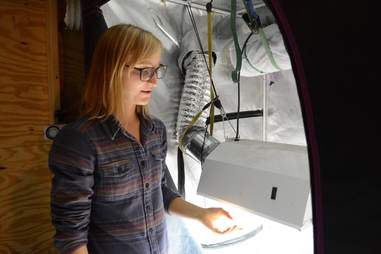 Laura Hayes/Thrillist
Getting into the specifics: the installation of a growing tent, lighting, vents, and all the other bells and whistles is a one-time fee, anywhere from $800-$1,200 depending on the complexity of the setup (materials included).
We got a glimpse of a growing tent that vents to the outside, has a filter to hide the scent from nosy narcing neighbors, and has a lighting setup operating on a pulley system so the light creeps up as the plants grow taller. After that, clients pay a $50-$75 maintenance fee for an in-home weekly visit to learn everything from when to alter the plant's photoperiod, initiating the flowering, to the final stages of pruning and drying.
Laura Hayes/Thrillist
Buds Organic sells installation services and expertise only, which keeps the business legal. While they are quick to make recommendations for where to score organic seeds, the company doesn't provide them. The ultimate goal is for the customer to eventually have all the firsthand knowledge they'd need to grow solo.
"You can read books, but there's nothing like having someone show up and walk you through it," Natalie says. "And, a single plant can produce 3oz, so it's a good investment."
While there are larger, national groups out there that might help you succeed, Buds Organic is a homegrown, small business born in DC. So far they've gained clients by word of mouth, but their website went live recently, so the floodgates have opened for those hoping to become a little more green-thumbed.
Sign up here for our daily DC email and be the first to get all the food/drink/fun in town.
Laura Hayes is a DC-based food, drink, and travel writer who also contributes to Washington City Paper, Food Network, Arlington Magazine, and others. She's also worried about her mom seeing this. Follow her on Twitter: @BTMenu.