Everything You Need to Know About DC's March for Our Lives
As many as 50,000 protesters are expected to flood the streets of downtown Washington this Saturday for an anti-gun-violence rally. The March for Our Lives rally was planned by survivors of the school shooting that happened in Parkland, Florida, last month.
During the protest "the kids and families of March for Our Lives will take to the streets to demand that their lives and safety become a priority and that we end gun violence and mass shootings in our schools," according to their website. More than 700 "sibling marches" are also being planned around the world to take place the same day.
High-profile celebrities such as Oprah Winfrey and George and Amal Clooney are expected to attend the protest. Josh Kushner, brother of White House advisor and presidential son-in-law Jared Kushner, reportedly donated $50,000 to the campaign. Here's everything you need to know about the march in DC.
Where and when will the march take place?
Permit requests have recently been approved for the rally to be held along Pennsylvania Avenue NW, between Third and 12th Streets beginning at noon on Saturday, March 24.
Organizers of the rally originally requested a permit to hold the event on the National Mall, which was denied because a film crew already has the space reserved for what they called a student "talent show."
What is the route?
Pedestrian entrances to the march are located at Pennsylvania Avenue and 12th Street NW, Constitution Avenue and Seventh Street NW, and Indiana Avenue and Seventh Street NW. No access to the rally will be available from the East.
The March for Our Lives rally is funded in part by celebrities such as Winfrey and will include "student speakers, musical performers, guest speakers and video tributes," according to the permit application. Two-thousand portable restrooms will be available.
How do I get there?
Good news if you're currently enrolled in school: ride-hailing company Lyft will be offering free rides to students taking part in the protest. "We believe there is something seriously wrong when the threat of gun violence is so frequent and real throughout our country. And like many, we are inspired by your leadership," said Lyft co-founders John Zimmer and Logan Green.
For non-students, there's a handy map available on their website detailing optimal drop off locations, bus and metro routes, and more.
If you plan on taking the metro the closest stop is Metro Station, though be aware that Metro Station may be closed at peak times, and plan on using the next closest metro stop -- either Gallery Place-Chinatown or Archives-Navy Memorial.
Can I bring signs?
Banners and signs are welcome at the rally, but according their official website, you won't be allowed in if signs are mounted on wood, metal sticks, or posts for safety reasons. Also not allowed in are pets (unless you have a service or guide animal). If you don't want to make your own signs or just don't have the time, some advertising agencies have created printable signs that you can carry as well. Here are a few examples you can download and print for free:
What should I wear for the weather?
Washington natives know that weather in March is always extremely variable, so make sure to check the weather that morning for the best prediction of what to wear and whether to bring an umbrella. As of this page's latest update, the forecast for Saturday looks cloudy with a high of 50 degrees and a low of 29 degrees.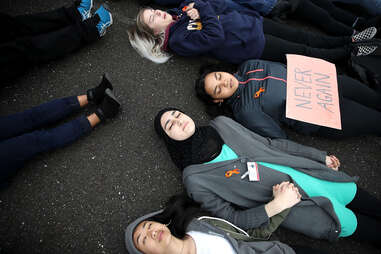 Where should I go out to eat after?
The protest concludes near Pennsylvania and Fourth Street NW -- the closest metro stop being Archives-Navy Memorial a few blocks away. If you feel like beating the rush by grabbing a bite to eat first, there are a more than a few options.
Blowing off steam at Penn Social is one way to wind down the day, or get the night started. Located only a short walk away, they have bar games, a well-stocked bar, and happy hour food options. If you think that might get too packed because of proximity, two similar options would be District ChopHouse & Brewery on Seventh Street NW or City Tap House Penn Quarter on Ninth, which offers a wider variety of food options than Penn Social.
If you feel like treating yourself to a more traditional sit-down meal, Seventh Street NW is full of great options. Oyamel by Jose Andres serves delicious and authentic Mexican food and made-on-the-spot guacamole, or head to Rasika for some of the best Indian food in the city.
Right down the block is also stylish, modern The Source by Wolfgang Puck, which is located inside of the Newseum. The Source offers both casual, all-day dining and a fine dining room where they serve up contemporary takes on classic Asian dishes.
How else can I get involved in the cause?
Before: If you would like to volunteer with March for Our Lives, you can fill out their form here.
During: While attending the protest you can share your opinions on social media using the official March for Our Lives hashtags, which are #marchforourlivesdc and #MFOLDC.
After: Volunteer with or donate to established gun control organizations such as Brady Campaign to Prevent Gun Violence, The Coalition to Stop Gun Violence, and Everytown for Gun Safety.
You can also contact your state representatives and members of Congress to show your support for gun control. You can easily find the contact information for your representative by filling out this form.
What if I'm out of town?
We've published guides to the March for Our Lives events in LA, Chicago, NYC, Miami, and San Francisco. Read any of them if you plan on traveling to those cities and want to check out the marches this weekend. There are also hundreds of other marches around the world, so look up your city on March for Our Lives' website to see if there's one nearby.
Sign up here for our daily DC email and be the first to get all the food/drink/fun in town.
Austa Somvichian-Clausen is an LA native turned DC resident by way of American University. During the day she works for National Geographic Partners on their digital news team, covering stories predominantly pertaining to the environment, animals, and travel. By night she is a freelance food writer with a particular proclivity for restaurants that source locally, and a lover of any good happy hour. Over the weekend she loves hiking, exploring the city, and traveling. Follow her on Instagram.