Everything You Need to Know About DC's March for Science
Last year, the March for Science attracted over 1 million marchers in more than 600 different locations. This year, the largest event to support science this Saturday is a day-long event to work towards a future that fully embraces science in public life and policy.
As part of the mission statement, the March for Science "champions robustly funded and publicly communicated science as a pillar of human freedom and prosperity. We unite as a diverse, nonpartisan group to call for science that upholds the common good, and for political leaders and policymakers to enact evidence-based policies in the public interest." Here's everything you need to know about DC's demonstration on Saturday.
When does the march start?
The March itself officially starts at 3pm at the National Mall on 15th Street NW, between Constitution and Independence Avenues, but the action starts well beforehand. Prior to the boots hitting the pavement, teach-in and expo tents open at 9am, and the rally with speakers and musical performances starts at 12:30pm. The March for Science is a free, open community event and no tickets are needed for the rally or march.
If you would like to attend a tent session, you can register here. The list of speakers can be found here. The Suffers are the musical guests. Additional speakers may be announced this week. The event is ADA accessible. There will be ADA-accessible bathroom access and hand washing stations as well as first aid facilities.

What is the march route exactly?
It's hard to go the wrong way at a humongous March. Obviously you're going to follow the crowds, but specifically, marchers will start on 15th and Constitution Avenue, and continue east on Constitution Avenue to 7th Street. The March will then turn right onto 7th going south to Jefferson Drive, turn left onto Jefferson Drive East to 3rd Street, another left onto 3rd Street, and then the March will disband on 3rd Street between Jefferson and Madison Drives.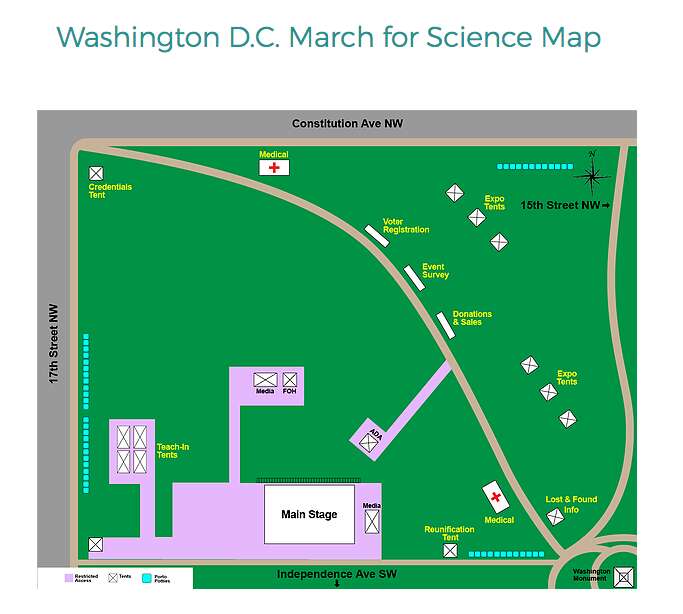 How do I get there?
Public transportation is the best way, with the nearest Metro station being the Smithsonian station. You can plan your Metro route here.
Can I bring signs?
You sure can. The March for Science even has an event this Thursday at Busboys and Poets to encourage sign making! The gathering goes from 6pm to 9pm, and marchers can create signs, discuss science policy with fellow activists, meet the March for Science organizers, and hear stories from science advocates featured in the latest book, Science Not Silence: Voices from the March for Science Movement. Find out more here.
What is the weather going to be?
It's going to be sunny and hot. When you are walking with a mass group of people on blacktop streets that radiate heat, there is little opportunity for shade and a lot of opportunity for sunburn and dehydration. Wear breathable, loose-fitting clothing and a comfortable pair of sneakers. Protect exposed skin with a healthy application of sunblock, and keep reapplying throughout the day. Remember to drink a lot of water to stay super hydrated. It's best to start pounding H2O at least 24 hours prior to the March. Carts serving water and ice cream will be available with food trucks parked within walking distance.
How else can I be a part of the movement?
Before: You can make a donation to March for Science here, and don't forget to register to vote.
During: If you're interested in signing up to volunteer in any capacity, you can fill out the form here.
During: You can shoutout @ScienceMarchDC with pictures and pleasantries using hashtags #MarchforScience, #KeepMarching, #ScienceNotSilence, and #StandUp4Science.
After: Plan your own Outreach Event to keep the conversation going. Get creative! March for Science has a comprehensive guide filled with tips and ideas to creating cool opportunities in your community including Q&As and pub crawls.
March for Science also has an Advocacy Guide with detailed instructions on getting in touch with policymakers and local representatives, attending town halls, and more.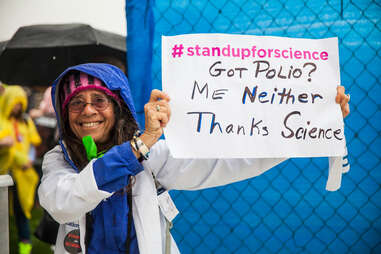 Where is everyone getting their cool March for Science gear?
March for Science has a legit merch shop with T-shirts, hats, bags, mugs, and more. All of the proceeds go to support the March for Science.
What if I cannot make it to DC?
You can search for any of the hundreds of Marches popping up worldwide by zip code, and if there aren't happening in your area, you can register to host your own March for Science event. Lastly, the entire event will be live-streamed as a virtual march for any unable to attend.
Sign up here for our daily DC email and be the first to get all the food/drink/fun in town.