Do Takoma Park Right With The Red Hen's Mike Friedman
Living on the edge. So goes the slogan of Takoma Park, at least according to some sweet T-shirts at Trohv. But the land of interpretive lawn art, granola, pups, and granola is more crunchy than edgy. To make the slogan's origin more clear, Takoma Park straddles the line dividing the District and Maryland. Chef Mike Friedman, who you know from The Red Hen and the forthcoming Shaw restaurant All Purpose, calls the non-conformist community home. We asked him to dish on all of his favorite neighborhood gems. Here's how to be like Mike.
"This is an independently owned joint, it feels like I'm in The Village in New York, and I think the coffee is stupendously good," Mike tells us. Indeed, the coffee at this third waver slays it because the beans hail from Ceremony Coffee Roasters in Annapolis. Mike, who admits he has snobbishly sworn off drip coffee, orders a double espresso and a spinach & feta hand pie he hits with Sriracha. La Mano isn't a sprawl out with your laptop-type place, but co-owner Javier Rivas (pictured) has made it a place you want to take respite with cool re-purposed materials and local art.
... at least according to Mike who is there every Sunday. The Dupont diehards may have something to say about Mike's superlative, but maybe they don't get that good things come in small packages. In Mike's basket? Chicken empanadas from Stone Hearth Bakery, 'shrooms from North Cove Mushrooms, and produce for the week from Toigo Orchards and other local farms. "My buddy Yi Wah is there every Sunday with Number 1 Sons. I think they have wonderful products," Mike says. The barrel-fermented foods company makes next-level kimchi and kraut, and dabble in kombucha they call Dang. Mike, who is admittedly in the early stages of kombucha enjoyment, digs the original four teas flavor. The market stretches down Laurel Ave in between Carroll and Eastern Aves on Sundays from 10am-2pm.
Load up on reclaimed wood, antique typewriters that say "I'm not a blogger, I'm a writer," barware that would make Dram & Grain jealous, and maybe an old high school locker you could turn into storage or a smoker. For Mike, he's headed to the register with kitchen cloths for his expo area at The Red Hen that look very South of France, plus the occasional tin of local salt.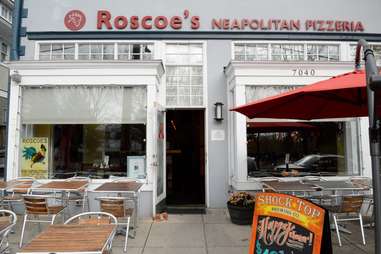 Mike's lunch or easy date night pick is Roscoe's Neapolitan Pizzeria. "They do really good wood-fired pizza with a great beer list," Mike says. "And you know what they say, pizza is like sex, there is no bad pizza." He would know (about the pizza part for certain). As he gears up to open All Purpose, Mike has his hands deep in dough on the daily recipe testing, plus he's hitting pizza-blessed cities up the East Coast for inspiration. If you visit Roscoe's, you want the "Antica" with tomato sauce, smoked mozzarella, local organic sausage, pepperoni, Italian ham, garlic, and Parmesan cheese.
Around the corner from Roscoe's is Dolci Gelati. It's heaven on earth for frozen treats, namely all-natural gelato from a man named Gianluigi Dellaccio (so clearly you can trust his zabayon, tiramisu, or bacio flavored gelato). But Mike gravitates back in time. "I'm mint chocolate chip all the way," he says. "I'm a sucker for that bright green. It reminds me of being a kid."
If you want to see Mike dance when he's not at a wedding or in the club, follow his lead to Sardi's Pollo a la Brasa. His shoulders start popping the second he walks through the door and into the aroma of Peruvian chicken. "In the restaurant industry, everybody has a chicken spot," he explains. But none are likely as evangelical as Mike who is grateful Takoma Park meets up with Langley Park -- an area home to a Latino population. "Ashley and I ate Sardi's twice a week for three months when we moved here, that's when we discovered it, and now I'm a PATRON," he says. "You can walk out of there with a whole chicken and three sides for $25, which for Ash and me, that's basically lunch and dinner." Sardi's was the main attraction at his birthday party this year.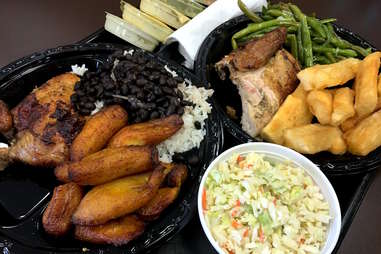 But, what to get at Sardi's?
Assess your hunger, then decide if you can handle a quarter or half chicken that both come with two sides. Fried yucca, plantains, green beans, and rice & beans all make the cut. Then don't be shy about amassing sauces. There are four, and we asked Mike to rank them: "Yellow no question is number one, it's tangy like a Peruvian ranch dressing; then green with its heat and herbs; followed by basic blanca, which is like garlic aioli; and finally the salsa rojo that has a little too much heat for me." Truthfully, you can save the sauces for your fried yucca because the chicken is so flavorful on its own. "You taste garlic, cumin, herbs, and spices," Mike says still dancing. "It's got a great salt level, not too salty."
Mike grabs growlers down the road at 3 Stars Brewing Company across the border in Takoma (we know it's confusing, just crank that GPS).  "I love Dave and Mike, they're good people, and they make delicious fucking beer," Mike says. "The Pink Peppercorn saison is my go to right now." The Belgian-style farmhouse ale is spicy and refreshing with coriander and the right amount of bitterness. Now is the best time to visit 3 Stars because they just unveiled an "urban farmhouse." The shingled and chandeliered 100-person tasting room turned out stunningly. There are 10 taps that dispense everything from pints to flights (thank you new law!).
Republic is the anchor eatery in Takoma Park, and they do so many things right. Best of all is late night grub and live music. That's where you'll find Mike. "My late night order is beer and oysters -- they have a nice local beer list but I always drink DC Brau." If cocktails are more your thing, the list is STACKED with everything from classics to cocktail lab originals. Also available late night? Fried pickles, smoked pork empanadas, BBQ fries, and duck confit Cubanos.<br />
<br />
<em><a class="vortex-open" data-campaign="2848" href="https://signup.thrillist.com/&quot; target="_blank">Sign up here</a> for our daily DC email and be the first to get all the food/drink/fun in town.</em><br />
<br />
<em>Laura Hayes is a DC-based food, drink &amp; travel writer who also contributes to </em>Washington City Paper,<em> Food Network, </em>Arlington Magazine,<em> and others. She's red sauce all the way at Sardi's. Follow her on Twitter: <a href="http://twitter.com/@BTMenu&quot; target="_blank">@BTMenu</a>.</em>