18 Ways DC Can Use Your Help Right Now
For anyone who wants to lend a hand in DC, these are the places to look.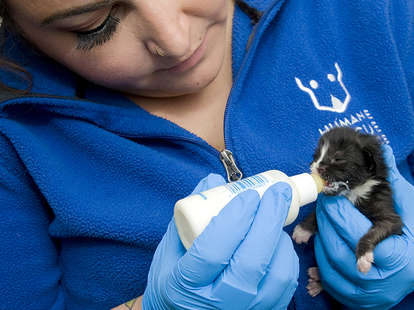 Humane Rescue Alliance
Humane Rescue Alliance
In the face of hardship, hunger, and tragedy, the people of DC have shown that we are resilient. Now, as we move forward, we're still looking for ways to give back, especially to the Black community. There are new and unique needs today, from ramped up emergency feeding and donations of critical supplies to virtual organizing and online activism. Whether you want to pitch in from home or you're willing to safely venture out to lend a hand, there are countless organizations seeking helpers. We've rounded up a list of worthy causes where you can donate your time or resources, depending on your interests.
For the food altruist
Providing meals and groceries for folks who can't access them is critical right now, and there are safe and easy ways to get involved. Chef, humanitarian, and hometown hero José Andrés has set up numerous emergency kitchens around the country via his nonprofit, World Central Kitchen. Locally, there's a big operation at Nationals Park and many more at restaurants around DC where chefs and volunteers prepare, pack, and distribute thousands of meals for those in need. Join their volunteer corps to find out about opportunities to help.

You can also enlist in the efforts of numerous local emergency feeding and relief programs. Help Real Food for Kids distribute meals for families affected by school closures. Donate to Hook Hall Helps to provide aid to restaurant workers. Pack grocery boxes at the Capital Area Food Bank or Bread for the City warehouse to help get provisions to the food insecure.

Culinary workforce and economic development nonprofit La Cocina VA is still operating during the pandemic, continuing their mission to support minority groups with bilingual culinary training. Currently, interested volunteers should inquire about skill-based needs like graphic design for special projects, and in the coming months, the program will begin recruiting helpers to prepare meals for food assistance.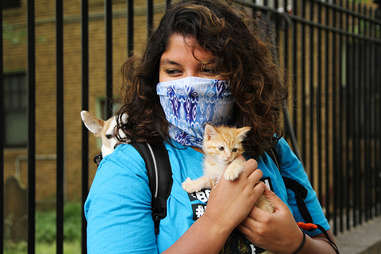 For the animal lover
You've probably heard that pet adoptions are booming as a result of quarantine, but animal shelters can still use your help. The Humane Rescue Alliance recommends checking in on elderly and vulnerable neighbors and volunteering to buy pet supplies or walk their dog. They're also seeking donations of supplies.

Lucky Dog Animal Rescue still has many volunteer roles open to assist with their virtual adoptions, including coordinators, matchmakers, and adoption or foster screeners. You could also choose to donate items like food, disinfectant, and leashes via their Amazon Wishlist. City Dogs Rescue & City Kitties doesn't operate out of a physical shelter location, so their volunteer opportunities are always remote. You can sign up to be an adoption counselor, foster assistant, or pet-profile writer.
For the tree hugger
Despite the false accounts of dolphins in the Venetian canals, there are real signs that nature is doing quite well during the pandemic. But you can always help further that progress by volunteering with an environmental nonprofit. The Chesapeake Bay Foundation has been inviting folks to bring the Bay home with webinars, educational videos, and coloring pages. You can get involved by learning how to reduce your impact on the Bay using the Bay footprint calculator, or join their virtual fundraiser to Walk the Watershed.

Smaller waterway preservation organizations also offer great options for socially distant stewardship. Potomac Conservancy will be hosting virtual gatherings for volunteers. Anacostia Riverkeeper has virtual trainings and virtual cleanups to help you become a volunteer water-quality citizen scientist. Rock Creek Conservancy suggests doing a solo trash cleanup or removing English ivy from your property and planting native species in its place.

Chesapeake Climate Action Network also has advice for how to continue your activism right now -- including writing to your representatives, taking part in the Digital Climate Strike, or attending a training to build skills to be a better volunteer. Sign up via their survey to offer your support on actions like organizing CCAN members or writing letters to the editor.
For the equity ally
If you're striving to make the world around you a little more just, there's no shortage of organizations that need you. The Black Lives Matter DC chapter has been tirelessly speaking out against injustice for years, and they are now in the spotlight with the recent protests. The organizers seek support in the form of supplies for protestors and legal funds. Sign up online to stay plugged in about ongoing opportunities to bring about change.
Ayuda provides legal, social, and language services to low-income immigrants to help navigate the immigration and justice systems and access the social safety net. While the organization's physical offices are closed, volunteers are still needed for teleworking tasks such as translation and pro bono legal representation. Similarly, Sanctuary DMV invites volunteers to join their community campaign in support of inclusive neighborhoods by calling your representatives and displaying the sanctuary logo in your home. Finally, now is a crucial time to support at-risk populations like seniors, and We Are Family does just that; they're still seeking help safely delivering groceries to seniors in need.
Whichever organization you choose, now is the time to harness that pent-up energy from staying home for months and use it as a force for good.