The Most 'DC' Things That Happened in 2015
Larry French/Getty Images Entertainment/Getty Images
What will 2015 be remembered for? Well if it's DC we're talking about: adorable panda cubs, fiery streetcars, and an epic showdown between a celebrity chef and a celebrity-turned-funny-presidential-candidate-turned-frighteningly-real-presidential-candidate. Let's look back.
José Andrés vs. Donald Trump
When Republican presidential candidate Donald Trump called Latino Immigrants "Criminals" And "Rapists", it upset many, including DC local and celebrity chef José Andrés. Originally, Andrés inked a deal to open a new restaurant inside The Trump International Hotel coming soon to the Old Post Office Pavilion in Washington, DC. But after an online petition circulated with more than 2,700 signatures, Andrés dumped Trump, which then caused a flurry of legal battles back-and-forth, and there's nothing more DC than a good flurry of legal battles!
 
A fake speakeasy was shut down for operating like a real speakeasy
File this under shit that only happens here. Two DC blogs (Borderstan and Barred in DC) uncovered a hilarious story in which a faux speakeasy, The Speak, was actually operating without a valid liquor license -- effectively making the fake speakeasy bar a real speakeasy. Well played, everyone.
The DC streetcar caught on fire
Waste. It's what DC does. There's no better example of that than the streetcar project on H St. And, 2015 was a banner year for this project, which has been terminally delayed. There were numerous streetcar fails, including instances when the trolley caught on fire and hit a Metro bus -- and maybe caused your car to be ticketed or towed. But, don't worry, the streetcar is coming soon. Maybe.
Shutterstock
Breaking: the Metro continued to suck. Hard.
We kind of feel bad for Paul Wiedefeld, Metro's new General Manager. He seems like a nice guy with some lofty expectations, but doesn't he realize, this is Metro... things only get worse. This year the system was faced with multiple emergencies and slowdowns. Here's hoping things improve for 2016.
 
People continued to stand in long lines for dubious reasons
Fried chicken sandwiches, cookies, and sushi burritos -- these are just a few of the dumb reasons that people in DC wasted hours of their life in line. Don't believe us? Check out the lines when Chick-fil-A, Milk Bar, and Buredo first opened.
Bei Bei won over our hearts and minds
A nugget of joy was delivered to DC this year, and his name is Bei Bei. The adorable panda cub made his debut at the National Zoo, proving yet again that baby panda cuteness might be the only issue capable of garnering 100% approval ratings here.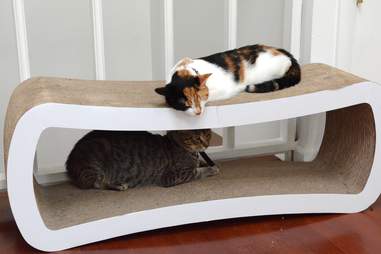 Laura Hayes/Thrillist
Speaking of animals, there is now a cat cafe here
When DC's first cat cafe, Crumbs & Whiskers, opened in Georgetown, Thrillist DC was there to check it out, as were hordes of other feline fans. Our conclusion: America does cat cafes better than Japan. Patriotism!
 
The Nationals choked. They really, really choked.
And, so did almost every other sports franchise in Washington, DC. But, let's remember the greatest choke of the year -- when Jonathan Papelbon placed his hands around the neck of Bryce Harper and tried to choke him. Too bad that doesn't even come close to setting the bar for local inter-teammate disputes. Right Gilbert?
Weed school was in session
Yes, marijuana is legal, but how do you smoke or grow it? For those that need a few pointers or lessons on the drug, there's a new school-based approach. That's right, the DC School of Mary Jane in Columbia Heights started offering workshops on the drug this year. 
Sign up here for our daily DC email and be the first to get all the food/drink/fun in town.
Tim Ebner is a food, travel, and features writer living in Washington, DC. He wishes everyone a safe and happy 2016! Also, make it your resolution to follow him on Twitter @TimEbner.