8 DC Jobs That Definitely Do Not Suck
Courtesy of Patrick McDermott
Lots of people like to brag about their jobs, but very few get a paycheck to play with pandas or "shoot the shit" with Max Scherzer. There's clearly a rarified bunch of Washingtonians who have way better jobs than the rest of us working in windowless cubicle farms with florescent lighting. Get ready to be jealous because these few have the true dream job.
Dan Kolko, on-field reporter for the Washington Nationals
There's barely an offseason for Dan Kolko. As the on-field reporter covering the Nationals for MASN, the dude travels to every away game and hits nearly every home game, too. He flies chartered United flights with the team and stays in their hotel. So, you can imagine he's found players to buddy up with. "A lot of guys aren't willing to bring you into their thought process, but Max [Scherzer] is a student of the game and likes talking baseball," Kolko says. For a 7pm game, he checks into the clubhouse by early afternoon. "I'll bounce over to the players and ask them a quick question or two." Next, it's onto the manager's pre-game press conference and the pre-game show. "Then I'll shovel some food in my face and head down to the camera, well, next to the dugout. That's where I watch the game." Being there for every big moment means getting caught in Gatorade showers and pies to the face, but he digs it. "I have people tell me all the time how lucky I am. I'm aware of that, and I don't take it for granted."
Courtesy of Abby Wood/Smithsonian's National Zoo
Nicole MacCorkle, Bei Bei's panda keeper
Clocking in for Nicole MacCorkle means spending quality time with DC's most adorable resident, Bei Bei the panda cub. She's spent the last 15 years working at the Smithsonian Zoo's panda exhibit, making sure the pandas are healthy and well-fed. "Everybody thinks I just get to play with panda bears all day, but really, there's a lot of work that goes with it," MacCorkle says. "We work at all hours of the day preparing meals and cleaning their habitats." This is the third panda cub that MacCorkle has cared for -- she has also worked with Bao Bao and Tai Shan. "Each one has their own personality, but Bei Bei is a special little guy. He's almost overly confident and will run out into the yard when it's playtime fun."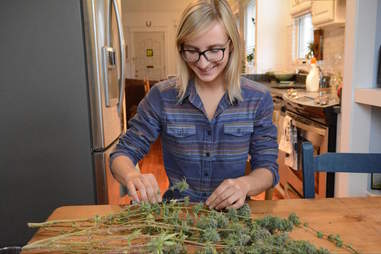 Laura Hayes/Thrillist
Natalie Carver, cannabis coach, Buds Organic
Natalie Carver wants to turn you into a green thumb... at growing weed... legally. In her role at Buds Organic, Natalie will install everything you need to get from seed to stoned. If you recall, DC recently passed a law allowing its residents to grow three mature cannabis plants per person. Once your grow tent is in, Natalie will pay you a visit once a week to ensure your success throughout the entire grow cycle. The service, however, isn't cheap. Installation runs $800-$1,200 depending on the complexity of the setup, and after that, clients pay a $50-$75 maintenance fee, per visit.
Courtesy of Mike Van Hall
Mike Van Hall, designer of liquor and beer labels
Ever wonder who designs those gallery-grade brands and labels found on your favorite bottle of craft beer? Answer: it's Mike Van Hall. He's an artist and designer that works with leading booze brands to make their product pop. Right now, he's working on a brewery project, called Vanish Beer, and he's previously designed beer cans for Stillwater and liquor labels for James River Distillery. Van Hall goes by the moniker the committee on opprobriations and he's always thinking about design. "Working with so many alcohol and food people, I am conditioned to find the specialness," Van Hall says. "Right now, Vanish Beer is the closest thing to a holistic design effort that I have gotten to do so far. The project extends beyond branding -- I am attempting to instill creativity into the fiber of the brewery." His work is a big change from his previous gig as a DC lawyer. Van Hall worked for a couple technology startups before launching his own design firm. "When I decided to make art my career, I knew that I had to start by focusing on a topic that I loved," he says. "Booze made sense for that."
Courtesy of Cloud Terre
Amber Kendrick, architect of plates and bowls for Cloud Terre
Amber Kendrick knows quite a few chefs, and her company, Cloud Terre, produces some of the most sought-out dinnerware for its signature ceramic patterns. "Most of my day, I'm either covered in clay or trying to communicate while wearing a ventilator mask, or sweating next to a 2,300 degree kiln," Kendrick says. Before dealing in clay molds and glazes, she was an architect based in San Francisco. That's where Kendrick started meeting and designing plateware for chefs. It's a collaborative process of creativity and testing, she says. "Recently, I had to develop a very specific surface that required a lot of testing," she says. "I was not only developing two new glazes but had to test their interaction as well as their application."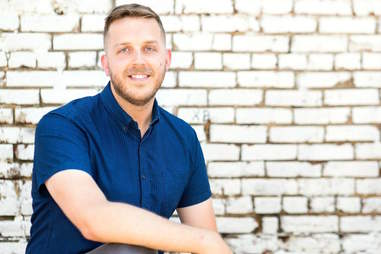 Courtesy of Espita
Josh Phillips, master mezcalier and general manager of Espita Mezcaleria
Josh Phillips wants you to bypass the rail tequila and reach for the top-shelf mezcal the next time you visit the bar. It's a smokier cousin to tequila, and it's really starting to pick up as a drink of choice in DC. "My job as a mezcalier is to guide you to a variety of different mezcals. I want to help people explore the spirit a bit more," he says. Just like a sommelier, a mezcalier involves a level of certification, but that process is entirely different from wine pairings, Phillips says. "Being a mezcalier is definitely more of a casual, fun thing," he says. Both Phillips and his wife are mezcal masters -- there are only about 30 in the world -- and they're opening a restaurant in Shaw, Espita Mezcaleria, which will pour dozens of different varieties. And, not surprising, he says that owning a bar is a lot more fun than his previous job in healthcare.
<strong>Josh Rogosin with Ben Folds |</strong> Courtesy of NPR
Josh Rogosin, the guy behind NPR's Tiny Desk Concert series
It's one of DC's smallest music venues -- the Tiny Desk Concert, a live performance show that fits behind Bob Boilen's desk, host of NPR's All Songs Considered, and Josh Rogosin is the behind-the-scenes guy. He's the technical director for NPR Music and edits the audio for every one of the Tiny Desk Concerts. You may not see him much, but you can definitely hear his work. A few weeks ago, he was hosting Wilco. Before that, it was one of his favorites -- Ben Folds. The job may have plenty of rock star cachet, but it's also pretty hard work, Rogosin says. "I choose how to mix the sound. On camera, it looks like a simple stereo microphone, but there's a lot of other technology behind the scenes. The trick is to make it sound as if a band is just there playing in the room," he says. Most of his time is spent editing in post-production. It's a process where he polishes the sound alongside the HD video. "One time we were recording Shakey Graves, and I basically had to crawl into the shot to get what I wanted. It was completely nerve-racking!"
Courtesy of Joe Cereghino
Kelly Towles, artist who has created murals for U Street Music Hall, Toki Underground, DC Brau, and Graffiato
Kelly Towles never gave up on his dream to be an artist. His first job was at Whole Foods, where he taught himself many of the design and branding basics needed for the job he has now. Today, he's one of DC's hottest talents helping to bring attention to the local art scene. For Towles, there's no such thing as a typical day. "I have to get my son ready for school. Then, after I drop him off, I do emails, and maybe I'm designing a mural, or going to a site visit, or meeting with sponsors. It's all over the board." Right now, he's working on a project, called Pow! Wow! DC. It's a festival that originated in Hawaii and is the first of its kind for the East Coast. Towles is the force recruiting 20-odd mural and graffiti artists. "It should be a good chance to show that DC kicks ass, and that we're a creative city not to be messed around with."
Sign up here for our daily DC email and be the first to get all the food/drink/fun in town.
As a kid, Tim Ebner wanted to be a professional soccer player or writer. He got cut from the high school soccer team, and now writes food, travel, and lifestyle features. Follow him on Twitter @TimEbner.