Baltimore Is Brimming with Blue Crab and American History
Here are the best things to do in Baltimore, Maryland for a weekend getaway from DC.
Best known for its bizarre shape and charmingly-garish state flag, Maryland has made waves across the nation thanks to its rich history and spectacular seafood scene—and few destinations so perfectly encapsulate its best qualities as Baltimore. The cultural capital and economic engine of the state, this vibrant city pre-dates the founding of the United States, serving as a major port city and crucial strategic base during wartime.
In the modern era, Baltimore is a top-tier vacation destination for all manner of tourists, brimming with fascinating museums, historic landmarks, and incredible bars and restaurants to enjoy—and to sweeten the deal, it's just a half-hour Amtrak ride from the national capital. As you plan your next visit to the northeastern United States, be sure to save some room on the itinerary to explore Baltimore, an urban outpost that really puts the "charm" in "Charm City."
Eat your body weight in local seafood
Famous Baltimore natives range from Thurgood Marshall to Anna Faris, but when it comes to true stardom, there's no beating the Callinectes sapidus—or blue crab. These feisty invertebrates were designated the State Crustacean back in 1989, serving as the city's culinary crown jewel for fresh-faced tourists and lifelong residents alike. While there's a wide array of restaurants dishing out steamed crabs, L.P. Steamers has been a tried-and-true local favorite for more than two decades, equipped with friendly staff at the ready to offer a crab-cracking tutorial for first-time diners.
For those who prefer their crabs in cake form, options range from the 1880s-era Faidley's Seafood to Koco's Pub—and even vegans can get in on the fun with a trip to The Land of Kush. Specializing in plant-based soul food, the venue crafts their own take on classic crab cakes with their Vegan Crab Cakes, serving up crispy plant protein loaded with a healthy serving of Old Bay.
And of course, Baltimore's culinary prowess doesn't end with just crustaceans. For a deep dive into the wide world of Maryland seafood, Thames Street Oyster House can be found steps away from the Patapsco shore, providing diners with classics like the New England Lobster Roll or Braised PEI Mussels, and a wealth of other undersea favorites to sample.
Dine within a globally-inspired food scene
While Chesapeake Bay has given rise to a serious seafood scene, Baltimore's culinary prowess spans all across the globe, with no shortage of incredible international restaurants thriving across city limits. For fans of South Asian cuisine, the neighborhood of Mount Vernon is packed full of top-tier Nepalese and North Indian dining destinations, with Lumbini Restaurant offering classic dishes like Sekuwa with Lamb and Lumbini Momos in a gorgeous setting.
Further south, the unassuming Yemen & Gulf dishes out incredible South Arabian fare, providing guests with savory selections like Fasoolia, stuffed Grape Leaves, and Lamb Haneeth. For a more upscale dining experience, swing by Bolton Hill to find The Tilted Row, a polished restaurant that made its debut in 2019. Offering a seamless blend of New American and Mediterranean fare, the venue has become a local favorite thanks to dishes like Moorish Eggplant and Charred Octopus.
Stroll through world-class museums
From fine arts to natural science to local Maryland history, Baltimore is equipped with a diverse roster of educational institutions awaiting your next visit. Just east of Druid Hill Park, the historic Baltimore Museum of Art is home to a particularly diverse scope of items, hosting a collection that ranges from ancient artifacts from across the African continent to more than 1,000 art installations from Henri Matisse. Further south, The Walters Art Museum is equipped with Mesopotamian jewelry, Ming dynasty-era pottery, and a wealth of Islamic art, and—as an added bonus—it's completely free to enter.
In addition to a spectacular fine arts scene, Baltimore is rife with museums that highlight the rich cultural diversity of the city. During a visit to the Reginald F. Lewis Museum, visitors can gain insight into how Black American culture has developed across Maryland over the decades, with exhibits dedicated to prominent Black figures in sports and music, the life of Frederick Douglass, and a wealth of other topics. Nearby, the The Jewish Museum of Maryland shines a spotlight on Charm City's Jewish heritage, equipped with rotating exhibits and two storied synagogues to explore.
Uncover the state's lengthy history at the birthplace of the Star-Spangled Banner
Officially adopted as the U.S. national anthem in 1931 (and perfected by Whitney Houston at the 1991 Super Bowl XXV), the Star-Spangled Banner is a certified Charm City native that was penned by Francis Scott Key in 1814 at the Battle of Baltimore. The storied Fort McHenry is the perfect destination for gaining insight into this explosive skirmish, while additional on-property exhibits highlight later eras spanning from the fort's Civil War-era status as a military prison to its use as a temporary military hospital during World War I. While there's no shortage of Baltimore history to discover across the fort, it also doubles as a popular ecotourism destination, with seasoned birders arriving in search of ospreys, ducks, and native passerines.
Get acquainted with undersea life at award-winning exhibits
Shaped by a meteor strike roughly 35 million years ago, the Chesapeake Bay has quite possibly the coolest origin story of any U.S. natural feature—and as an added bonus, this sprawling body of water is home to some incredible marine flora and fauna. To discover what's lurking beneath the murky Maryland waters, the National Aquarium is an essential destination, with more than 700 species calling the institution home. While the space serves as a crucial refuge for vulnerable creatures like the largetooth sawfish, the impact of the aquarium spans far across the city, with ambitious programs in place to restore native habitats across Maryland.
Spot majestic megafauna while supporting wildlife conservation
One of the oldest animal parks in the nation, The Maryland Zoo has been a major draw for nature lovers since 1876. As animal welfare has become a top priority at zoos worldwide, the institution has ditched the cramped cages and wholeheartedly embraced wildlife conservation, working in tandem with organizations like Project Golden Frog and Polar Bears International to keep our planet's most vulnerable species safe. While international wildlife ranging from chimpanzees to cheetahs can be found across the zoo, there's no shortage of local species to spot as well, with bobcats, eastern hellbenders, and bog turtles thriving throughout the Maryland Wilderness exhibit.
Sip suds and explore the booming local beer scene
In need of a little liquid refreshment after a blue crab feast? Baltimore's hottest breweries are at the ready, with outposts spanning from Locust Point to Druid Hill Park. Just west of Fort McHenry, Diamondback Brewing Company is equipped with a diverse array of brews ranging from Czech dark lager to peach cobbler sour—both of which pair perfectly with a freshly-made pizza, with five-cheese, soppressata-loaded, and vegan pies all up for grabs.
Over in South Baltimore, Checkerspot Brewing is a top destination for a post-Ravens game pint, earning abundant acclaim for their hop-heavy IPAs and crisp pilsners, all of which have been specially treated to reduce gluten levels. In the northern reaches of the city, the Hampden area is loaded with top-tier watering holes, with Union Craft Brewing offering classics like Duckpin pale ale and Skipjack pilsner in a massive space.
Relax at Charm City's most charming hotels
A full day of exploring Baltimore can be a little exhausting, but fortunately, the city is packed with palatial properties to give you some much-needed rest. Located in the heart of Mount Vernon, the Revival Baltimore is equipped with more than 100 art-focused rooms and suites, and also doubles as a paradise for high-end drinking and dining. The property's rooftop restaurant, Topside, offers gorgeous Baltimore vistas, a lengthy seafood selection, and a top-tier beverage program that's loaded with both boozy and non-alcoholic options. For serious cocktail aficionados, no stay is complete without checking out B-Side, a refined speakeasy that focuses on vintage recipes.
For those who prefer to stick close to the water, the Sagamore Pendry Baltimore offers some of the finest accommodations found in Fells Point. Operating out of a stately 1910s-era Beaux Arts warehouse, this palatial property offers a wealth of high-end amenities ranging from the waterfront outdoor pool to the spa to Rec Pier Chop House, a massive dining space that's mastered the art of hearty Italian cuisine.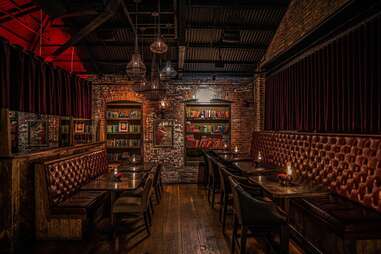 Enjoy drinks from the city's top cocktail experts
While Baltimore's beer and spirits scenes are top-notch, Charm City is no stranger to masterfully-crafted cocktails either. In Little Italy, The Elk Room has earned nationwide acclaim for its diverse spirits selection (caçhaca, sotol, and shochu are just a few of the liquors gracing the menu) and dazzling picture riddle-themed menu, while nearby Keystone Korner is one of the city's hottest jazz clubs, providing visitors with savory seafood and classic cocktails to the tune of live music from some of Baltimore's most talented musicians.
If you're in need of some decadent comfort food to pair with your cocktail, look no further than Copper Shark, a polished dining space located in the western reaches of Locust Point. While it's best known for its decadent meat-forward dishes, the venue is no slouch when it comes to mixed drinks either, slinging up flavorful Old Fashioneds, Manhattans, and other favorites made with local Maryland whiskey from Sagamore Spirit.