Tell your friends that you're headed to Baltimore and they'll expect that dining on crabs and a trip around the Inner Harbor are in your future. While we expect these on the itinerary, a trip to Charm City should include so much more. New food markets, rooftop bars, and restaurants are remaking the city's dining scene. And one of the world's most famous beer brands, Guinness, just opened its first US brewery near Baltimore. We've covered these and other highlights in our updated guide on the best things to do in Baltimore.
Recommended Video
Ever Heard of Pon De Ring Donuts?
Sample sweet and savory fare at food markets
Food markets have sprouted throughout the country as people crave local flavors at an affordable price. Baltimore boasts newer industrial chic food halls as well as six longstanding public markets.
Head to Remington's R. House to sip on seasonal cocktails in its large square-shaped bar and feast on food offerings that include vegan delights at Stall 11, Venezuelan pocket sandwiches at White Envelope, and pizza made with locally sourced ingredients at Molina Pizze & Polpette. Located a mile north of the Inner Harbor, Mount Vernon Marketplace offers a selection of oysters, ramen, crepes, and charcuterie paired with craft cocktails.
A fixture since the late 18th century, Lexington Market is where you'll find the famous crab cakes from Faidley's Seafood, peanut brittle from Konstant's Candy, and the beloved Berger cookies topped with a thick layer of fudge from Berger's Bakery.
Enjoy a climbing gym, beer, and ice cream under one roof
Part food manufacturing space, part retail spot, and part brewery, Baltimore's newly opened Union Collective defies categorization. The chillax space near Hampden is the new home of Union Craft Brewing's beer production and taproom, where you can sip a Duckpin pale ale or Anthem golden ale, followed by a scoop of Old Bay Caramel from The Charmery. Or take a seat outside on the expansive patio, with a colorful abstract mural that depicts the brewing process as the backdrop. The athletically inclined can work off the carbs at Earth Treks climbing gym. The site also holds a café and espresso bar from Vent Coffee Roasters and whiskey and gin maker Baltimore Spirits Company (which opens for business very soon).
Bury your toes in the Sandlot
There's a beach in Baltimore in the growing new Harbor Point neighborhood. Don't jump in the water, but do dip your toes in the sand, play corn hole, and drink some slushies at Sandlot. The restaurant group behind the city's most famous restaurant, Woodberry Kitchen, debuted the waterfront hangout last year, which has since become one of the city's top spots to while away a few hours on a nice day. Choose from the comfy lounge seats or picnic tables where you can order food and drinks.
Given the owners, you might not be surprised to discover that the food is a notch above your average beach fare. Feast on crab corn fritters or blackened catfish step while enjoying the iconic view of the neon Domino Sugars sign.
Explore new rooftop bars and new restaurants
A bevy of new bars are taking drinkers to new heights. The latest, Topside, debuted this spring on the 14th floor of the boutique Hotel Revival, offering a 360-degree view of the surrounding Mount Vernon neighborhood, clever cocktails, and foosball tables. For a birds-eye view of East Baltimore, head to the terrace of 16 on the Park, a hotel rooftop restaurant that opened late last year at the Johns Hopkins Medical Campus.
The glass-enveloped spot Bygone mimics the vibe of the roaring '20s with luxurious surroundings on the 29th floor of the Four Seasons Baltimore. If you prefer more casual surroundings and boozy popsicles, the 19th floor of the Lord Baltimore Hotel's terrace, the two-year-old LB Skybar, will fit the bill.
Other established rooftop bars can be found at the Mt. Washington Tavern's Skybar, with flat screen TVs and sofas, and Woody's Rum Bar, where you can feast on fish tacos and enjoy the view of the cobblestoned Fells Point streets.
Get crabs and other seafood
It's no secret that Baltimore is known for its crabs, and you absolutely need scuttle on over to the favorites: Captain James Landing, LP Steamers, Nick's Fish House, or the family-owned Costas Inn.
Consider venturing into the neighborhoods for additional noteworthy seafood restaurants. In Hampden, there's Dylan's Oyster Cellar, known for its selection of fresh local oysters, and of course, Woodberry Kitchen. Other noteworthy seafood restaurants include the stunning waterfront destination Rye Street Tavern in Port Covington, Thames Street Oyster House in Fells Point (with one of the best lobster rolls in the nation) and a neighborhood favorite in South Baltimore, Minnow.
Tour our best breweries for local and international brews
Fun fact: The nation's first flag was assembled on the floor of a local brewery in Baltimore, so you could say that beer is literally woven into the fabric of our great nation. The number of breweries is growing and Maryland is the only place in the US where you can visit a Guinness brewery. Guinness Open Gate Brewery and Barrel House opened August 3 in Relay (about 20 minutes from downtown) and is already drawing beer lovers to its taproom, gift shop, and exhibits that highlight the iconic beer's history. Drink a pint outside on a warm day.
There are plenty of local craft breweries as well. Ride the Heavy Seas and Waverly Brewing Company, admire The Brewer's Art, scale the Peabody Heights and take a tour, sample a flight, then down a few cold ones. Take a trip to Howard County to complete your beer tour at Manor Hill Brewing, Hysteria Brewing Company, and Black Flag Brewing Company.
...or try the harder stuff at our best distillery
If you desire something stronger than beer, throw back some rye whiskey at the Sagamore Spirit Distillery in Port Covington. The facility opened last year but the owners are making their spirits using a limestone spring originally used over 100 years ago. The facility is now open for tours, where you can see its massive still, learn how the whiskey is made, and sample the delicious wares. Head next door to Rye Street Tavern to try some cocktails made with the whiskey.
Listen to live music
There are plenty of venues to catch concerts around the city: The harborfront Pier Six Pavilion has sweeping views and hosts big-name acts during the summer; The 8x10, an intimate venue in Federal Hill, features mostly local artists, with some nationally touring ones popping in occasionally; and Rams Head Live has five bars, three levels, and a stacked lineup. For free tunes, check out WTMD's First Thursday concert series, which runs from May through September.
View truly unique works of art
The American Visionary Art Museum may just be one of the most unconventional museums around, as all of the works are done by self-taught creators. It's also behind Baltimore's annual Kinetic Sculpture Race, a head-turning competition of human-powered artworks that traverse both land and sea. For more classical art, turn to the Baltimore Museum of Art (with the world's largest Matisse collection) or the Walters Art Museum, which just reopened its ornate 19th century mansion following a four-year renovation.
Join the Hampden hipsters
Hampden is arguably the most hipster 'hood in the city. The historically blue-collar mill town has morphed into a hub for artist studios, wine bars, and some of the city's best restaurants. They include "hyper-seasonal eatery" Foraged, Avenue Kitchen & Bar, Dylan's Oyster Cellar, and the Food Market.
The heart of Hampden is a part of 36th Street simply known as "the Avenue," where you'll find eccentric boutiques like shoe and chocolate hybrid Ma Petite Shoe, and quirky cafes, along with barber shops and pharmacies. The neighborhood also hosts the annual HonFest, a spring street festival dedicated to Bawlmer trademarks like the beehive, cat-eye glasses, and leopard print.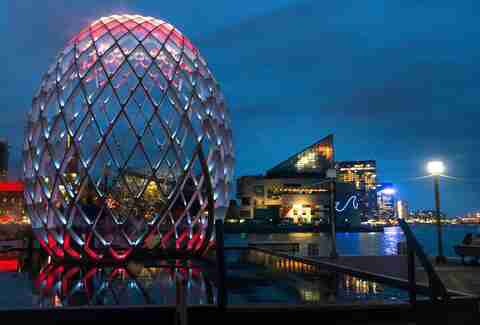 Cruise around on the harbor
Hop on a boat to get up close and personal with the city's most precious asset -- the water. Swashbuckling scallywags will enjoy the harbor's newest boat tour, Pirate Ships of Baltimore, which debuted this spring. The fleet of a dozen solar-powered electric ships sporting pirate flags and fake cannons seats up to six passengers. These boats shouldn't be confused with another fun ride for mateys. Urban Pirates, which sets sail from historic Fells Point and offers separate cruises for families and adults who can bring their own grog.
For a more relaxed pace, take a narrated tour on Watermark Cruises or a dinner cruise aboard the Spirit of Baltimore where you'll enjoy a DJ and nighttime view of the harbor attractions. The decades-old Baltimore Water Taxi got a refresh last year after Under Armour founder Kevin Plank purchased the company and upgraded the fleet with sleek and modern vessels. It's a scenic way to commute around the harbor and see the city's historic and newest sights.
Dive into the National Aquarium
At the National Aquarium in Baltimore's Inner Harbor, you'll find more than 20,000 sea critters. This massive aquatic wonderland has several fascinating exhibits, including Blacktip Reef, which features 3,000 pieces of manmade coral, a 500-pound green sea turtle, blacktip reef sharks, and the excellently named tasselled wobbegong. The newest addition is the Living Seashore, which has two touch pools where you can pet horseshoe crabs and stingrays.
Tour Edgar Allan Poe's old stomping grounds
Visitors seeking a more macabre impression of the city can follow in the footsteps of literary icon Edgar Allan Poe. The city will host its first International Edgar Allen Poe Festival October 6-7 with performances, poetry, music, and more. Visit the home he inhabited in the 1830s, which contains artifacts like his writing desk and chair, a telescope, china, and glassware. Then make your way to the telltale landmarks in his life, from an old house where he won a poetry contest and a railroad station he frequented to the hospital where he died and the spot where he was buried.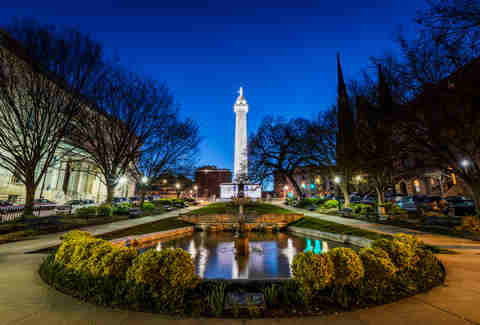 Trace America's story through the city
You can tour Fort McHenry, the site of the battle that inspired Maryland-born Francis Scott Key to write the "Star-Spangled Banner," then visit the house where the original flag was sewn. Baltimore is also the birthplace of modern railroading -- the Baltimore and Ohio railroad was built there in the early 19th century, and you can check out the first piece of track ever laid at the B&O Railroad Museum. The Frederick Douglass-Isaac Myers Maritime Park celebrates the contributions of African-Americans in the city's seafaring industry, and chronicles Douglass and Myers' lives in Baltimore. Then there's the original Washington Monument. Built in 1829, it was the first monument built in honor of our first president. You can climb the 227 steps to the top for a great view of the city.
Sign up here for our daily DC email and be the first to get all the food/drink/fun in town.