Actually Cool Things To Do in Baltimore During Quarantine
There are still so many options.
Any other year, Baltimoreans would be gearing up for the Preakness Stakes and the start of crab and festival seasons. While so many of our beloved pastimes can't be enjoyed in large crowds due to the coronavirus, we can still enjoy many experiences virtually. We've highlighted tourist attractions, arts organizations, and restaurants that let us enjoy the best of Baltimore at home.
Create your own rock opera and quirky art
Baltimore's arts community has kept creativity alive during the shutdown and many are inviting fans to devise their own masterpieces at home. The Baltimore Rock Opera Society is inviting budding performers to produce their own short rock opera (up to three minutes) by May 25, with the chance to produce it in full after quarantine ends. Baltimore's home for amateur artists, the American Visionary Art Museum, offers art workshops online, with instructions on how to make sock monkeys, luminaries and crayon critters.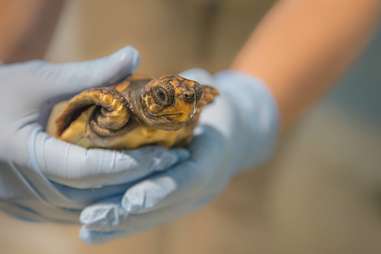 View live streams of sharks, lions, and more
Some of Baltimore's favorite tourist attractions let visitors get up close with animals even if their physical doors are closed. Tune into the National Aquarium in Baltimore's live webcams to watch blacktip reef sharks, jellies and colorful fish swimming in a coral reef. To glimpse land animals, view the Maryland Zoo in Baltimore's live footage that features lions, penguins, flamingos and more.
Go behind-the-scenes of Baltimore's Broadway theater
Staff at the Hippodrome are sharing their insiders' knowledge of how shows get produced and the history of the 106-year-old theater on its Facebook page. For more creative exploration, read the Best Virtual Art Experiences in DC, which includes several museums and movie theaters in Baltimore.
Enjoy the Preakness Stakes at home
Hosting the Triple Crown race is a source of enormous pride for the city, so canceling the live event surely disappointed many. But fans can still enjoy horse racing at home. The Maryland Jockey Club will stream interviews, and relive favorite Preakness moments on Facebook May 16 at 6pm (There's still discussion of whether the live race at Pimlico Race Course will take place in the fall).
Enjoy festivals at a distance
Baltimore's spring and summer seasons are defined by its eclectic festivals. Everyone loves seeing beehive-sporting hons on display in Hampden, but this year organizers of the city's beloved festival are encouraging Hons to dress up and share their photos and videos. Other details of the Virtual HONfest are still being worked out. Since its 2018 debut, the Charm City Night Market's celebration of Asian-American food and art has become a fixture of the city's festival circuit. Now the festival's organizers have teamed up with the City Seeds' School of Food, which is hosting virtual Filipino cooking demonstrations from two Charm City Night Market chefs May 16. Buy tickets ($20) online and pick up the ingredients at La Cuchara.
Get takeout from some of the city's best restaurants
Some of the city's most acclaimed restaurants are now serving their mouthwatering dishes to go for the first time. Foreman Wolf recently resumed takeout for Cinghiale, Bar Vasquez, Johnny's, Petit Louis and the James Beard Award-nominated Charleston. Order early in the day to snag Le Comptoir du Vin's famous house sourdough or French lentils along with some wine to go from its thoughtfully curated vino selection. Savor farm-to-table fare at Foraged, which posts its daily menu on its Facebook and Instagram pages. Pick up a $50 meal kit at least 48 hours in advance of its virtual cooking class on Sundays. Woodberry Kitchen sells quiche, meatballs, and potato gnocchi along with pizzas, baked goods and abundance of pantry items. In Little Italy, Aldo's Italian Restaurant serves classic Italian pasta, seafood and osso buco to go.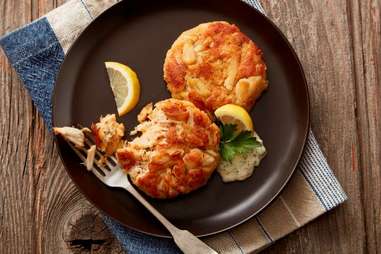 Get crabs, oysters, and other seafood to go
Baltimoreans will surely miss pounding crustaceans on their favorite crab shack or slurping oysters at the neighborhood bar. Get oysters, beer and steamed crabs to go on Fridays at True Chesapeake Oyster Co., starting May 22. L.P. Steamers serves hot steamed crabs, snow crab legs, scallops, and other seafood specialties daily while The Urban Oyster sells chargrilled oysters, peel-and-eat shrimp and crab cakes. Nick's Fish House offers crab cake family packages and orange crush kits, along with the regular menu, so customers can recreate the classic summer-in-Baltimore experience at home.
Learn more about your favorite wine, beer or spirit during a virtual tasting
Clink glasses across the screen while tasting spirits, wine and during virtual tastings. Canton Crossing Wine & Spirits is featuring one red and one white wine from Michael Shaps Wineworks during its Lanterna virtual happy hour May 15. Though it's free to join, you can pick up a discounted tasting kit for $49.99 at the store. Black Ankle Vineyards is hosting offering free virtual tours and ongoing tastings that can be booked on its website. Head to the Maryland Wineries Association's Facebook page on hump day for its weekly free Wine Wednesday Virtual Tasting, which highlights different wineries throughout the state. Beer lovers can learn how to pair beer with cheese or get an intro to homebrewing with City Brew Tours new Beer Events at Home program. Spirit lovers can tune into Tenth Ward Distilling's Instagram page, where it holds live drink-making sessions, such as how to mix absinthe at home.
Match your wits against other trivia buffs
Thursday night trivia at the local bar is out, but the game lives on virtually thanks to one Baltimore resident. Stephen Walsh, who formerly worked in the restaurant event industry, has hosted nearly 25,000 virtual trivia fans on Zoom and was even the subject of a Business Insider profile. Check out the events listed on his Facebook page and sign up here.
Sign up here for our daily DC email and be the first to get all the food/drink/fun in town.