As the nation's capital, DC is an infinitely popular spot for tourists from all over the world. And while photographing cherry blossoms and taking a Segway tour around the monuments are all well and good, there are plenty of things to do in the District that are perfect for locals and first-timers alike.
 
We've rounded up all the fun stuff around town, including plenty of free activities as well as splurge-worthy spots. We skipped the one-off events and the infamous stand-in-line destinations, since that's really no way to spend a trip. Otherwise, it's all here, from brewery tours and must-hit restaurants, to legitimately cool museums and gorgeous parks. And don't worry: We won't make you ride a double-decker bus.
$
National Mall
Tired of the Smithsonians? Head to Artechouse for a totally different kind of gallery experience. The popular space is located between the National Mall and the District Wharf, making it a great indoor reprieve from the heat. A rotating exhibit that merges experiential art and technology makes for a fun and interactive experience, and don't forget to download their free app before heading to the bar for an augmented reality cocktail.
Free
Georgetown
The Chesapeake and Ohio Canal used to function as a waterway for coal, lumber, and agricultural products to float to market for nearly 100 years. Today it's enjoyed as a peaceful pathway to run, hike, or bike along, featuring a whopping 184.5 miles of trail that stretches from mile 0 in Georgetown all the way to Cumberland, Maryland. No need to stress at the sight of that overwhelming number though, there are plenty of points on the trail to turn around for a way shorter run. 
Free
Loudoun County
In case you didn't know, Loudoun County has become something of a craft beer capital in Northern Virginia with more than 30 active breweries. If you're looking for something fun and outdoorsy to do this weekend then this is the one for you. Grab (or rent) a bike and head over to the LoCo Ale Trail -- a scenic biking trail that will bring you past tasting rooms on farms, industrial parks, mountain tops, historic downtowns and right off the bike trail. Check out the full trail guide here.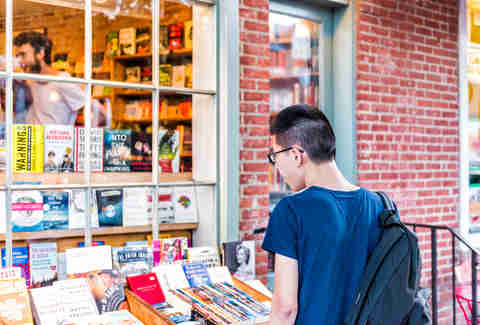 Shop (and eat) your heart out in Georgetown
$
Georgetown
Despite being DC's oldest neighborhood, Georgetown remains one of the best areas of the city to spend time in -- especially on an afternoon with optimal walking weather. Grab your morning brew at Grace Street Coffee Roasters or enjoy brunch al fresco at the euro-centric Kafe Leopold before strolling your way down M Street for some quality shopping, where you can find storefronts from big retailers like J.Crew or the more trendy Outdoor Voices and Reformation. 
Free
Rock Creek Park
Meridian Hill Park isn't just home to North America's longest cascading fountain, it's also where you can find a DC tradition that's been going strong for 40 years -- a lively drum circle that takes place at the park every Sunday. Get to the park early for some quality picnicking and dog-watching and then get ready for all the drumming, dancing, and excitement that starts at 3pm. 
$3
Germantown
There's something so fun about paying to pick your own fruit, no matter the season. You'll need a car for this one -- but go ahead and pile everyone in for a whole afternoon at Butler's Orchard in Germantown (about a 45 minute drive from DC). There's fun to be had there all year-round, whether you're heading to the orchard in the summertime to take advantage of ripe blueberries by the bucket-full, or in the fall for your annual apple-picking photo opportunity.
Free
White House
This art museum always has an Instagram-worthy exhibition with themes like Disrupting Craft and Reforestation of the Imagination, but you can check out what's currently on view before your visit here. Bring your cool friends here and explore the large-scale works from the annual desert phenomenon.
Free
The Mall
Put this at the top of the list of actually cool museums on the Mall. The massive institution has an endless supply of trivia fodder, but some of the coolest exhibits are sleepers, like the bone hall (giraffes only have seven neck vertebrae?!), the software that lets you turn your face into an early human, and all the crazy rocks in the geology exhibit.
Free
Arboretum
The 446-acre National Arboretum is the perfect backdrop for some artsy shots, whether you strike a pose in front of the iconic National Capitol Columns or frolic in the grove of state trees. (Note that professional or commercial photography requires a permit.) Don't miss the National Bonsai & Penjing Museum where you can learn about miniature masterpieces.
Free
Capitol Hill
Did you know you can get a library card for the Library of Congress? The free "Reader Identification Card" gives you access to the Library's research areas and generally makes you a bookish badass. Settle in to a reading room and dig up some history.
Free
Arlington
This park is just a few hundred feet from the north end of one of the runways at Reagan National, so it's a prime spot to sit by the river and contemplate the meaning of life as you watch planes soar overhead. Grab a blanket and a picnic and plan to stay for a few hours.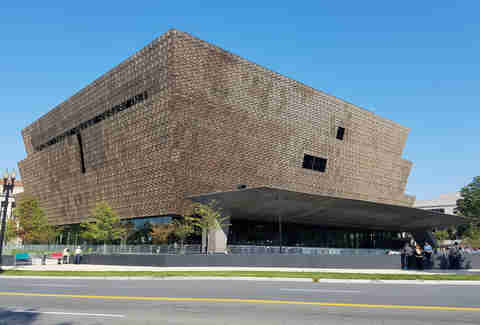 Free
The Mall
As one of the city's newest museums with a constant flow of visitors, you might not have had a chance to set foot inside this impressive Smithsonian creation. Now's your chance. Be sure to plan ahead though, because it's still popular as ever. You can get timed passes for a specific date months in advance, or get online at 6:30am to get same-day passes. Alternatively, you can try your luck in line during the week; a limited number of passes are distributed starting at 1pm, and the line forms well before then. By the way, its Sweet Home Cafe is excellent.
Free
Kenilworth
This water wonderland is open year round, offering nature buffs the chance to spot birds, admire water lilies and lotus flowers, hike, paint, canoe, and picnic. There are plenty of benches around the park, so you can linger a while and enjoy the views.
Free
The Mall
With rotating exhibitions and works by legendary artists, this gallery never gets old. Bring your guests to admire classic paintings by Da Vinci, Rembrandt, Cézanne, Van Gogh, Monet, Picasso, Matisse, and Pollock while you explore fascinating temporary installations. Plus, during the warmer months, there are free jazz concerts in the Sculpture Garden.
Be a tourist on Embassy Row
Free
Embassy Row
Take a walk down Embassy Row and you'll be transported to far off lands. During the month of May, Passport DC gives you a chance to globe-trot with special events by 70 embassies. Events include open houses, flower marts, chef challenges, street festivals, and more.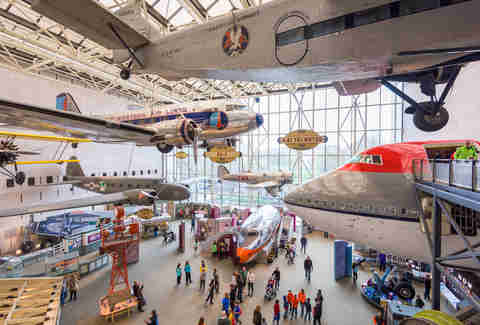 Free
The Mall
Boldly go to this museum dedicated to the Final Frontier. The collection is quite literally out of this world, with the 1903 Wright Flyer, Charles Lindbergh's Spirit of St. Louis, the Apollo 11 Command Module Columbia, and a lunar rock you can touch. There's also a planetarium and an IMAX theater.
Get educated at a think tank discussion
Free-$$
Various locations
This is the nation's capital, after all, and that means that many smart people make it their business to discuss and communicate their smarts here. Think tanks like the Brookings Institution and the Carnegie Endowment for International Peace often schedule talks and informative discussions about topics big and small. Sometimes they also host open-bar receptions afterward.
Free-$$$$
The Wharf
We once named the Wharf the coolest new waterfront in the country, and we meant it. This development has got it all -- swanky restaurants, fancy boutiques, sweet rooftop views of the Potomac, seasonal festivals, a water taxi, two awesome concert venues, kayaking, paddleboarding, and more. It's one of our best neighborhoods to walk around and do... practically anything.
Free-$$$$
Foggy Bottom
You can even impress New Yorkers with a show at the Kennedy Center, which is one of the premier performing arts centers in the country. Depending on your budget, try to catch a free concert on the Millennium Stage or snag pricey, coveted tickets to a touring play or musical.
Free-$$$$
Alexandria
Just a short drive or a water taxi ride away from DC lies the nationally designated historic district of Old Town Alexandria. It was founded in 1749 and is now ripe with restaurants, boutiques, museums, a free trolley, picturesque cobblestone streets, and red brick sidewalks. This adorable town was named a number one travel destination in the country by Money Magazine, beating out the home of Disneyland, so it must be pretty swell.
Free-$$$$
Various locations
Sometimes making plans is overrated. When your house guests roll up, don't forget to take a look at our list of all the things happening in DC that weekend for any picks that suit your fancy. Depending on the week, you might find yourself at a cooking class, a street festival, a sporting event, or an art installation.
$
Georgetown
Even though it's just blocks from the hustle and bustle of M Street, this historic country house and garden feels eons away. The property has beautifully designed and kept grounds, from a hillside of cherry trees and a rose garden, to peaceful terraces and an old greenhouse.
$
McLean, Virginia & Potomac, Maryland
For outdoorsy visitors, Great Falls is one of the best National Parks in the region -- and one of our favorite waterfalls. Marvel at the sheer volume of water rushing over the rocks, and then take in the scenery on one of the many hiking trails, like the challenging Billy Goat Trail complete with rock scrambles.
$
U Street
Remember, the half smoke -- our iconic half-beef, half-pork sausage -- is arguably the official food of DC, so you have to make sure your guests get a taste. This OG joint is the natural choice for first timers. It's a perfect late-night indulgence after bar hopping down U Street.
Sample the area's best restaurants
$-$$$$
Various locations
No matter what snooty New Yorkers say about DC being a meat-and-potatoes town, we all know the truth about the our city's incredible dining scene. We've got you covered when it's time to wine and dine at the absolute best spots in town. Plus, we'll help you figure out where to grab a great burger, delicious breakfast, stellar Italian, tasty pizza, and, of course, brunch -- Washington's favorite meal of the week. Don't forget to do work on your food bucket list while you're at it.
...Or eat your way around a food hall
$-$$
Various locations
Perfect for pleasing a variety of palettes and picky eaters, food halls are at the height of popularity right now. There's the tried and true Eastern Market on Capitol Hill, the family-friendly Union Market with its 200-year legacy, the suburban outlier and Asian food hub The Block in Annandale, and Tastemakers in Brookland.
Relive your college years partying in AdMo or on U Street
$-$$
Various locations
The best places for after-dark shenanigans are hands down Adams Morgan and U Street. Find dive bars galore (including some of our objectively best bars in the city), karaoke, live music, jumbo slice, and pretty much anything you want in these two happening neighborhoods. Just be ready to party like a frat boy.
Stock up at a farmers market
$-$$
Various locations
Surrounded by fertile farmlands in Virginia, Maryland, and Pennsylvania, DC has some serious farmers market game. You can find a bustling market pretty much any day of the week, whether it's the sprawling Dupont Circle market, the lunchtime White House market, or the kid- and dog-filled Falls Church market.
$-$$$
Loudoun County
If San Francisco has Napa Valley, DC has Loudoun County. Draw straws to pick a DD or jump in a limo rental and make your way out to the green rolling hills of the Northern Virginia countryside where there are wineries everywhere you turn. Some highlights include Greenhill, Tarara, Stone Tower, Quattro Goomba's, and North Gate. If you don't feel like leaving the city, you can always sip a DC-made rosé on the southeast waterfront at District Winery.
Do a distillery crawl
$-$$$
Ivy City
Ivy City is DC's unofficial distillery district, with four within walking distance from one another. There's Green Hat, One Eight, Republic Restoratives, and Jos. A. Magnus. And throw Atlas Brew Works in the mix for good measure. If you hit them all and are somehow still thirsty, bounce around to some of the city's other top shelf distilleries, like Cotton and Reed, District Distilling, or Don Ciccio & Figli.
Throw back some local brewskies
$-$$$
Various locations
The city is chock-full of great local craft breweries, so you'd be remiss not to give your guests a taste. Take your pick from the pack: 3 Stars, Atlas, Bluejacket, DC Brau, Right Proper, and more. Neighboring suburban breweries like Port City are also worth a stop.
Sip locally pressed cider
$-$$$
Various locations
DC now has not one, not two, but three cideries! The first arrival, Anxo, has two locations where you can taste their cider paired with Spanish pinxtos. Supreme Core is distributing across the city, so stop by one of the restaurants or bars serving their stuff. And Capitol Cider House is the newest in the set, having opened in a casual space in Petworth.
$-$$$$
Navy Yard
Baseball season is underway, so take your guests out to the ballpark. Nats Park has some killer food options, as well as special events like Pups in the Park, bobblehead giveaways, decade nights, and more. While you're down there, be sure to check out the rest of the neighborhood.
$$
Mount Vernon
Our first president's historic estate is just a 30-minute drive from the city. You can walk through the 18th-century mansion, stroll the expansive gardens and grounds, check out the four-acre farm, learn about historic trades, pay respects at The Tombs, or enjoy the museum galleries.
$$-$$$
U Street
An institution in the DC music scene, this intimate club has to be on your list. Since the '80s, the 9:30 Club has been graced by household names, under-the-radar artists, and up-and-comers about to make it big. It's been named the number-one nightclub around by Rolling Stone, Billboard, and Pollstar more than any other club in the country.
$$-$$$
Vienna
Its full name is Wolf Trap National Park for the Performing Arts, and it truly is a perfect combination of natural beauty and fine entertainment. Sit on the lawn of the Filene Center with some cheese and wine while enjoying concerts by Lenny Kravitz, The Beach Boys, Kacey Musgraves, Sting, Jennifer Hudson, and more.
Sign up here for our daily DC email and be the first to get all the food/drink/fun in town.