The 18 All-Time Greatest Things to Do in Washington DC
Sip craft cocktails, visit world-class cultural institutions, and tour all the monuments.
Lincoln Memorial

| Photo by Scott Suchman for Thrillist
Lincoln Memorial

| Photo by Scott Suchman for Thrillist
All Time Greats is the ultimate city bucket list. Whether you're a local or a visitor, consider this the essential guide to getting the most out of Washington DC. Looking for events happening this weekend? Check out our DC weekend guide.
In recent years, Washington DC has done a lot to shed its suit-and-tie reputation. And while you'll still see a lot of suits on a trip here, you'll also discover a booming cocktail scene, vibrant art world both in museums and on the streets, more free cultural spaces than you can count, and an overwhelming amount of history.
DC is a highly walkable city that you could easily spend months or years exploring. But even with just a weekend or a few days, you can still sink your teeth in a smattering of the diversity of what the city has to offer. Here are 18 all-time greatest things to do here.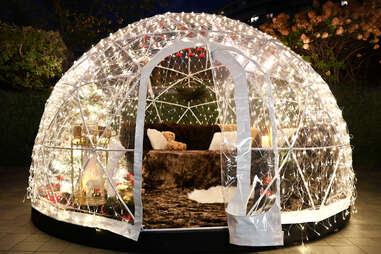 Things to Do in DC this Fall and Winter
Ice Skate
The National Mall
It's true that it never gets very cold in DC, but you can still partake in one of winter's best activities: ice skating. Starting November 20, head to the ice rink at the National Gallery of Art to rent a pair of skates for less than the cost of a cocktail. This seasonal rink is set up in the museum's sculpture garden, which means you can try out a double axel while surrounded by large-scale sculptures from the collections including pieces by Alexander Calder, Louise Bourgeois, and Roy Lichtenstein.
Noon Yard Ever
Navy Yard
For all the families with little kids who simply can't (or shouldn't!) stay up until midnight on New Year's Eve, there's a giant party at Navy Yard to celebrate the arrival of the new year. Taking place between 11 am–1 pm, the event at Noon Yards Eve is an outdoor bonanza of rides, a miniature train, arts and crafts, magicians, and music, culminating with a countdown and balloon drop at 12 noon.
Winter Pop-Up Bars
Various Locations
We're far from Aspen and the Swiss Alps, but that doesn't mean you can't enjoy the best of après-ski life. In fact, the district does après very well and you won't want to miss a drink (or two or three) in one of the city's pop-up winter cocktail bars. Head to the pop-up ski chalets at Dirty Habit in Penn Quarter where hot toddies, fire pits, and poutine await, or book a private dome at the Watergate Hotel's Next Whiskey Bar where the champagne is served extra cold and extra bubbly.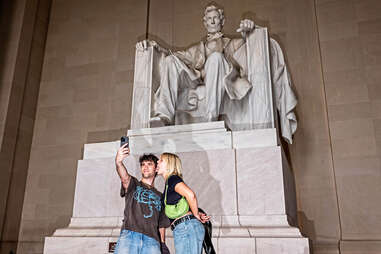 Where to See Arts and Culture in DC
Monuments
The National Mall
There are a lot of monuments in DC, and chances are you'll see most of them while bopping between Smithsonians. Don't miss the chance to go to the top of one of the most iconic landmarks, the Washington Monument. Visiting is free, but you'll need to reserve ahead of time. Once there, an elevator takes you 555 feet up to the observation deck for stunning panoramic views of the city, thanks to a DC law that mandates new buildings don't exceed the height of the monument.
For a different perspective, return to the National Mall after dark for illuminated monuments that offer a totally new vantage point. Climb the steps of the Lincoln Memorial and look out on the expanse of the National Mall from there. The dark and relative quiet casts a different, more introspective glow over the city and offers a poignant backdrop to the memorial.
Smithsonian Museums
Citywide
The Smithsonian Institution, and its 16 totally free museums and galleries in DC, is an essential part of what makes the city so great. No matter your age or interest, you could easily spend an entire trip hopping between Smithsonian museums and still not see everything. The National Portrait Gallery is home to the iconic Presidents and First Ladies galleries, and the National Museum of American History preserves classic American artifacts like the Ruby Slippers from The Wizard of Oz or the original Star-Spangled Banner. The National Air + Space Museum recently reopened to much acclaim, and the National Museum of Asian Art just celebrated its centennial with refreshed galleries. The newest Smithsonian, the National Museum of African American History & Culture, is worth a whole day's visit in itself.
The White House
Downtown
As the Eiffel Tower is to Paris or the Statue of Liberty is to New York City, the White House is practically synonymous with DC. While you can certainly get an up-close view from different citywide points, like Lafayette Square or further away from Constitution Avenue while museum hopping along the National Mall, there's really nothing like stepping inside it. Doing so requires a little advanced planning: US citizens will need to sign up a minimum of 21-days before your intended visit, and visitors from abroad should contact their individual embassies.
Mural Scene
Citywide
DC's art scene is not, of course, limited to inside museums and galleries. The city's streets, walls, and sidewalks are home to a booming art scene and its murals are becoming just as recognizable as the other local landmarks. Explore the city's street art with a self-guided tour via MuralsDC, an organization that acts as stewards for over 150 of the city's public artworks. MuralsDC has great digital resources for mapping out your exploration—don't miss the mural of RBG or new one of Judge Ketanji Brown Jackson.
The Kennedy Center
Georgetown
Former President JFK's commitment to elevating American art and culture lives on at The Kennedy Center, the city's living monument to his legacy. At this thriving center, and the official home of the National Symphony Orchestra, multiple stages mean there's always something fun to check out. Whether it be an opera, comedy show, or musical revival, arrive for your show early to grab a bite at the KC Cafe, or sip a glass of bubbly on the expansive roof deck which offers 360-degree views of the city. Don't miss the new permanent exhibition about JFK and his important and influential support of the arts.
Where to Drink and Dine in DC
Ivy City
Various locations
DC's food scene has been booming, but so has its world of drinking. Spend an evening in one of the city's hippest neighborhoods, the industrial-chic Ivy City. Ivy City is home to a crop of businesses crafting their own beers and spirits. Check out Other Half Brewing for their wide selection of beers, settle in for a tasting of Italian herbal liqueurs at Don Ciccio & Figli, or savor whiskies at District Made Spirits.
Union Market
NoMa
NoMa, one of the city's fastest growing neighborhoods, is home to the historic Union Market. In recent years, the old market has been transformed into a central food hall of over 35 vendors, and it adds new vendors seemingly every week. As a result, Union Market is the place to grab a casual bite, enjoy a coffee, or meet a friend for a drink. Vendors range from counter-service spots like the Lebanese restaurant, Yasmine, to to-go dumplings from Laoban. The market's surrounding streets offer other culinary gems like the micro-bakery Bread Alley (arrive early as they sell out quickly) and La Cosecha, a contemporary Latin-American food hall.
Rooftop Bars
Various locations
Rooftop bars with unbeatable city views are renowned here and especially a great reprieve from the fast workplace culture. Toast to the views at the Top of the Gate, the well-heeled rooftop spot at the iconic Watergate Hotel with expansive views of the Potomac, Kennedy Center, and Georgetown. For a more "downtown" vibe, try Moonraker, the hip, big-city energy rooftop restaurant at the Pendry Hotel with stunning sights of the Wharf, marina, Potomac, and monuments. For a party atmosphere, Lucha Rosa near City Center is a colorful bar that shakes up Mexican-inspired cocktails. Finally, there's Hedy's, an intimate rooftop with views of Thomas Circle.
Award-Winning Bars
Various locations
The city's craft cocktail scene has exploded in recent years, which means tucking into a beverage at one of DC's award-winning bars is a must-do. Start with a bang at Allegory, a speakeasy-style spot tucked away in the Eaton Hotel (recently named one of the best bars in North America by 50 Best). That being said, snagging a seat can be a challenge. Equally as intriguing are spots like the hip Jane Jane on 14h Street and The Wells, a gin-focused place in Capitol Hill.
Memorable Meals
Various locations
Which is growing faster, the cocktail scene or the food scene? Ask anyone in the city and you'll receive a different answer. Explore both for yourself and make time for a meal at one of the city's most notable restaurants like Oyster Oyster, whose chef won a 2023 James Beard Award; Gravitas, one of DC's Michelin-starred dining rooms; Lutèce, an intimate French neo-bistro with a robust natural wine list; ilili, a bustling culinary tour-de-force of the middle east; or Daru, the H-Street Indian restaurant hailed as the best restaurant in the district.
Cannabis Culture in DC
Legacy DC and Gifted Curators
Various locations
Cannabis is legal in DC for those 21 and over and the city has embraced its medicinal and recreational use with a peppering of stores and galleries. Head to Legacy DC in Logan Circle, which is part dispensary and part gallery and the frequent host of community-wide art-themed events.
Gifted Curators, nearby in Adams Morgan, is another spot to scope out. The community and street art inspired gallery and i-71 compliant gift shop works to advance cannabis policy reform and justice in the district.
Where to Enjoy Family-Friendly Fun in DC
Boating
Southwest Waterfront
While strolling around the Tidal Basin is an iconic DC activity—especially in the springtime when the cherry trees are in bloom—paddling the city's waterway might just be more fun. Families can rent paddle boats along the Tidal Basin, or even opt for something a little more strenuous like exploring the Potomac River by kayak. Boating in DC is a good place to visit to choose your vessel.
Spy Tourism
Southwest Waterfront
DC is crawling with spies—or so we hear! Dive into the intriguing and mysterious world of espionage at the kid-friendly and family-favorite International Spy Museum. The museum's exhibits on things like covert actions and stealing secrets, will have kiddos and their grownups hooked.
Cedar Hill
Anacostia
As one of the country's most influential orators, writers, and statesmen, Frederick Douglass is one of the city's most important historical figures, and no trip is complete without a visit to his home, Cedar Hill. The Anacostia-area residence is where Douglass spent the last 17 years of his life, and it just reopened to the public following a multi-year restoration project. The family-friendly site allows families to learn about Douglass through guided tours and hands-on activities.
Baseball
Navy Yard
They might not be anywhere near the top of the stats these days, but cheering on the Washington Nationals is fun no matter what their ranking. Nats Fever runs high in the district which makes rooting on the home team a must-do during the season. Visiting in the off-season? Opt for a ballpark tour, or practice your swing in one of the Nats batting cages.