Cool Things to Do in DC This Spring
Rooftop bars, a month-long festival with over 70 embassies, and more fun things to do in DC this spring.
Spring is arguably the most beautiful (though certainly the most fleeting) time of year in the District. Seemingly overnight, frosty sidewalks and gloomy skies transform to reveal green buds, bursting cherry blossoms and sunny days.
Washingtonians have to make the most of this precious time, when afternoons are not yet meltingly hot, and patios are calling their name to make bottomless brunch reservations. Indeed, spring is a season that practically begs to be spent outside: picnicking, exploring gardens, hitting happy hours, and more.
From relaxing strolls to jaw dropping shows, there are tons of springtime DC activities to experience right now. Here are the coolest things to do in DC this spring.
Catch a spring concert outdoors
Multiple Locations
Concerts are fun all year round, but especially during the warmer months when outdoor shows reign supreme. DC and its surrounding areas provide music lovers with a bevvy of great options for al fresco concerts, from venues that draw some of the biggest talents in the business like Merriweather Post Pavilion to the relaxed classical and folk concerts at Wolf Trap and everything in between. FYI: Those catching a show at Wolf Trap would be remiss to take advantage of the opportunity to bring their own food and drinks into the venue. A plate of charcuterie, a chilled bottle of wine, and a show sounds like our ideal spring evening.
And while It's not technically outdoors, shows will soon begin at The Atlantis, a brand new music venue by the 9:30 Club (bearing its original name) and opening with a performance by the Foo Fighters on May 30th. Its star-studded opening line up boasts a wide range of acts from Franz Ferdinand and Jenny Lewis to Bush and Spoon.
National Mall
As one of the best art exhibits in town right now, this year's iteration of Artechouse's popular digital installation, PIXELBLOOM, is on view until June 11th. Currently in its sixth year, it immerses visitors into the virtual world of bright blossoms and includes a 22-minute audiovisual installation that will make you wish you visited a dispensary before heading over. For 2023, their theme is "Timeless Butterflies," with fluttering wings presented in a kaleidoscope of colors.
Multiple Locations
The fabulous thing about height restrictions of DC buildings is that views from a rooftop bar can span a good portion of the entire city. Catch jaw dropping views of everything from the White House and National Mall to the Potomac River, the charming townhomes of Dupont and Logan circles, and more. We have your summer rooftop itinerary covered with this list, where you and your friends can sip spritzy cocktails or chilled pints and take in the views.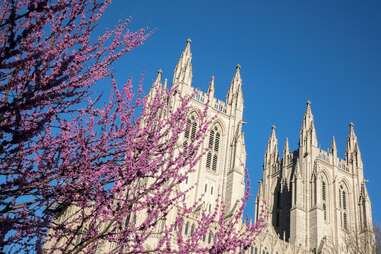 Plant shop and explore gargoyles
Cathedral Heights
Venture to the National Cathedral and take an interesting tour of the cathedral, like this one that explores the 200+ gargoyles and grotesques that adorn the building. Hungry? Many don't realize that there's actually an Open City at the National Cathedral where you can grab brunch. A visit on May 5 or 6th also yields plant and floral bouquet shopping opportunities thanks to their annual Flower Mart, which includes floral displays and a chance to ride an antique carousel.
Wander through one of DC's hidden gardens
Multiple Locations
Take advantage of the beautiful weather with an afternoon stroll through one of the many hidden gardens throughout the city—potentially the most enjoyable way to reach your daily step count goal. The gardens at Georgetown's Dumbarton Oaks are particularly stunning, and the Floral Library at the Tidal Basin is currently blooming with over one hundred varieties of tulips. Catch a beer event behind the Brewmaster's Castle at Heurich House Garden, and marvel at hundred-year-old mini trees at the Bonsai Garden within the National Arboretum.
National Mall
From May 1st until the 13th, the National Museum of Asian Art is celebrating its 100th anniversary with an inaugural festival. The centennial celebration is slated to include special exhibitions, performances, immersive talks in collaboration with Shared_Studios, and more. It all culminates in a performance by K-pop icon, Eric Nam and queer singer-songwriter, Raveena, at the Smithsonian's Arts and Industries Building.
Multiple Locations
The beloved spring festival celebrating DC's international culture is finally returning this year. For the entire month of May, also known as International Cultural Awareness Month in Washington, over 70 of the city's embassies and cultural institutions will have exciting programming to check out. Sign up for the Around the World Embassy Tour, or check out the European Union Open House or the Fiesta Asia! Street Fair. The best part is that most of the events are completely free.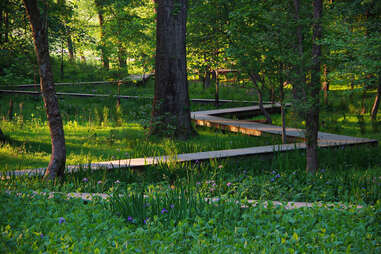 Appreciate art and landscape during an easy city escape
Potomac
Glenstone is technically around a 40-minute drive outside of the city, but it's a quick and scenic trip that delivers you to nearly 300 acres of beautiful landscape, sculpture, and other art. A privately-owned gallery, Glenstone is always free but a reservation is necessary and slots can book up well in advance. Arriving there, you'll feel a million miles away from the hustle and bustle of the city—surrounded by nature and in an artsy world of your own (it's also the perfect place to grab a pic for IG).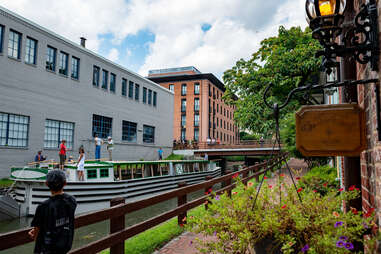 Georgetown
Remember when the Georgetown canals were sad and empty? We're happy to report that while a multi-year restoration project along the canal is still slated to happen sometime this year, which will once again see them drained, the canals are currently full and almost ready to receive passengers. Starting May 5th, hour-long public boat rides will be available to cruise upon. It's only the second year since 2011 that boat rides are operating, and will likely be the last until at least 2025—so get on board while you still can!
Take a day trip via train to nearby Alexandria
Alexandria, Virginia
A quick train ride will have you traveling from Union Station to Alexandria, Virginia in under thirty minutes, leaving the whole day open for cute fall activities with a hot cup of coffee in hand. Venture around the cobblestone streets of Old Town, picking out your favorite historic homes and shopping on King Street—the main road in town, full of charming independent boutiques, quaint cafes and restaurants. Make your way down to the waterfront with a hot cup of coffee for sunset, and don't forget to check out the Torpedo Factory Art Center to see what works of art they have on view.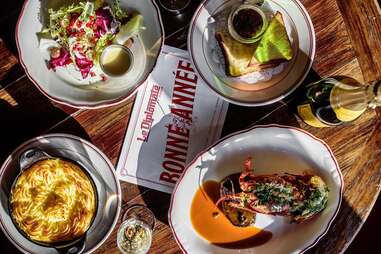 Multiple Locations
The Sunday scaries, that unshakeable feeling of dread we all seem to feel heading into a new week of work, can creep up at the most inopportune moments. We've found the best way to get a leg up on them is to make the most of our Sundays—starting with multiple rounds of mimosas or Bloody Marys at bottomless brunch. Luckily, DC is a brunching city with tons of incredible al fresco options that allow you to take in the sunshine while you inhale a plate of chicken and waffles. Make your Sunday morning decision even easier by checking out our list of favorites.