Actually Cool Things to Do in DC This Summer
Get out there.
It's hard to believe that more than a year has passed since stay-at-home orders were first instituted in the District. At this time last year, so many things about our situation were unknown—close friends were hesitant to meet up masked at a park, and most of our favorite summer activities were put on pause until further notice.
Now, that further notice has finally arrived with the reopening of concert venues and bars, most of your favorite Smithsonian museums, and sporting arenas. Vaccinations keep rolling out and doors keep opening, meaning there are way more things for you to do this summer.
It goes without saying that we should still do our part to keep the coronavirus in check, like continuing to wear our masks, practicing social distancing and staying home if we feel sick. But in the next few months we can expect the return of activities we once took for granted, and now welcome back into our lives with open (vaccinated) arms: sports, kayaking and boating, festivals, workout classes and more. So, from gourmet picnics to swimming holes, here are some actually cool things to do in DC this summer.
Multiple locations
Not only is the month of May recognized as Asian American and Pacific Islander Heritage Month, but Asian Americans have also been dealing with an unprecedented amount of racist attacks over the past year, according to Stop AAPI Hate. This dinner series by Chefs Stopping AAPI Hate donates to charity while supplying patrons with a new, five-course takeout dinner each week by some of the city's best restaurants like Moon Rabbit, Lucky Danger, and ABC Pony. Win-win.
Re-experience outdoor concerts
Multiple locations
One of the great joys of the summer will return in June when a slate of outdoor shows debut in DC. You'll be able to celebrate Wolf Trap's 50th anniversary in July with a full lineup of concerts on the lawn, see Luke Bryant or the Dave Matthews Band at Merriweather Post Pavilion, or take advantage of the Kennedy Center's free outdoor programming every weekend starting May 27.
Kenilworth
You'd be hard pressed to find a Washingtonian who doesn't have at least one photo with a blooming branch of cherry blossoms, but how about with towering pink and white white lilies? While the bloom of cherry blossoms only lasts a fleeting few weeks, the aquatic blooms of Kenilworth can be seen from early May all the way until late August.
Foggy Bottom
After a very successful first season, Victura Park is back for the summer with even more drink and food options. Grab a seat or bring your own blanket to lay on the grass at this winery-inspired outdoor venue, part of the Kennedy Center's new expansion. Named after John F. Kennedy's beloved sailboat, Victura Park is a laid back wine bar with some pretty epic views of the Potomac River and Roosevelt Island. It's open on weekends, free to visit, and family friendly, though a food and drink menu is available to order from as well.
Shop (and eat) your heart out in Georgetown
Georgetown
Despite being DC's oldest neighborhood, Georgetown remains one of the best areas of the city to spend time in—especially on an afternoon with optimal walking weather. Grab your morning brew at Grace Street Coffee Roasters or enjoy brunch al fresco at the euro-centric Kafe Leopold before strolling your way down M Street for some quality shopping at big retailers like J.Crew, Outdoor Voices, and Reformation, and smaller shops with DIY activities like Paddywax Candle Bar.
Logan Circle
This summer, picnics are made easy by the folks at the Fainting Goat on U Street. The restaurant launched a "Picnics at Logan Circle" pop-up that means all you have to do is find a good spot on the grass and pull out your phones to order. Couples can order a picnic basket for two with a bottle of rose, a fried chicken dinner with all the fixings, and chocolate ganache cheesecake for dessert, and larger groups can take advantage of the party pack for 6.
Online
We could all use a little bit of meditation and mindfulness these days, which is exactly what you can get four times per week from the Freer Gallery of Art. Although the museum is currently closed, you can still tune in online to access regular event programming that'll help you channel some much-needed inner peace for 30 minutes each session.
Multiple locations
Mild weather seems to last for approximately one week in the District before it begins to swelter, and we know the best way to beat the impending heat. Find your closest friend with a car and entice them with a short trip outside of the city to hike to one of the area's many swimming holes, such as Overall Run in Shenandoah National Park or Cunningham Falls State Park. Not up for a hike? That's fine, head over to the Beaver Dam Swimming Club instead, a large quarry just north of Baltimore.
Potomac
Glenstone is technically around a 40-minute drive outside of the city, but it's a quick and scenic trip that delivers you to nearly 300 acres of beautiful landscape, sculpture, and other art. The privately owned gallery is always free, but a reservation is necessary and slots can book up well in advance. Arriving there, you'll feel a million miles away from the hustle and bustle of the city—surrounded by nature and in an artsy world of your own.
Cathedral Heights
Those who spend most of their time on Capitol Hill or downtown might not think to venture north to the National Cathedral, so we're here to tell you that it's worth the trip. While the cathedral itself is still closed for public safety reasons, 59 gorgeous acres surrounding it are now reopened to the public, from dawn until dusk each day. Bring a date, some friends, or even your pet and take a scenic walk through areas like the Bishop's Garden and the Olmsted Woods.
Dupont Circle
For the past year, we've been recommending DC Improv shows that you can watch online. Now, the time has finally come that you can grab a friend and see a show in person, as the city's most notable comedy club reopened in mid-April. Make sure to snag your tickets early, though, as only 50 are available for each performance.
Online
We're always up for a good paint and sip class, but letting us participate in our pajamas? Even better. Check out local Dupont studio ArtJamz which is dedicated to making the world a more creative place. They've got a full roster of live virtual painting experiences taught by talented artists—all you need to do is order one of their At-Home Paint Kits and sign up for a class that sounds fun to you.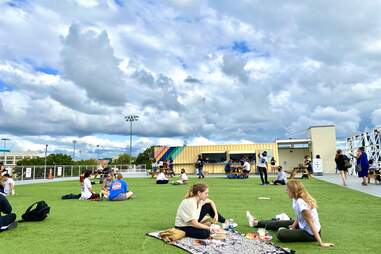 Courtesy of Hi-Lawn
Union Market
Everyone's favorite food hall is back open with outdoor seating, which means that you can now grab fusion tacos from Takorean, an acai bowl from South Block, and a burger from Lucky Buns (all at the same time if you're feelin' it). Those craving a cold beer or a little bit of sunshine can also head up to Hi-Lawn, a brand new bar on the rooftop, to hang for a while on the grass or at a picnic table.
Online
We know you've probably gotten much closer to your house plants over the past year. Now you can bring them home a stylish friend from local plant shop REWILD, and give yourself a fun evening activity in the process. They've joined up with Rock Paper Plant for an ongoing series of botanical workshops, like learning how to mount and care for jungle-y hoyas and staghorn ferns.
Multiple locations
No matter how much you love the District, we're all getting a little antsy to travel. But daydreaming about faraway places will only get you so far. Luckily, there are a ton of unique Airbnbs in the DC area where you can escape for a little while. And from a historic inn with serious Bridgerton vibes to an underground hobbit house a la Lord in the Rings, there's truly something for everyone.
Online
Tired of cracking open White Claws after work? We don't blame you. Luckily you can now level up your cocktail game with the help of Carlie Steiner, the restaurateur and cocktail savant formerly behind Himitsu, Pom Pom, and Dos Mamis. Sign up for her public or private online classes that'll help guide you around your bar cart and give you the cocktail mixing skills you need to impress your pod this summer.
Online
If you're missing the leisurely fun of perusing the stacks at the bookstore for an undiscovered treasure, you're not alone. Capitol Hill Books luckily has the answer to your woes, and is now mailing out "Grab Bags" of books daily during the pandemic. Just fill out their form, including your budget and authors or genres you like, and they'll send over a picture of a proposed stack of books. Thrill seekers can even go with a blind stack for what they call "the full mystery effect."
Austa Somvichian-Clausen is an LA native turned DC resident. During the day, she works for National Geographic Partners on their digital news team. By night, she is a freelance food writer with a particular proclivity for restaurants that source locally, and loves a good happy hour. Over the weekend she loves hiking, exploring the city, and traveling. Follow her on Instagram.