Presented By
The Ultimate Bucket List for Fall in DC
From new shows to new cocktails, these are the coolest things to do in and around Washington DC.
Presented By
Photo courtesy of Wiener 500 Dachshund Dash
Photo courtesy of Wiener 500 Dachshund Dash
Your nostrils do not deceive you, and your eardrums reverberate more confidently than you think: The first scents of pumpkin spice lattes have permeated the air, and those whispers are, in fact, the sound of leaves falling. To celebrate the changing of the seasons, our fair city has more than its fair share of seasonal, weather-appropriate activities.
While you may lament the end of the restful summer months, rejoice in the fact that fall in the nation's capital is one of the most action-packed of all times. Congress is back in session, and baby, so are DC residents. Whether you're looking for new shows, new cocktails, or new ideas for family fun, we're here to help with some of the coolest things to do in and around the DC area in September and October.
Food & Drink in DC
Astro Beer Hall
Mid-September
Shirlington
The second outpost of the popular downtown beer hall—famous for both its beverages and its fried chicken and doughnuts—will open in The Village at Shirlington this month. A collaboration project between Astro Doughnuts & Fried Chicken and Tin Shop hospitality development group, the 14,000-square-foot beer hall and full-service coffee shop will include an an unrivaled 140-seat patio, plus a dining and game room complete with over 15 TVs for weekend football, as well as pool tables and a wide array of arcade games. Astro Beer Hall Shirlington features 24 tap lines primarily dedicated to brews from local and independently owned breweries, as well as a wide array of bar bites, sandwiches, and—of course—doughnuts and fried chicken.
Oktoberfest at The Boro
September 23; 2 pm–5 pm
Tysons
If you're looking to celebrate Oktoberfest, look no further than The Boro in Tysons, where you'll find not only beer, but specialty German food from local food trucks, a polka band, and a kids' celebration area that includes glitter tattoos, face painting, and crafts. A biergarten at The Sandlot Tysons will pour Oktoberfest, pumpkin, and other traditional beer favorites from local breweries. Plus, you can put your pride to the test during the stein-holding competition (winners get gift certificates to local eateries). The first 150 people to arrive will receive a branded beer mug.
Snallygaster
October 14
Navy Yard
For years, Snallygaster has claimed to be the largest beer festival in the District, and this year will measure up. On October 14, the celebration is back in full force for the 11th year, paying homage to craft beer from the District and beyond. Organizers are promising at least 350 beers on draft from nearly 200 producers, plus plenty of food trucks and live music to round things out. And lest you think this isn't a family-friendly event, Arcadia will have an entire family-friendly section where kids can have fun with face-painting, temporary tattoos, and more, all free of charge for children under the age of 12.
Happy Hour at Purl DC
Mondays through Fridays, 4 pm–6 pm
H Street
Purl DC opened its doors just a couple months ago with a unique spin on classic American cocktails and comfort food. The newly launched brunch menu includes salty brioche French toast and a truffle Benedict featuring prosciutto, mushrooms, and truffle hollandaise. And on weekdays from 4 pm to 6 pm, you can grab some of Purl's creative cocktails at a discount. Check out drinks like the Bitter Fruitopia, with mezcal, raspberry syrup, Campari, and a garnish of Nerds candy, or the Root Beer Flip, with Scotch and amontillado sherry alongside root beer-flavored Dum-Dums. Feeling more adventurous? The Crisp Boi features Suntory Toki whisky, Lustao fino sherry, celery juice, and both celery and cardamom bitters.
Family-friendly events in DC
21st Annual Arlington 9/11 Memorial 5K
September 9; 6 pm
Arlington
The 21st Annual Arlington 9/11 Memorial Race honors the heroism of the DC metro area's first responders on September 11, 2001, and has raised over $800k for 9/11-related organizations since its inception in 2002. After the race, Pupatella pizza will provide some well-deserved fuel from 7:30 pm to 10 pm at its South Arlington location. Racers, their families, and the community can fuel up on discounted pizza and beverages, listen to live music, and connect with organizers to learn more about how to give back.
Wiener 500 Dachshund Dash
September 16; 2 pm–5 pm
District Pier
There's nothing funnier than short-legged dogs running, so this race undoubtedly ranks as the best event around during DC's Oktoberfest celebration. Head to District Pier to cheer on over 100 of DC's speediest pups as they race for glory, or head to Transit Pier to watch the races on the Jumbotron. If you dare, register your dachshund to race. Proceeds benefit Rural Dog Rescue.
Oyster Shucking at Seamore's
September 26th and October 17th; 6:30 pm
Arlington
If your family is full of seafood connoisseurs, or if they're simply interested in learning how to open up a mollusk, there's certainly some family bonding to be had at Seamore's. The restaurant is teaching folks how to shuck and present these delicacies during a two-hour class, walking through the fine art of preparing a seafood tower. You'll get a hands-on demonstration from an expert, and also have the opportunity to taste, pair, and learn along the way.
Beefsteak
October 20; 6:30pm
Penn Quarter
In the mid-19th century, beefsteak banquets (culinary extravaganzas involving steak, steak, and more steak) took root in New York City. Charlie Palmer Steak DC is carrying on the ritual with a family-style meal featuring truly all-you-can-eat meat and plenty of drinks to go alongside it. Like the original beefsteaks, Charlie Palmer encourages guests to eat with their hands (though forks and knives are there for those who need them). Feasting guests are treated to a festive sing-along of all-American favorites (along the lines of "When the Saints Go Marching In").  A portion of proceeds benefits the Culinary Institute of America.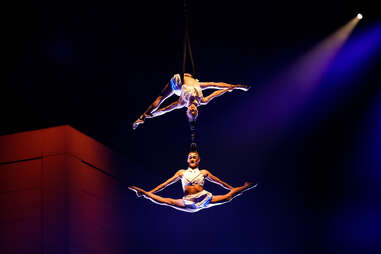 Arts & Culture in DC
Cirque du Soleil ECHO
September 6–October 22
Tysons
Cirque du Soleil's latest groundbreaking show will make its U.S. debut in the DMV on September 6, making it the first time in show history that the region will host an American premiere. Promising fun for the whole family, the show also sends a powerful message regarding the balance between humans, animals, and our shared world. Grab tickets to the show on Cirque du Soleil's website.
Shinola Stitching Customization
September 9; 12 pm–4 pm
Logan Circle
Detroit-born design brand Shinola recently debuted its new denim collection featuring revered selvedge denim—one of the highest quality techniques associated with the material—sourced from Vidalia Mills, a sustainable, American manufacturer based in Louisiana. On Saturday, September 9, Shinola DC is offering free stitching customization with local embroiderer StitchesDC so that you can personalize your pieces, just in time for fall.
"Monumental Harvest" Fall Art Installation by Heather Cooper at the Conrad DC
September 15–November 24
City Center
The Conrad DC partners with DC-based artist Heather Cooper this fall for a one-of-a-kind immersive installation that pays tribute to the spirit of the season. Cooper, who served as the White House's resident artist and designer for 20 years, blends the vibrant hues of autumn leaves with the skylines of Washington, DC, leveraging over 35,000 synthetic leaves and over 4,000 twinkle lights to depict and highlight iconic landmarks, including the Capitol, MLK Memorial, and Jefferson Memorial, along with nearby states Maryland and Virginia.
Because They're Funny Festival
October 6–8
The Wharf
This three-day comedy festival at the Wharf in southwest DC showcases some of the best comedic talent within BIPOC communities, featuring Anthony Anderson and Maryland-native Yvonne Orji, as well as performances by Nicole Byer and Donnell Rawlings, among others. On Friday, October 6, be sure to catch the 2023 Breakout Comedian Of The Year competition finals, hosted by BTF ambassador Anthony Anderson. On Saturday evening, The Anthem will welcome some of the best female comedians in the business for the "Hey Ladies Fierce Female Comedy Show," while Sunday's headline event will shine a light on DC as a hub for comedy, featuring the exclusive DC premiere of The Mecca of Comedy, a documentary on the legacy of Black comedy in the region directed by Parrish Smith.
Oceans Calling Festival
September 29–October 1
Ocean City, Maryland
This three-day music festival will feature Jack Johnson, Alanis Morissette, John Mayer, The Lumineers, and many others performing across three stages. Stick around for the Oceans Calling Celebrity Golf Tournament on October 2, and you'll likely be able to see John Mayer again, but this time on the golf course. Food options will be provided by local restaurants like Spain Wine Bar, who will be doling out Spanish tapas and paella cooked live on site.
Shows at Zebbie's Garden
September and October
Dupont Circle
Throughout the next couple months, Zebbie's Garden, the flower-adorned, bi-level nightclub, hosts a slew of live performances by artists like Wally Lopez, GUZ, and TOBEHONEST. The unique space, popping with rosebud-shaped neon lights and wreaths of faux flowers, promises a good time with live music, dancing, and libations. Even better? The shows are free, though you'll need to RSVP to reserve a ticket.
Cannabis in DC
Puff and Paint
September 1–3
Columbia Heights
For a distinctive and creative experience, check out Puff and Paint, a new take on the "paint and sip" activities of yesteryear. Whether you're an artist or a beginner, this communal environment welcomes all skill levels. Bring your own cannabis or partake in the provided options. Tickets are $35.
Legacy DC
September 30; 2:30 pm–9:30 pm
U Street
In honor of DC's Art All Night celebration, U Street's Legacy DC (known for its combination of gallery, retail space, cultural center, and—yes—dispensary) will stay open late for a flea market. From 2:30 pm to 9:30 pm on September 30, both floors of Legacy DC's gallery will showcase local performers, commissioned artists and clothing brands, highlighting Legacy's dedication to supporting local creatives while continuing to highlight their cannabis wares. (Legacy will also offer patrons extended hours to grab their preferred flowers and strains.)