12 Actually Cool Things to Do in DC This Winter
Go skating, hike to an icy waterfall, and more.
Love it or hate it, wintertime is upon us. There's a chill in the air, Mariah Carey has awakened from her slumber to reclaim the Christmas throne, and hot toddies are back on bar menus everywhere. Luckily, the drop in temperature brings with it tons of fun things to do in the District.
Besides the obvious holiday joy all around you, the wintry chill is a welcomed excuse to bundle up and get cozy—whether you're drinking by the fireplace, catching movies, or venturing onto the ice skating rink. All your favorite outdoor destinations look just as good decked out in a fresh coat of white, too, and that's all the more reason to spend time in the great outdoors this winter. So, grab your coat and put a warm hat on, because we're heading out to experience all of the actually cool things to do in DC this winter.
Downtown
Get all your holiday shopping done (and nab some treats for yourself) from the Downtown Holiday Market, back again in all its glory for the 17th year. The open-air market is the perfect place to find one-of-a-kind gifts for friends and family, all while supporting local makers and having way more fun than if you were to slog through the crowded mall. Until December 23, the market will fill up two blocks of F Street from 7th to 9th Streets—steps away from Capital One Arena and the Smithsonian National Portrait Gallery.
Invite friends over for an at-home wine tasting
We're not trying to give you too many excuses to stay in this winter season, but this one is actually worth a night spent in the comfort of your own home. District Winery has created a series of wine tasting kits that are perfect for hosting or gifting. Each one includes three bottles of vino, a complete wine tasting guide, note sheets for recording your thoughts, and a wine key, so you'll have everything you need for a night of quality sipping.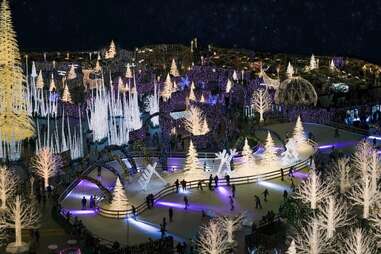 Go ice skating
There are tons of options when it comes to ice skating in the District—at the Georgetown waterfront, at the Wharf, and even on the fancy illuminated ice skating trail at Nationals Park. You can even hit the ice surrounded by sculptures and monuments on the National Mall at the National Gallery of Art's Sculpture Garden. Most of these venues are open until the chilliness breaks in mid-March, so grab your skates and glide around.
Take a day trip to Alexandria
A quick train ride will have you traveling from Union Station to Alexandria, Virginia in less than 30 minutes, leaving the whole day open for wintry activities. Venture around the cobblestone streets of Old Town, picking out your favorite historic homes. Then go shopping on King Street—the main road in town, which is full of charming independent boutiques, quaint cafes, and restaurants. Make your way down to the waterfront with a hot cup of coffee for sunset, and don't forget to check out the Torpedo Factory Art Center to see what works of art they have on view.
Grab coffee and walk around Meridian Hill Park
Sometimes simple activities are actually the most fun, like meeting up with a friend for a walk around the park. Next time you're fidgeting at your desk on a balmy winter day, give yourself a well-deserved coffee break by bundling up, grabbing a cup, and making your way over to Meridian Hill Park for a walk.
Have a drink by the fireplace
There's just something so nice and comforting about enjoying a cocktail by the fireplace. Fortunately, there are tons of bars and restaurants in which to do so in DC, like the historic Tabard Inn where they even have a Fireplace cocktail menu. Iron Gate is another great place to enjoy a drink or meal by the fire, as is Plume inside the Jefferson Hotel. In fact, most of the swanky hotels in the city have fireplaces to sit by, like The Living Room at the Ritz-Carlton, the Melrose, or the Conrad, which all have lobby patio fireplaces.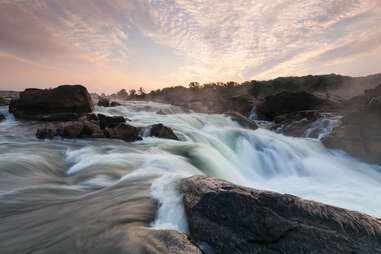 Hike to an icy waterfall for magical winter views
Great Falls is already one of the most stunning hikes in the area, and it's made even better once winter rolls around and the frost sets in. Take a short walk along the River Trail to reach the frozen waterfalls of the Potomac and Mather Gorge, whose icy views are made even easier to take in by three safe observation decks.
See live music at a concert
Grab your vaccination card and get ready to hear some live music again after well over a year. Some of our favorite local venues are now reopened, which means it's the perfect time to go out and support them (if you feel comfortable being in a crowd). The iconic 9:30 Club recently swung its doors back open, and its sister venues The Anthem and Merriweather Post Pavilion are open now as well. Shows are back on at City Winery, massive electronic music venue Echostage, and DC's newest venue, Capital Turnaround.
Shop (and eat) your heart out in Georgetown
Despite being DC's oldest neighborhood, Georgetown remains one of the best areas of the city to spend time—especially as its decorated for the holidays. Grab your morning brew at Grace Street Coffee Roasters or enjoy brunch at the euro-centric Kafe Leopold before strolling your way down M Street for some quality holiday shopping, where you can find storefronts from big retailers like J.Crew or the more trendy Outdoor Voices and Reformation. You can even pour your own custom candle to take home with you or give to a friend at Paddywax Candle Bar.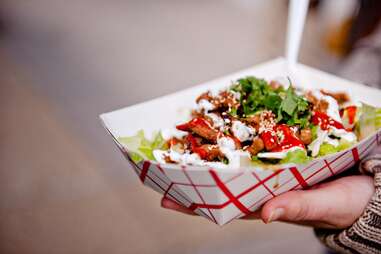 Everyone's favorite food hall has added some new additions to a roster of old favorites. Grab fusion tacos from Takorean, an acai bowl from South Block, and a burger from Lucky Buns (all at the same time if you're feelin' it).
You've already completed your mastery of sourdough breadmaking and even created a TikTok or two, so it's time to level up your socially distanced pandemic activities and pick up birding. In DC there's no better place to do so than at Kenilworth Park, where you can find beautiful lotuses in the summer and an array of migrating birds in the winter. There, check out the River Trail or the boardwalk, where you can find a variety of new feathered friends such as great blue herons, Canada geese, kingfishers, woodpeckers, and bluebirds.
Whether you pop in for a leisurely afternoon of perusing the stacks or know exactly what you want, Capitol Hill Books has you covered. The store began mailing out "Grab Bags" of books daily during the pandemic, so you can mix up your bookshelf before a long winter of cozying up on the couch. Just fill out their form, including your budget and authors or genres you like, and they'll send over a picture of a proposed stack of books. Thrill seekers can even go with a blind stack for what they call "the full mystery effect."