DC Muralist Trap Bob Shares Her Favorite Spots in the Historic U Street Neighborhood
The historically Black neighborhood boasts bold art, diverse restaurants, and music on every corner.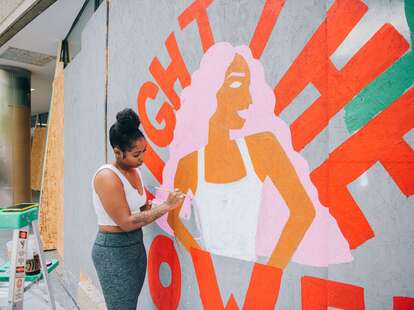 Tenbeete Solomon, aka Trap Bob, paints a mural outside of &pizza.

| Photo by Shaughn Cooper
Tenbeete Solomon, aka Trap Bob, paints a mural outside of &pizza.

| Photo by Shaughn Cooper
If you've ever taken a walk around downtown DC, public art practically jumps out at you from the walls. That's certainly the case with the bold and beautiful work of Tenbeete Solomon, aka Trap Bob, whose art can be seen in U Street, NOMA, and Takoma Park, just to name a few spots. Her vibrant, stylized art usually comes with a message whether it's obvious—like "Fight The Power" or "Know Your Rights"—or merely symbolized in the powerful Black figures she depicts.
As the daughter of Ethiopian immigrants, Solomon has long been surrounded by art. Her dad was an accomplished artist who went to Parsons on a full ride. Ironically, it was something she never considered for herself until the end of her college career studying marketing at University of Maryland. "Art was in my life before I knew I was an artist and then marketing came in before I knew I needed that," she says. "If you're creative, having a business education is really important."
Soon, she put that education and skill to good use when she started getting her work into DC galleries. "When I started out, I was obsessed with painting hands, so I was able to have a series with some consistency," she says, adding that she was influenced early on by the bright and whimsical images of Lisa Frank. "My first year I was showing in DC, I did about 50 shows. Yeah, a show like every weekend."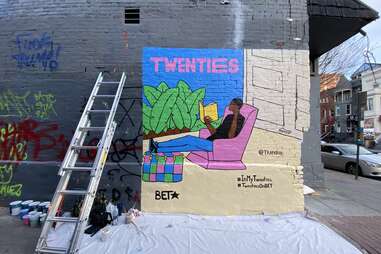 DC businesses small and large came calling and she was commissioned to paint a mural for BET promoting Lena Waithe's show Twenties outside of Cloak & Dagger. Plus, her work can be found in Alethia Tanner Park in NOMA, outside K Street shop &pizza, on Takoma Park picnic tables, and on the exterior wall of Hotel Zena on 14th Street.
This ever-present public art is one of the reasons Solomon loves DC, which she says is vastly different from its tourist reputation. "The cultural and creative scene doesn't have anything to do with Capitol Hill and politics," she says. "It's very colorful, bold, and loud. Everyone is doing art, hosting live shows, and Go-Go is playing somewhere multiple times a day."
The U Street area specifically speaks to Solomon—not only because some of her work can be found there, but because of its historical significance and feeling of community. Known in the 1920s as "Black Broadway," U Street was the center of DC's cultural, artistic, and activist scenes.
"It feels like a gathering hub for people in the city," she says, mentioning iconic spots like Ben's Chili Bowl and the T-Mobile store, famous for blasting Go-Go beats. "Everyone seems to end up at U Street and Shaw and there's just always something to do no matter the time of day."
Next time you visit U Street, be sure to pop by some of Solomon's favorite places for live music and vegan eats, snap a photo with one of her murals, and appreciate the significant role the neighborhood has played in shaping DC.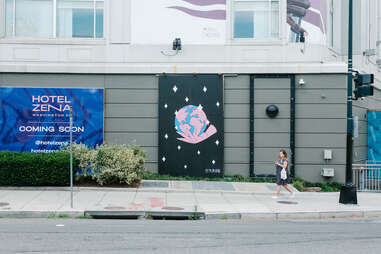 "This small tea and coffee shop is very eclectic, colorful, and has really unique artwork. The ambiance and decor is a moment. The staff is super knowledgeable and has an endless list of different teas, tonics, herbal remedies, and mixtures. You get an education when you go there and it's just one of my favorite chill spots."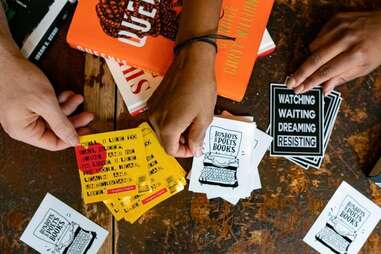 "This spot is great any time of day. It's great for an afternoon coffee break with lounge chairs that people can sit in and work on their laptop. But it also has more of a nightlife feel to it, with performances in a room at night, live poetry, and it's a guaranteed good place to eat. I've gone to so many birthday dinners here."
Some of the best fried chicken and collard greens in DC can be found in this no-frills spot, where lines frequently snake out the door. "This place has great soul food. Normally, when the parties get out, it's the only thing that's open."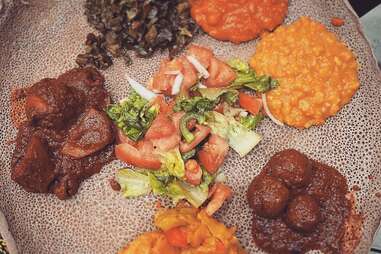 "I'm Ethiopian Orthodox and we do a fast every year where we don't eat animal byproducts. I realized it was such a benefit that I just stayed vegan. My favorite dishes are misir, a lentil stew you eat with injera, and a chickpea-based dish called shiro."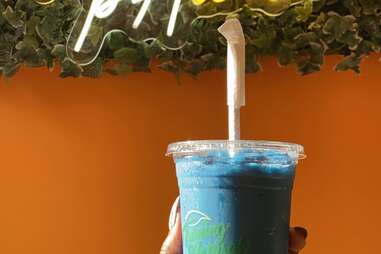 "This juice shop has a really great smoothie called Nipsey Blue, named after Nipsey Hussle, and it's this gorgeous color because it's made with blue spirulina. They have another called Chuck Brown, the father of Go-Go. A lot of their drink names are related to music."
"This is a taco place right behind Ben's. "The tacos are so, so good and it was a go-to before I went vegan. Seriously, the best guacamole I've ever had."
"Even though it's closed now, I can't count how many parties, concerts, and DJ sets I went to at U Street. I was working with a party called Jungle Fever that a couple of my DJ friends hosted every other month. It was a very community-oriented, underground, chill spot."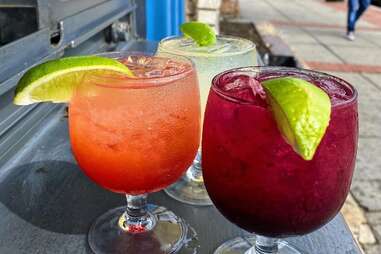 "The tacos are amazing. They almost closed, too, then everyone banded together and brought them back. They've got an open rooftop once you go into the back part of the bar in the spring and summer. Their drinks are lethal and amazing! The frozen margaritas, man. I know when I go there, I don't need more than one."
"This place is right next door, I've been there way too many times. The party Jungle Fever, we also were at Velvet a lot. It's a cramped space, but it makes it cool. It's this dark, city-like, very cool backyard area. It's great when it's crowded, but it's also great when it's just a summer night and a DJ is on."
"This, of course, is the most historic music venue. They have a really versatile event lineup. I've been to concerts, matinees, showcases, and fundraisers. They have a gorgeous interior. There are a lot of music venues in DC that get a lot of traffic, but they all feel different."