DC's Most Beautiful Runs That'll Make You Actually Want to Work Out
Unless you're a grizzled runner, it was basically impossible to even think about jogging this summer. August is our annual reminder that this city was built on a swamp; it's insufferably hot, and if you hadn't already sweated every drop of fluid out of your body, the humidity would make you cry. But pristine running weather has finally arrived, and now's the time to find some good running routes. There's nothing to make a run pass more quickly or enjoyably than a striking vista or a break from the usual concrete malaise, so we've rounded up the most beautiful runs DC has to offer. Aiding us in this task is the Columbia Heights running club the Cardozo Crawlers.
C&O Canal Towpath
Stretching from Georgetown to central Pennsylvania, the Chesapeake & Ohio Canal boasts 184 miles of trail. Suffice to say, that's plenty of real estate for even the most ultra of marathon runners. Regardless of your level, the nine unpaved miles of dirt and crushed rock between the Key Bridge and Carderock are lovely; the old canal hugs you on one side, populated with sunbathing turtles and families of waterfowl. On the other, the Potomac rumbles, overseen by some of the most enviable riverfront mansions Virginia has to offer. In the full bloom of spring or the burnt hues of fall, it's a gorgeous panorama to take in. The terrain is flat, too, and each mile comes marked with a signpost, so it's easy to mentally check out and coast. I've probably logged more miles on the C&O than any one route over the last decade, and I'm not even close to sick of it. Just the other day, I spotted a baby beaver idling in the canal, and then no less than a quarter-mile later, a blue heron plunged its head into the water and returned with a fish breakfast. Come on, where else are you going to find that?
Embassy Row
Outside of the Tidal Basin and National Mall, few routes feel as quintessentially DC as the two-mile stretch of Massachusetts Ave between Dupont Circle and the Washington Cathedral. Along what's commonly known as Embassy Row, you'll pass the diplomatic missions for over 40 countries. Some embassies have assumed older townhouses; others occupy more recently erected and lavish structures. Running up this strip is a tour through 110 years of architectural history and political projection. (I'm still noticing things.) You'll also pass the Naval Observatory, where you can wave to the residence of the Vice President… just don't do it enthusiastically enough to draw the Secret Service's attention. Just as importantly, the sidewalks that run along this stretch are gracious, allowing for minimal pedestrian froggering, and are lined with trees that gift shade. And if you're looking for a moderate challenge, the one-mile incline from Whitehaven St to Wisconsin Ave certainly presents one. Of course, it's fun to run down it, too. All in all, this four-mile loop might not be enough of a workout on its own, but approached from any direction, it's a nice add-on to any run.
Rock Creek Park
The National Park Service touts Rock Creek Park as "a gem in our nation's capital." It also says the 2,000 acres of trees, trails, and tributary provide visitors with "the opportunity to reflect and soothe their spirits through the beauty of nature." That's deep, federal government! But whether you jog to Enya or not, there's no denying the first assertion: Rock Creek Park is a gem for local runners. Sprawling from the northern tip of the District down to the Kennedy Center, the park cuts vertically across the entirety of Northwest quadrant. That makes it easy for inhabitants from over a dozen adjacent neighborhoods to access the park's handful of trails. And once inside, Rock Creek is a veritable Choose Your Own Adventure of paths. "It's beautiful in all seasons and has miles of trails, which range from flat and wide, like Western Trail, to more technical with elevation, like Valley Trail," says Cardozo Crawler Julie Dickerson. "On the weekends, they also close sections of Beach Drive, which is great for road runners who want lots of space and nature without losing their footing."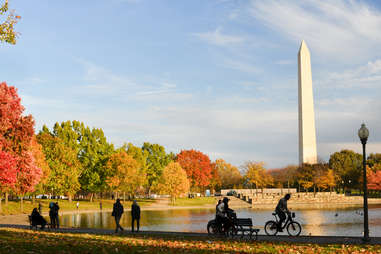 The National Mall
It doesn't get any more iconic than the National Mall. The four-mile loop between the Capitol and the Lincoln Memorial is lined with a treasure trove of landmarks: the Reflecting Pool, the World War II Memorial, the Washington Monument, the National Gallery of Art, all 34 Smithsonian Museums. Is it a little touristy? Well, yes, obviously; this is precisely what most of DC's near-20 million annual visitors have come to see. But there's nothing wrong with indulging your inner tourist; it's easy to take the monuments and architecture for granted, so go for a run around the Mall and make the effort to look around a little. The route itself happens to be a good one, too. Along the Reflecting Pool's sidewalks, shade comes from the canopy of sturdy trees, including a fair number of grand, old American elms. On the other side of the Washington Monument, extra-wide dirt paths allow for bikers, joggers, tourists, and the occasional member of Congress to coexist peacefully. Of course, if you want to avoid most of them altogether, get out there while the sun is just rising, and maybe tack on a White House jog-by while you're at it. "It's best to do early in the morning while the city is still sleeping," Cardozo Crawler Caroline Mosley says of the route. "Running past the Washington Monument and around the White House so early in the morning gives you a rare glimpse of an eerily quiet DC."
Roosevelt Island
"Roosevelt Island is a little oasis in the city," says Cardozo Crawler Amy Harder. A memorial to our 26th president -- Teddy, not Franky D -- the 88-acre island sits in the middle of the Potomac River, just across from the Kennedy Center. While technically part of DC, it's only accessible from a footbridge off the Mount Vernon Trail in Rosslyn, VA. The plus side: that means no cars to fear as you chug along any of its several pathways -- just unadorned, serene nature. A mix of woodlands and marshy lowlands, Roosevelt Island is also renowned for its diverse population of birds... so if you're a marathoner ornithologist, holy crap, you've just hit pay dirt. For the rest of us, Roosevelt Island is simply a great way to step outside DC, and a fitting tribute to one of history's great conservationists.
Hains Point
Whether it's the product of a reliable cool breeze or a general sense of leaving the concrete swamp that is DC, it's hard to beat a run along the water. If you're coming from Downtown, Hains Point should be your go-to escape point; the manmade island is accessible from both West Potomac Park and 14th St, and from there juts out to the confluence of the Potomac and Anacostia Rivers. The joggable circumference amounts to a four-mile loop that's popular with bicyclists and runners alike, largely because the low amount of road traffic allows for continuous cardio bliss. But Hains Point is popular with everyone come late March and early April, when its many cherry trees blossom into bouquets of pink petals. Other times of the year, you'll have to settle for the sight of airplanes landing at National Airport across the Potomac, and the company of grilling and fishing locals along the more immediate shoreline. Be warned, though: come winter, the wind can be a little less "cool breeze" and a little more "unforgiving blasts," but who doesn't like a little challenge? It doesn't seem to dissuade the foxes and raccoons that come out of the woodwork after sunset to roam the island with impunity. The appeal of waterfront property is not lost on them, either.
Capital Crescent Trail
The Capital Crescent Trail begins like the clean-cut sibling of the C&O Canal Towpath. The paved path starts near the Georgetown waterfront and continues northwest along the Potomac River, running parallel to the C&O at a slightly lower elevation. After about two miles, though, things get interesting. Just past the boathouse at Fletcher's Cove, the path veers left, and then cuts back to cross a footbridge over the canal. From there, the Capital Crescent Trail heads through the Palisades and up into Maryland. And I do mean up: once on the other side of the canal, the trail is 4.5 miles of near continuous incline until its conclusion in Bethesda. So, come prepared for a workout. Along the climb, you'll get a nice vantage of the Potomac, and then a trip through some of Montgomery County's swankiest backyards. As a side note, it's worth mentioning that the park services plow the path after a snowstorm, which provides the opportunity to take in the winter wonderland on a jog that won't leave your feet cold and wet.
National Zoo
A zoo may seem like an odd place for a jog, but DC's is a favorite of area runners. In fact, it's so popular that the National Zoo had to cut its hours of operation after one too many near collisions with maintenance vehicles. Way to go, iPhone joggers! The park's modified 8am opening may not be ideal for the weekday runs, but if you get there on the earlier side on Saturday or Sunday, you can avoid the masses and work through the 2.5 miles of walkways with relative ease. Those miles are lined generously with trees, and feature a formidable climb when you're headed in the direction of Woodley Park. (If you've never been to this zoo or heard the grumbles of stroller-pushing tourists, it essentially occupies a big hill.) And if you feel like taking a breather, you can do so in front of an animal exhibit. The C&O Canal Towpath's deer are cool and all, but they have nothing on a red panda. Or a family of giraffes. Or even those disgruntled emus. "Obviously, you won't get a ton of miles in, but it's fun to have the place mostly to yourself, and it provides an easy way to connect to the Rock Creek Park trails," says runner Julie Henderson.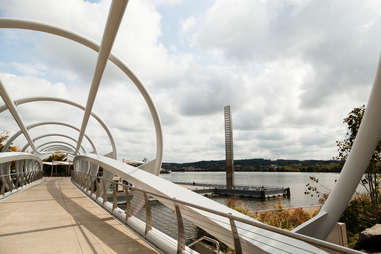 Anacostia Park
True story: Anacostia Park is home to the only roller skating pavilion in a national park. I imagine it would be easy to roller skate to and from such a pavilion, too, because Anacostia Park also contains several miles of the Anacostia Riverwalk Trail, a flat and freshly paved pathway that will someday form a continuous 20-mile loop on both sides of the Anacostia River. (For now, 12 miles are open to the public.) The beauty of the park's open fields isn't going to bowl you over, but it's green and on the water, and sometimes that's good enough. As someone who spent my first year in DC running loops around the bricks of Capitol Hill's Lincoln Park, I wish I had known there was such a pleasant alternative a mile and change away. Unsurprisingly, the two-mile strip of pavement on the Southeast side of the city is the location for a number of races throughout the year, including the ACLI Challenge where the fastest member of Congress is crowned.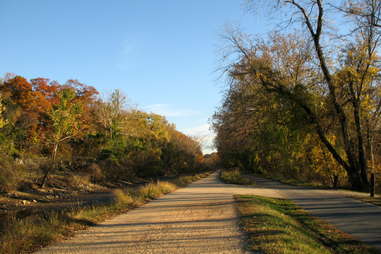 Glover-Archbold Park Trail
Glover-Archbold Park is one of Rock Creek Park's "finger parks" administered by the National Park Service. That's a nice way of saying it's a JV Rock Creek Park. Fortunately, a JV Rock Creek Park is still a beautiful place to splash mud up your calves and all over your sneakers. Glover-Archbold's rugged dirt trail stretches almost three miles, from Tenleytown down to the Potomac, where it connects with the C&O Canal Towpath. Along the way, the route steadily declines roughly 300ft, which makes the return trip a bit more of a challenge. The heavily wooded trail provides refuge from the summer sun -- an even more valuable attribute on mornings when you don't get up quite as early as you should. And much like Rock Creek, the lankiness of Glover-Archbold allows for easy accessibility for a host of neighborhoods.
Sign up here for our daily DC email and be the first to get all the food/drink/fun in town.
Philip Runco talks to people who make beer and music. A lot of these conversations end up on BYT. He's currently training for his 24th marathon. Follow him on Twitter @PhilRunco and on Instagram @prunco.