The Best Fall Road Trips From DC
Hit the road this fall before old man winter unleashes the fury. Wineries, distilleries, and breweries await, as do sweet places to stay like an alpine resort in West Virginia. Then there's all that prime foliage in the Shenandoah Valley (please, don't call it leaf peeping). Here are eight worthwhile road trips from DC. Checked all of these off your list already? Here are even more ideas.
Courtesy of Color on the Creek
Courtesy of Monk's BBQ
Purcellville, VA
Distance from DC:
50 miles
Why:
You can visit breweries, distilleries, and wineries all in one day with pit stops for BBQ and burgers.
Three things to do while you're there:
1. Listen to live music, drink local beer, and order brisket by the pound at Monk's BBQ. Don't be shy with the sauce because many are made using local wine and beer. Check the resto's Facebook page for live music updates.
2. Drink cleverly named beers at a Buddha-themed brewery on Main St. Belly Love's offerings include "Shut the Fook Up," "My Bitter X," and "50 Shades of Gold." The industrial-chic taproom is a place you'll want to stay a while.
3. Dine inside a restored mill that dates back to 1905. Magnolia's at the Mill has that whole rustic thing down and the patio is dog friendly. You're ordering mussels, pizza, and the Colossus -- a mammoth burger topped with the whole refrigerator.
Courtesy of Boxwood Estate Winery
Middleburg, VA
Distance from DC:
47 miles
Why:
It provides the perfect mix of seasonally appropriate outdoor activities with refreshing indoor activities (aka wineries and distilleries).
Three things to do while you're there:
1. Take a moonlight zip-line tour at Empower Adventures. They're offered October 23-24 and 30-31 and November 27-28. Otherwise, visit during the day for slightly less bone-chilling treetop time.
2. Make like Elizabeth Taylor and Jackie O by staying at the Red Fox Inn & Tavern that was established in 1728.
3. Of course visit wineries like Boxwood Estate, Greenhill, and Chrysalis, but then change things up with a stop at Mt. Defiance Cidery & Distillery where they make everything from rum and apple brandy to absinthe. An intermezzo at The French Hound for lunch is a must.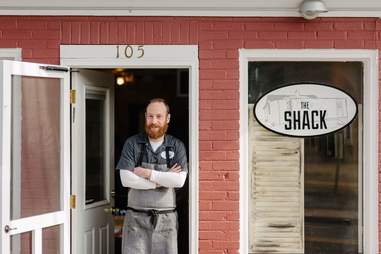 Courtesy of Sera Petras Photography
Staunton, VA
Distance from DC:
157 miles
Why:
There's a grade-A restaurant and the Shenandoah Valley is gorgeous.
Three things to do while you're there:
1. Dine at The Shack. Ian Boden's cooking alone is worth a trip to Staunton. The pint-sized 400sqft restaurant serves up a killer tasting menu on weekends and an a la carte menu on Wednesdays and Thursdays.
2. Play a round of $10 "foot golf" at Gypsy Hill Golf Course. You'll kick a ball off a tee and try to get it in a slightly larger-than-normal hole in as few strokes as possible. Tee times are offered Monday through Thursday after 11am and weekends after 2pm.
3. Cruise the Blue Ridge Parkway, dubbed "America's favorite scenic drive," just don't tell people stuck on the PCH. Stop at the Humpback Rocks for a selfie.
Shepherdstown, WV
Distance from DC:
72 miles
Why:
The oldest town in West Virginia benefits from German influence.
Three things to do while you're there:
1. Stay a night at the Bavarian Inn right on the Potomac River for an alpine experience without flying out of Dulles. Think fireplaces, classic cocktails, sausage samplers, and luxury rooms.
2. Cycle the C&O Canal towpath, or if 12 miles doesn't sound like a big deal for you on two wheels, see if you can make it to Harpers Ferry. Shepherdstown Pedal & Paddle can hook you up with rental bikes.
3. Load up on tacos at Maria's Taqueria. If there's a hot sauce you're smitten with, odds are very good that this place has it.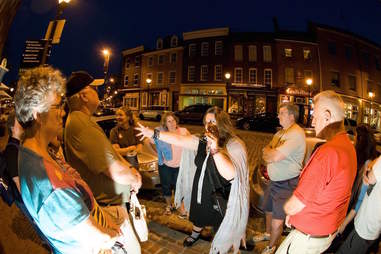 Courtesy of Visit Baltimore
Baltimore, MD
Distance from DC:
40 miles
Why:
Sadly (or thankfully?) fall in Baltimore no longer signals Ray Lewis' triumphant Ravens return. But, there are new eats, and the
bar scene
warrants springing for a hotel.
Three things to do while you're there:
1. Go on a haunted pub walk of Fell's Point bars that's creepy enough to earn accolades from the Travel Channel. Tours are offered Thurs-Saturday at 7pm.
2. Dinosaur Bar-B-Que just opened. We repeat Dinosaur Bar-B-Que just opened. The upstate New York original is whatever's past finger-licking good on the deliciousness scale. Find the Charm City location in Fell's Point and get the Big Ass Pork Plate.
3. End the night at Wit & Wisdom inside the Four Seasons Baltimore because Champagne prices are sabered in half from 10pm-12am every night at the bar.
Courtesy of Potomac Point Vineyard & Winery
Fredericksburg, VA
Distance from DC:
53 miles
Why:
There's a heavy dose of historic gravitas and good eats.
Three things to do while you're there:
1. Soak in some history because you're in the boyhood home of George Washington. At the very least, visit the grave of Stonewall Jackson's arm at the Chancellorsville Battlefield because a limb burial site is creepier than any other burial site.
2. Hit the A. Smith Bowman Distillery where the stills are appropriately dubbed George and Mary. Free tours depart on the hour Mon-Sat from 10am-4pm. There are wineries too like Potomac Point, Bacchus, and Hartwood
3. You'll probably be tempted by Steak 'n Shake but RESIST because there are much better dining options like Bistro Bethem, FOODE, and Kybecca. Always finish with frozen custard from Carl's (at least until the season's over).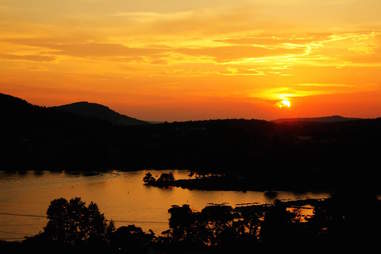 Courtesy of Deep Creek Lake
Deep Creek Lake, MD
Distance from DC:
Three hours
Why:
The cabin rentals feel like glamping, and there's stick-to-your-ribs food to eat post waterfall hike.
Three things to do while you're there
1. Gather some buds and rent a cabin -- preferably one with a fire pit and a hot tub. Try not to make fun of their names.
2. Start the day with a Reese wrap (peanut butter, banana, granola, and honey on a honey-wheat wrap) and a pumpkin latte at Trader's Coffee House, set up a cheese tasting at FireFly Farms, and end the day at Ace's Run for the Marsh Mountain burger with frizzled onions, fried pickles, candied bacon, fried egg, mushrooms, onions, chipotle mayo, and cheese.
3. Take a walk through the woods to peep some waterfalls at Swallow Falls State Park. There is a 1.25-mile trail, or a 5.5-mile trail, also accessible to mountain bikers.
Sign up here for our daily DC email and be the first to get all the food/drink/fun in town.
Laura Hayes is a DC-based writer who has been known to occasionally visit other cool places. Follow her: @BTMenu.