DC-Area Waterfalls We're Excited to Hike to This Summer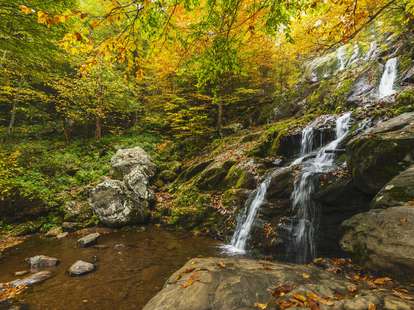 Look, DC is drop-dead gorgeous, and we love it, but sometimes we get tired of city living (and breathing city air). Fortunately, our city is also smack in between two of the most picturesque states in the Union. This summer, hop in the car for an easy road trip chasing waterfalls (sorry, we had to). Whether you're a beginner, an expert hiker, or are just looking for a new kind of adventure, we found the prettiest, most accessible waterfalls for you to visit... all within two hours of Washington, DC.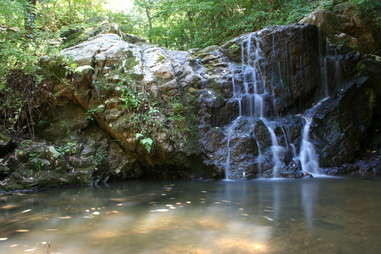 Cascade Falls
Patapsco Valley State Park
One of the closest waterfalls to the city, Cascade Falls in Maryland is not to be confused with the similarly named Cascades National in Virginia (which is worth a trip in its own right, but is wayyyyy further out). Located about a mile or so into the park is the Cascade Falls trail entry point, which you can drive to directly. Though the terrain is steep, a series of smaller falls will coax you to continue your journey. Once you hit the big waterfall, sit on one of the fortified tree logs and dip your feet in. Ahh... rejuvenating.
How to get there: You can take either US 29 or the Baltimore-Washington Parkway (aka 295), and drive just an hour outside of DC.
Whiteoak Canyon Falls
Shenandoah National Park
Not one, not two... we'll skip ahead: six waterfalls grace this massive (for the East Coast) canyon. Divided into lower as well as upper falls, Whiteoak has swimming holes and heights ranging from 36-85ft. Rated as a moderate trail, Whiteoak lets hikers choose between a one and four mile trek.
How to get there: Head down Route I-66 W to US 29 S, which is about 90 miles outside the city. You're looking at about an hour and a half. Grab a couple of friends so you can use the HOV lane (and, you know, share the experience).
Cunningham Falls
Cunningham Falls State Park
About an hour and fifteen minutes north of DC in the Catoctin Mountains, Cunningham Falls is well worth the drive. Guardrails are in place to protect hikers while climbing the falls' nearly vertical six-mile terrain. Cunningham is divided into an upper and lower trail, each providing a range of difficulty from beginner to expert. The best part is, after all that hiking, the park has a lake to take a swim.
How to get there: I-270 N; however, leave early, as the stretch between 495 and 270 can be a traffic nightmare.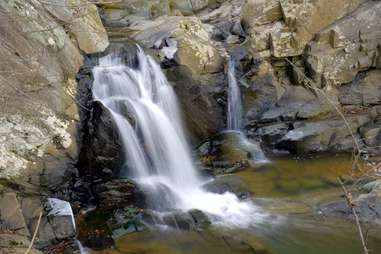 Scott's Run
Fairfax County
Fighting Tysons Corner traffic can be brutal unless you head out during the weekend; however, Scott's Run Nature Preserve is less than 13 miles from the city, so it's not all that bad. And thanks to a trail that leads to another waterfall, you can kill two birds with one hike (or, like, a less violent metaphor for waterfall-gazing, but you get our drift). Take notice of the flora & fauna around this waterfall -- it's surrounded by some pretty rare plants, like ancient hemlock. Unfortunately, authorities are serious about no swimming, no wading, no bathing in the river, so we can't exactly recommend jumping in.
How to get there: If you haven't traveled along the George Washington Parkway, this is the time. The road extends from George Washington's Mount Vernon Estate to 495, and a scenic view is absolutely guaranteed -- all within about a half-hour drive.
Great Falls
Great Falls Park
It's a shame more people don't know that there's a cascading waterfall just 14 miles upstream from Georgetown. Kayaking and canoeing are allowed, but forget about swimming or wading. If you don't believe how dangerous these quickly moving rapids are, take a look at this interactive piece that the Washington Post dedicated to the question. Aside from the threat of death, the surrounding grounds contain glimpses of the historic C&O Canal.
How to get there: 495 is your best bet; however, depending on which side of DC you call home, you may want to cut through 495's outer loop by taking the George Washington Parkway. Either way, the drive shouldn't take you more than 45 minutes.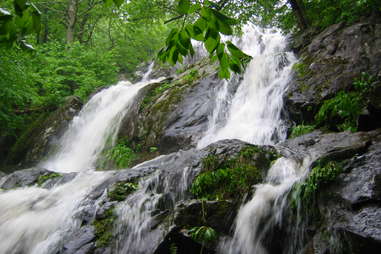 Dark Hollow Falls
Shenandoah National Park
Shenandoah National Park is one of those places that make you grateful to live near Virginia. Filled with local wildlife (if you're lucky, you'll see a black bear!), phenomenal views, and multiple waterfalls, the whole place is worth exploring, but Dark Hollow Falls is decidedly special. Rising almost 1,400ft above sea level, the tiered waterfall gives visitors a chance to see numerous cascades all at once. This one is better for experienced hikers, though. The trail is difficult, but totally worth it.
How to get there: About 100 miles straight down Route 66.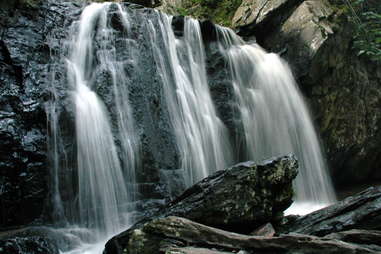 Falling Branch (Kilgore) Falls
Rocks State Park
Falling Branch waterfall's sheer rock cliffs are decidedly well-named. Just 80 miles from the nation's capital, these beautiful falls can be enjoyed by hikers of all skill levels (and their dogs). Only open for half the year, this less-than-a-mile trail is extremely popular.
How to get there: There are a few ways, but we recommend taking 695 N, as sometimes 295 N (Baltimore-Washington Parkway) can become backed up very quickly with only two lanes each way.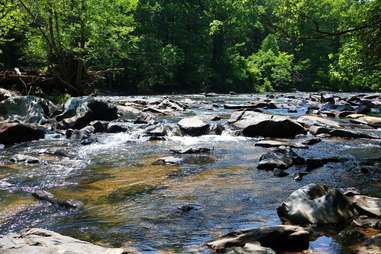 Gunpowder Falls
Gunpowder Falls State Park
After a rainstorm, the smaller rapids of Gunpowder Falls tend to increase in size and and speed, becoming larger "falls." Walk in about a mile alongside the river before you reach a semi-deep pool created by torrents. Be careful: the rocks are extremely slippery, but this really is a great spot for a picnic if you can find a rock that's large enough.
How to get there: Whether you take Route 1 or 295 N (we recommend the latter), this drive is only about 60 miles from the city. Make sure to get off on the Kingsville side of the park -- the Middle River entrance will take you about 20 minutes out of the way.
Paw Paw Falls
Paw Paw Tunnel
Driving a little over 100 miles northwest will take you deep into Maryland's wilderness, where you'll find a 3.8-mile trail that is bordered by the Chesapeake & Ohio Canal Towpath. After walking through the tunnel on the north side of the trail, you'll come upon a pretty little waterfall. Although the railing keeps hikers from jumping in, hanging out in the delightfully dark tunnel will provide some shade from the sun -- and a great photo opp.
How to get there: A series of routes can get you to your destination, but we'd take I-66 W to US-522, and finally WV-127 W. This one's more of a legit road trip -- budget for a trip of at least two to two-and-a-half hours.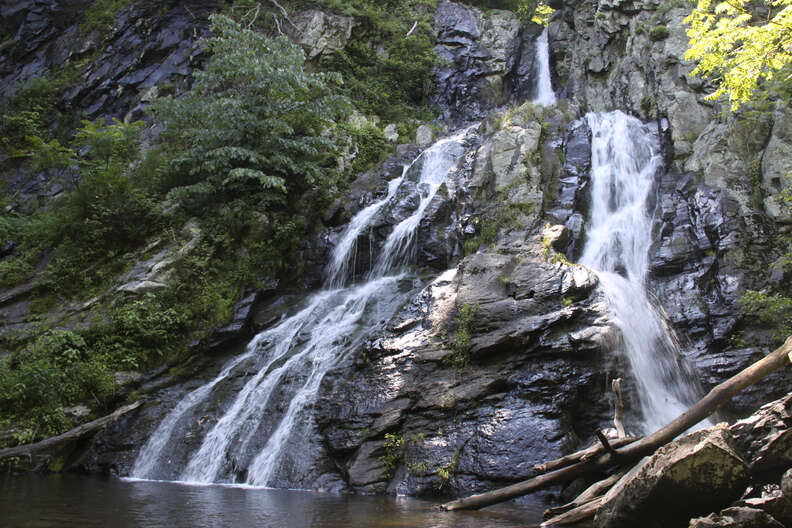 South River Falls
Shenandoah National Park
Two hours down Route 66, you'll find South River Falls. Located inside one of our favorite parks (and one that is abundant with waterfalls), this hike is a pleasantly moderate one. Available from March until June, this is one to plan your spring around. The 3.4-mile trail won't take all day, but the falls' topography is extremely rocky.
How to get there: The quickest way is down I-66 W, but you can also take I-95 S. When entering, the park charges $15 per car during the summer months, and $10 during the winter.
Sign up here for our daily DC email and be the first to get all the food/drink/fun in town.