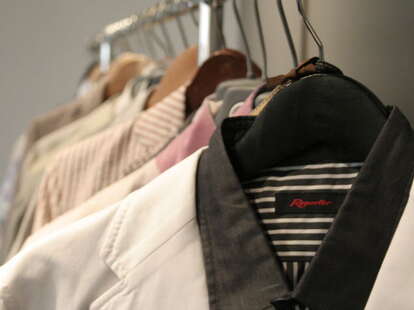 While influential to filmmakers, classic Italian cinema hasn't done much to shape the world at large, as proved by the fact that cowboys aren't riding your bike down the street stuffing their mouths with Bolognese. Bucking that trend and swaddling you in La Dolce Vita: Reporter.
From a 60-yr old Italian clothing/textile group self-professedly dedicated to the finest in style and the arts, Reporter's collection of casually dressy euro-chic threads is inspired by the cult Italian film Profession:Reporter and its themes of constant renewal and "timeless elegance", not unlike that sex-pot Barbara Bush. The latest drop's lead off by slim fitting chest gear including the elegant Knit polo (in solid navy, white, or pink), with buttons on the sleeve/chest pockets and contrasting fabric on the collar interior; a sleek, pocketless, deep checkered pink button down with a French placket and lighter-pink rolled-up sleeves; and a 100% cotton white short sleeve b-down with exterior stitching deets, plus blue checkered bicep cuffs with functional buttons, the loosening of which may reveal your pythons are really pussy cats. They're also covering your ass with everything from clean-lined, navy/red/white striped Bermuda shorts, to black & white plaid, five-pocketed flat front pants, to tailored, blue-pinstriped gray linen button-fly slacks with "2 percent stretch", a great property in pants but not in what they conceal.
There's also an array of lightweight outerwear, from large-checkered deconstructed sport jackets with three patch pockets and leather elbow patches, to classic zip-front track jackets with elastic waists, a girth-accommodating feature that will have you thinking Life Is Beautiful even if you aren't.