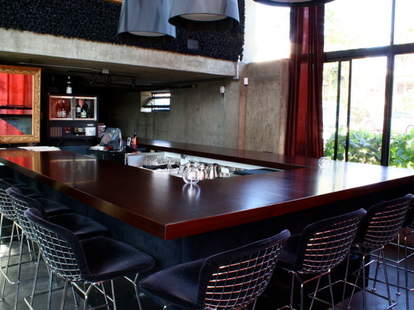 Some people fear constant change, whether due to an aversion to chaos, or because when their pockets start jangling, homeless people will know they're lying. Embracing change with gustatory gusto, Red Velvet.
Velvet's an elevated wine-pairing redoubt whose scrupulously curated vino list will be regularly infused with new blood, and whose gourmet small plates will change daily; nearly filled with a horseshoe bar, the high-ceilinged space juxtaposes exposed cement against imposing red curtains and gilded mirrors surrounded by black roses, also the band Axl delusionally thought he was fronting during his corn-rows phase. The wine list, which will see 1-3 new additions per week, currently features 39 by the glass, half-glass, or bottle, plus 50 bottle-only labels, with a heavy emphasis on internationals (e.g., a Chenin Blanc from Vouvray France's Regis Cruchet), supplemented by regionals like the "Casa Santanimaria" Zinfandel from Sonoma's Saxon Brown, currently out on tour with Anglobert Humperdinck. The chef, who got his start at two Michelin-starred restos (Santa Monica's Melisse & Chicago's Alinea), creates each day's menu based on the availability of local organic meat and produce, whether that means Sonoma County crispy-skin duck confit (with quinoa sauteed in red wine, blackberry puree, and rosemary jelly), or Sweet Corn Ravioli with sauteed chanterelle mushrooms and a brown butter & truffle foam, a fungal cream more opulently tasty, but way slower actin' than Tinactin.
Beyond the grape, small plates are also paired with beers off a multinational list, from Brazil's Xingu, to Michigan's Flemish Red, to the London porter "Meantime", a frothy reminder that one thing never changes: to see chaos, crank up the Spacehog!