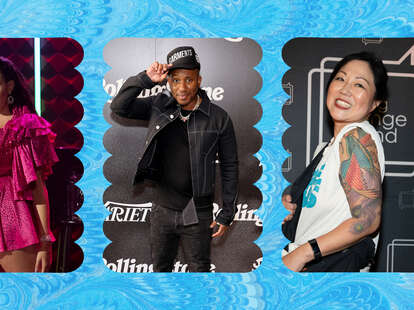 Design by Maitane Romagosa for Thrillist
Welcome to Thrillist 50, your guide to fun and adventure in 2023. Think of it as your comprehensive roadmap for checking out exciting events and new attractions coming over the next 12 months, going on bucket-list trips, reconnecting with yourself and your community, expanding your mind, and of course, experiencing the flavors we're most excited about this year. There are so many reasons to live like there's no tomorrow. Start here.
Throughout the past couple of years, we've watched comedy take on a bevy of innovative forms. Saturday Night Live subsisted on Zoom for a brief moment, the eponymous Ziwe star Ziwe Fumudoh took to Instagram Live, Grace Kuhlenschmidt's sketches consistently went viral on TikTok, and Kate Berlant and Jaqueline Novak started their very own wellness/comedy podcast, Poog. And while that was a pivotal time in itself, 2022 felt like a shift back to normal, where we could finally embrace the beauty and comradery that comes with the cacophonous, roaring laughter emitted from a live audience. As comedians make their triumphant returns to the stage from their digital forms, many of us are eager to pull up a seat. And since everyone can always use an extra dose of humor, here's some of the comedy specials and shows we are looking forward to in 2023.
Kate Berlant
Kate Berlant has undeniably been busy this past year, releasing her sketch comedy special with John Early, starring in the drama-filled flick Don't Worry Darling, and putting on her subversive one-woman show Kate, directed by Bo Burnham. After a successful off-Broadway run in the fall, Kate is back in New York at the Connelly Theater (until February 10). You can get tickets here.
Hannah Berner
Hannah Berner initially came onto the scene by getting into tiffs on Bravo's Summer House but has since made a name for herself in the comedy scene, being named one of Montreal festival Just For Laughs's "New Faces of Comedy" and co hosting her podcast Giggly Squad with fellow Summer House alumna Paige Desorbo. Now, she is embarking on her own tour throughout the U.S. as well as the Giggly Squad live tour with Desorbo. You can get tickets for her solo tour here (until May 13) and the podcast tour here (until June 11).
Chris Redd
After an impressive five season run on SNL, Chris Redd recently announced he is leaving the show. While his impressions of contentious figures like Eric Adams and Kanye West will be missed, the Emmy-winner's exit leaves room for him to do more live shows. He is currently performing stand-up throughout the winter and spring across the U.S. in cities such as Portland, Rochester, Tacoma, and more (until April 29). You can grab tickets here.
Ruby McCollister's Tragedy
Los Angeles native Ruby McCollister has quite an immense oeuvre, having starred in sitcoms such as Curb Your Enthusiasm and Search Party to horror films like The Scary of Sixty-First. Now, she is returning to her home base to perform her new one-woman show, Tragedy, at The Elysian Theater where she will take the audience through the "catacombs of her life." She will be performing her show every Tuesday for the month of January, and you can get tickets here.
Whiskey Business at The Bourbon Room
Situated on the Hollywood Walk of Fame, The Bourbon Room in Los Angeles is home to the Whiskey Business comedy series, which has featured comedy veterans like Sarah Silverman, David Spade, and Damon Wayans. While you can typically catch the show and its revolving lineup a couple times a month, esteemed comedians such as Nick Kroll and Tiffany Haddish will be taking the stage on January 17, and you won't want to miss out. Get tickets for the show here.
Earth Tones at Union Hall
Union Hall in Park Slope is another comedy hotspot that has been home to comedy favorites like Mitra Jouhari and Please Don't Destroy. Now on their agenda is a show headlined by SNL writer Asha Ward and TikTok-famous Sureni Weerasekera titled Earth Tones (January 22). Along with Ward and Weerasekera, the show will feature stand-up sets from Chris Murphy, Fareeha Khan, Richard Perez, and Sheria Mattis. You can nab tickets here.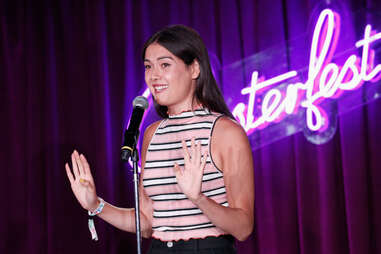 Patti Harrison
Patti Harrison consistently manages to be a standout of whatever she is taking part in, whether that's starring in the Sundance film Together Together, performing sketches in I Think You Should Leave with Tim Robinson, or merely being a guest on podcasts like Matt Roger's and Bowen Yang's Las Culturistas. And while like her friend Catherine Cohen, her Joe's Pub shows at the beginning of the new year are sold out, she is doing a month-long run at the Soho Theatre in London (January 24–February 18). You can get tickets for her London tour here.
Rachel Bloom
You most likely know Rachel Bloom from her award-winning hit television show Crazy Ex-Girlfriend, or at the very least have watched clips of the show's iconic musical numbers on YouTube (some beloved favorites include "You Stupid Bitch" and "Let's Generalize About Men"). After a celebrated four season run (where she wrote, directed, and starred in the show), a live tour, and a book release, Bloom is performing her new special live at Dynasty Typewriter, currently aptly titled Rachel Bloom Tries Out Her New Special And Let's See What Happens! You can get tickets for the show here (January 28).
Catherine Cohen's Come For Me
You've probably seen Catherine Cohen's special The Twist…? She's Gorgeous on Netflix, or maybe you're a certified troot sloot (the apt name of her podcast with Pat Regan, Seek Treatment's fanbase). Despite having a whirlwind of a year performing her special and taping a television show, Cohen is remaining in full force with a new show titled Come For Me. Unfortunately, her performances at Joe's Pub are sold out, but if you find yourself across the pond, she will be performing her show in the UK (February 1–February 11). You can find tickets for her UK tour here.
John Early
Known for his captivating performance as Elliot in Search Party, his sketch comedy special on Peacock Would It Kill You To Laugh? with his comedy partner Kate Berlant, and his recent cameo in Taylor Swift's Anti-Hero music video, John Early has proved himself to be one of the funniest voices in comedy. He currently has a short run of shows scheduled (February 7–17) in Vancouver, Seattle, Portland, and San Francisco. You can get tickets here.
Modern Man at The Bell House
Also one of the beloved main characters in Search Party and a recent guest star on Mindy Kailing's The Sex Lives of College Girls, John Reynolds is heading over to the Gowanus comedy hub The Bell House to perform his show Modern Man (February 9), featuring other comedians such as Jo Firestone, Ana Fabrega, Matt Barats, and Gary Richardson. The show will consist of a mix of stand-up, sketch, as well as a short film by Reynolds and director Guy Kozak. Grab tickets for the show here.
Margaret Cho's Live and LIVID!
Another beloved comedian and actor on films and television shows like Fire Island, 30 Rock, and The Flight Attendant, Margaret Cho is a comedy trailblazer. She has embarked on over ten tours and is onto her next with Live and LIVID! where she will be celebrating her 40 years of stand-up and "radiating rage about homophobia, sexism, racism." You can get tickets here (March 1–September 9).
Tig Notaro
Known for her signature deadpan sense of humor, Emmy- and Grammy-nominated stand-up veteran (as well as director, critically acclaimed podcaster, and seasoned actor) Tig Notaro is set for a packed 2023. The comic will be headlining Treefort Music Fest's Comedyfort in March and is also performing a small string of shows in April. You can get tickets for Comedyfort here (March 25) and her shows here (April 20–22).
Mae Martin
Mae Martin has made a name for themself in a multitude of ways with their semi-autobiographical television show Feel Good, as well as their set in Comedians of the World. Now, they are finally releasing their very own first hour-long stand-up special on Netflix, directed by Abbi Jacobson of Broad City and A League of Their Own fame. They recently filmed their special this past month at the Vogue Theatre in Vancouver, and it is set to premiere in 2023.
Hannah Gadsby's Body of Work
Hannah Gadsby made waves in the comedy scene when she released Nanette, her revolutionary, award-winning show featuring poignant social commentary on gender and sexuality. Since then, she has performed two more shows, Douglas and Body of Work. Gadsby recently filmed the latter at the Sydney Opera House, and it is set to be released as a Netflix special in 2023.
Celeste Barber's Fine Thanks
Celeste Barber is multitalented; not only did she raise over $30 million for the New South Wales Rural Fire Service amid Australia's devastating bushfire season, but she also has an amusing Instagram where she humorously recreates celebrity photos (her most recent victim is Kylie Jenner). And now, she is getting her own comedy special on Netflix Fine Thanks, where Barber will discuss topics like celebrity sex toys and Coachella. Along with her special, Barber is working with Netflix to develop and star in Wellmania, a dramedy series about a woman's wellness journey, both set to premiere in 2023.