A Shoreditch speakeasy with stunning cocktails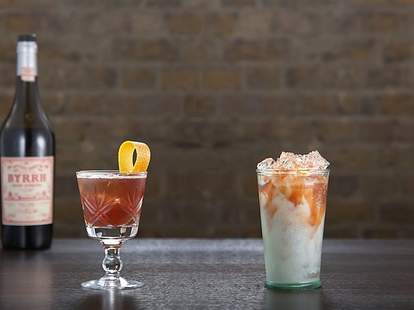 Honoring the past doesn't require devotion to every detail -- the Somali pirates' tribute to the sea dogs of yore is no less heartfelt simply because, for artistic reasons, they've chosen to go without cool sideways hats. Honoring old-school boozing while taking a few understandable liberties, The Nightjar, launching Friday.
Ensconced behind an easy-to-miss Shoreditch entrance, Jar's a low-lit lounge whose co-owner scours all manner of pre-Prohibition sources for cocktails, then alternatively goes to insane lengths to procure proper ingredients, creates house versions, or makes creative substitutions; the space evokes an early 20th century cabaret, with red walls, brass fittings, art deco ceiling, mirrored friezes, and a wooden dance floor that'll roar with the sounds of "original vinyl and 78s" -- or, your age if you actually bought vinyl when it was original. Mostly vintage tinctures include the house special "24-Volt Cobbler" (cranberries, maple syrup, red wine, lime & elderberry-infused white chocolate eau de vie, plus house-made "24v electric chilli bitters" and créme de mure-framboise-fraise -- "the ultimate berry liqueur"), the "Deep Sea" (gin, absinthe, sweet vermouth, orange bitters), and the Savoy's "Hanky Panky" with gin, Fernet Branca, orange oils, and "byrrh", a mix of red wine & tonic that, unlike, myrrh, will knock the frankin-sense right out of you. House originals run from the "Pedro Paramo" (tequila, house-made blood orange & saffron liqueur, lime, agave syrup), to a secret-recipe Mai-Tai finished for a week in oak barrels, to the rum/green coconut water/lime/bitters "Islands in the Stream" -- inspired by the novel published nine years after Hemingway quit drinking.
There'll also be live music four nights a week, with ragtime piano sets, 1930s "hothouse and bebop" from the Black Cotton Club, and slots from Topshelf Jazz, self-described "fine purveyors of filthy swing" -- another historical detail those Somalis are trying to avoid, as getting hung is so 1800s.