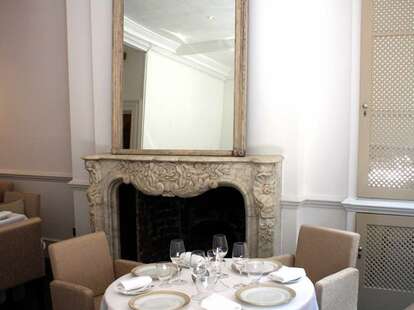 Everyone has their reasons for striking out solo: Robbie Williams was a self-confessed egomaniac, and while some might've accused Peter Gabriel of being the same, it was really that he couldn't take Phil Collins su suss seriously. Striking out simply because it's time, the man behind Gauthier Soho.
Soft opening Monday, GS is an eponymous showcase for former Roussillon head chef Alexis Gauthier, famed for bringing British regional/seasonal mandates into French cuisine; set inside a four-story Georgian townhouse, the dining rooms present a French summer-home vibe, offset by dark corridors and two private spaces, one a 16-seat "Game" room with vintage Soviet posters, an old penny-op pub slot machine, an ancient, Empire-flaunting British Commonwealth map, and a crazily fractured mirror, which considering the whole losing-the-Empire thing must've been broken by Commonwealth Britain. The menu's divided into five courses, plus a daily changing 12-course taster; "Premier" bites include broad bean & thyme w/ olive oil tart & quail egg, while "Deuxieme" brings lobster & tarragon w/ crunchy lettuce and pink pigeon breast (it is always seasonal to murder pigeons). Thirds have a smoked salted wild seabass w/ white asparagus, melba toast & Cepes mushrooms, Fourths include the deliciously unwieldy "Sweetbread & Morels, Lettuce & Veal Jus", and amongst the desserts, a gariguette strawberry & spearmint sable w/ "caramelized granite" -- cementing Brighton and Blackpool's reputation as culinary trendsetters.
Unique to the area, there's also an open wine cellar, stocked with 200+ vinos (a number they aim to double), run by Roussillon's former sommelier and open to punters to browse "like a library"; it's also fully licensed, so if you like a bottle/case, you can Take That home.