From clothes sellers, to clothes makers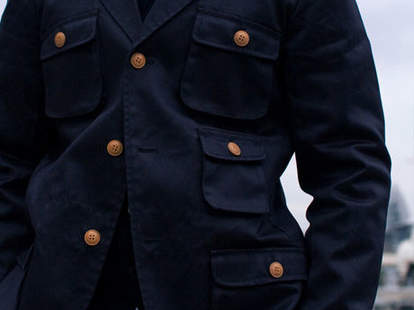 Spend enough time selling something, and eventually you can learn to make it yourself -- Peter Mandelson spent years peddling others' BS before finally creating a line of his own. Now lining their shelves with their own duds: Present
After 18 months of slinging others' swaddling, Present's decided to take things into their own hands, launching an extensive, preppy, clean-cut collection of locally made garments incorporating Scottish, English, Japanese, and American fabrics -- a sartorial United Nations, so watch out for Hillary Clinton pulling hairs off your clothes for her files of DNA.
Things kick off with chinos coming in three colours (black, navy, beige) and with an optional, subtly patterned shirting trim at the bottom hem, then move on to jackets including a plaid-lined khaki hooded number, a sleeveless quilted "antique wax" design, and the six-pocket, charcoal-coloured "Wool Cruiser", though really, what cause do Welsh farmers have to dress so fashionably
You'll also find elbow-patched lambswool crewneck sweaters both plain and striped (red, navy, grey, black), plus white-collared striped shirts, a duo of "back-panel" designs with offset fabric strips running around the collar, and a split-down-the-middle two-tone check "half and half" design, for the man whose bi-curiosity actually leads him to put a shirt on.
Rounding out the collection's a vast array of accessories, including holdalls, triple-strap backpacks, laptop cases, socks, and hats, both beanies and military caps -- because as they say, all's Blair in love and war.