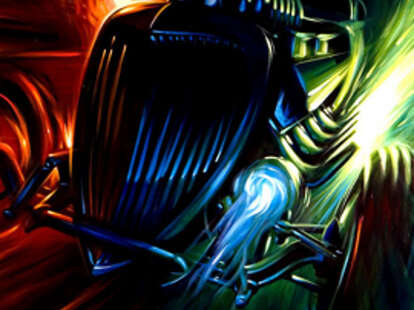 Our culture so fetishizes the automobile, that any bit of it can be considered art, from a Cobra's stunning rounded fenders, to a Ferrari's gorgeous exposed engine, to the breathtaking free tent that came with each Pontiac Aztek. For an artist inspired by said art, check out Wargasser.
Wargasser's the nom-de-brush of a Long Beach-based, slightly loopy former Mitsubishi/GM/West Coast Choppers designer, who's now dedicated himself to painting/drawing fine art that, for the most part, reflects his borderline-creepy auto-love. Right now, you can snag a quartet of prints online: a flame-throwing racecar that reads "Pure Hell" along the side, a demonic motorcycle lit by a spiderwebish sun, an exhaust-flame-spewing hot rod, and a bomb-dropping biplane, piloted by a recurring skeleton character (also drives the bike and first car) whom the artist says "represents all those who died fantastical deaths" -- so, not Mama Cass. Also available directly from the artist're the original, massive oil paintings and a slew of similarly themed works, as well as a ton of frame-able sketches of everything from an eagle perched atop a motor, to a dastardly, pointy-chinned clown, to a military Humvee so meticulously detailed, all it's lacking is someone flicking it off.
'Gasser'll also do art on commission, and invites any potential buyers who want to check the full collection to visit him at home -- but don't intrude early in the morning, or risk your Aztek not being the only thing with a pitched tent.