A mid-city sandwich shop with can't-beat meat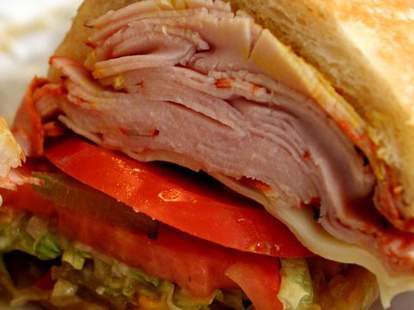 Being "all about" something means expressing an enthusiasm for it you never think'll wane, except when that thing is pogs, because you were kidding about that. For something you can forever be about, check out All About The Bread.
From the guy behind coffee-driven Larchmont Bungalow cafe, All About The Bread's a classic-looking, snug deli w/ white walls, a tiled floor, and just a couple of tables, that's dedicated almost entirely to sandwiches, each thickly-stuffed with deli meats, and all on bread that's soft-on-the-inside and hard-on-the-outside -- like an edible Gerard Butler. The bread's baked fresh every 30 minutes, with specialty 'wich options including hot pastrami w/ pepperoncini, mustard, and pickles; the spicy capicola/mortadella/prosciutto/Provolone "Godfather", and "The Works" -- a slew of veggies and sauces that includes mayo, Italian dressing, and "famous Chicago hot peppers", more popular than the Red Hot Chili ones, because they don't include Fleas. You can also make your own sandwich choosing from a vast selection of animals, snag meat and cheese directly from the deli case, and get fresh salads like a caprese w/ Italian mozzarella, an artichoke-heart concoction w/ olives and peppers, and two different potato salads; potato and potato, let's call the whole thing off.
To complete your fatty jaunt, they've also got fresh baked goods like nutty brownies and chocolate covered rice crispy treats, which you were once all about, 'til you discovered girls (Magic cards).