Photo: djjewelz The stoner's mind is in constant need of fresh stimulus -- if that weren't true, then why are you always up at 4am, and why do you even know Ron Popeil's name? For a restaurant that's a critic's darling but won't be critical of your, um...habit, there's Animal. Photo: ramenraff The original location from trail blazing (and just regular blazing) caterers/Food Network personalities The Food Dudes, Animal's concept is one of constant change, embodied by the rotating collection of art that dresses up the otherwise stark room, and the broad, copper-top bar that's patina'd nightly with stains from whatever happens to spill on it, be it soy sauce, wine, or the lonely tears of a man who knows what patina means. Photo: djjewelz The menu flows with the farmer's market, with inspiration ranging from American (pork ribs w/ bacon potato salad), to Asian (baby halibut sashimi), to Caribbean (jerk yellowtail collar), but offal's always the star, showing up everything from this here crispy pig head... Photo: StarChefs.com ...to oxtail poutine. And for washing down your veal brains or chicken fried sweetbreads, the house wine ("Animal House") is a constant, but everything else on the list will be quickly changed out for a replacement, then, like Drew Bledsoe, never heard from again.
Recommended Video
Watch This NYC Spot Make Sausage Out of Chinese Takeout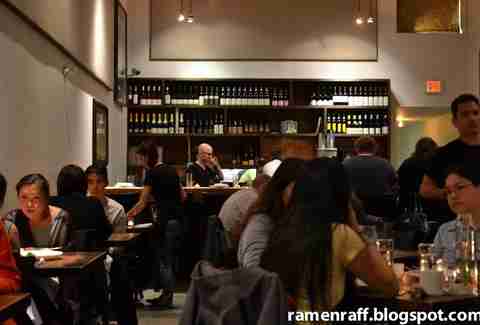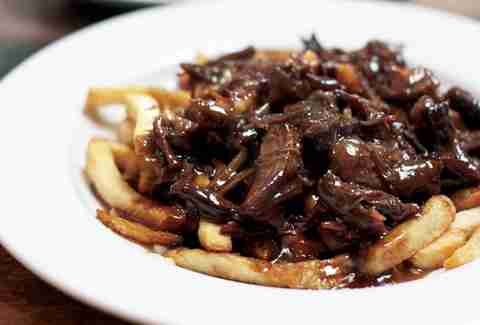 Previous Venue
Next Venue
Venue Description
1. Animal
435 N Fairfax, Los Angeles, CA 90036
Vinny Dotolo and Jon Shook's OG restaurant is a stone-cold classic in Los Angeles known for a constantly changing menu that's always creative and never stale. As the name suggests, Animal specializes in head-to-tail eating and meat-centric plates; past and present hits include a bacon crunch chocolate bar, a barbecue pork belly sandwich, and a short rib and bone marrow-blended burger.