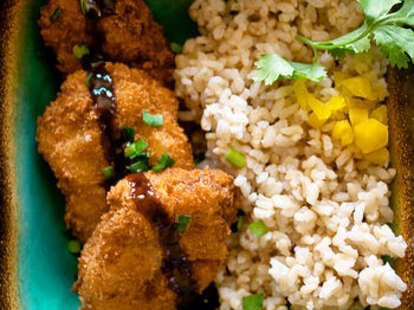 Unlikely pairings are fascinating, especially when they work -- as evidenced by Danny Glover and Mel Gibson, although to be fair, Mel Gibson gets along with pretty much everyone. Improbably pairing up in your stomach, Asian Soul Kitchen
Just launched from a business partner of Iron Chef Michiba and a NY restaurateur, ASK's dedicated to doling out food from the East and Deep South (sometimes concentrating on one, usually a multicultural mash-up), all served out of a truly novel idea guaranteed to blow your mind. Get ready. Food Truck. Hearty fare includes Japanese staples like yakisoba noodles w/ mixed vegetables, and nikujaga (beef & potatoes in pork broth w/ konyaku noodles), as well as more unusual dishes, like salmon korroke (salmon & potatoes fried in panko bread crust w/ pickled yellow daikon), Asian sliders (burgers seasoned w/ asian spices and topped w/ caramelized onions, shiitake mushrooms, and cheddar on a Chinese-style sweet bun) and sweet-and-sour tamarind-topped, southern fried drummettes, called "Lollipop Chicken," because frankly, poultry sucks. Side dishes range from traditional southern collared greens w/ smoked turkey, to braised string beans w/ bacon and garlic, to creamy mac & cheese, made with a proprietary cheese blend and given a little zang via some Asian spices, as well as three types of rices: Japanese brown rice, Japanese short-grain white rice, and nutty, antioxidant-stuffed rice that's Thai and black, but just considers itself American, dammit!
Of course, the truck's followable on Twitter, and's starting Downtown before hitting the rest of the city; they're also available for private catering, so order up a boatload of drummettes and sliders, and prepare to star in Predator Too.