Your most embarrassing messages, online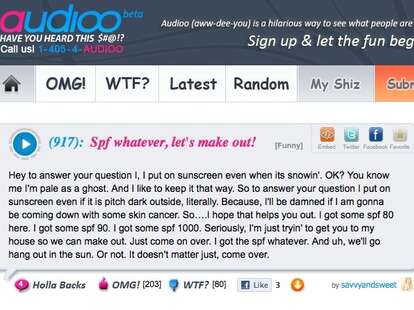 It's been proven time and time again that technology can come back to haunt you, especially if you live in a creepy mansion with Eddie Murphy. For even more real-world proof, hit up Audioo.
From a local tech-geek whose last project was an online repository of downloadable sound effects, Audioo's also a repository, this time utilizing embarrassing voicemails uploaded by users who received the messages from their friends -- or, once this site takes off, "friends." After upload, each message's transcribed and posted as both a text and audio file, with examples from various area codes including:
(718): A UPS guy calls a customer to pick up leftover boxes, which he's worried about 'cause he thinks they may be holding a ferret, a point he emphasizes by swearing, then saying "I don't cuss unless I'm serious about something" -- well, sh**.
(917): A clearly pale guy tries to convince a girl to come over by letting her know that "to answer your question, I put on sunscreen even if it is pitch dark outside, literally... I got some spf 80 here. I got some spf 90. I got some spf 1000. Seriously, I'm just tryin' to get you to my house so we can make out. Just come on over. I got the spf whatever. And uh, we'll go hang out in the sun. Or not. It doesn't matter." Hmmmm... actually it kind of does.
(Unknown): A slightly upset dude tells another that he is "a motherf***er um, and I am gonna kill you, and not attend your funeral, because...you suck." But only because he sucks, definitely not because he murdered him.
Audioo's got instructions on how to upload your own, plus a voicemail box you can call if you're feeling lonely/pranky, or just need someone to talk to that isn't a crystal ball haunted by the spirit of a gypsy.