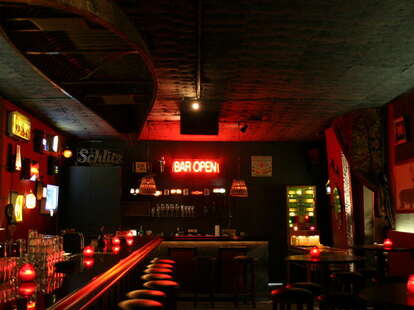 There are times in life when it's helpful to be direct: it's more efficient, there's less room for misunderstandings, and you don't have to eat at the Sky Harbor Chili's ToGo, though you should anyway, because that place is awesome. Understanding this need for bluntness, Beer Bar.
Attached to Silverlake Thai standby Rambutan and rustically outfitted with vintage fluorescent signs, a pinball-style shuffleboard/bowling machine, a monstrous, plastic-coated birch bar, and a dangling '20s-era canoe, Beer Bar is, well, exactly that, with over 50 obsessively curated bottles and 4 taps, plus design and list consulting from the dudes behind the wine bar Covell, but not the wine bar Cowell, as Simon only drinks Four Loko and Ssips. Beer's organized by region, w/ at least one offering from each brew category (each of which is defined on a card, i.e. "Bock -- Malty goodness, w/ high ABV"); locally, they've got Fort Bragg's North Coast La Merle, San Diego's Alesmith Speedway Stout, and rye IPA Alpine Nelson, also what Craig T. insisted everyone call him after he set his VCR to record the Nagano Winter Olympics. Europe-wise, choices vary widely from Germany's ale/lager hybrid Reissdorf Kolsch, Belgium's 8% St Bernadus Prior 8 Dubbel, and Ineeka Green Tea Bier, which's from the Netherlands, so yeah... "tea".
They're also fermenting some of the beer into barleywine on the premises, and they'll soon be launching a food menu w/ Southern staples like fried chicken, mashed potatoes, and okra, but no Southwestern Eggrolls, so adjust your travel plans accordingly.