True success is dependent on constant expansion: witness Apple growing their business from computers to iPods and music distribution, or Louie Anderson. For expansion in the restaurant game, check out the new Boa on Sunset. Recently opened just a mile from its former locale at the Grafton, Boa's still the same high-end steakhouse, but with new decor, a heavily revamped menu, and eight times the space of the original WeHo joint, pushing it into HoJo territory. Outside, there's a 4,000sqft patio with semi-circular, lacquered-wood booths, while the interior's got a lounge ringing an Indian-Granite-topped, mirrored-bottomed bar, and semi-private cocktail room with four tabletops that flip to reveal backgammon boards; the dining room gets multicolored stacked glass light fixtures and a wall of antique booze bottles, including genuine Kentucky moonshine that hasn't been opened since Prohibition, probably because it tastes like ass compared to legal stuff. The menu's retained classics (40-day dry-aged NY strip, John Dory Meuniere, etc) and newer dishes (spaghetti & Kobe meatballs, a camembert-/garlic aoli-topped burger), as well as just now adding an inexpensive lounge menu, a new $40 3-course prix-fixe (eg, tuna tartar, filet mignon medallions, "today's mousse"), and an all-new lunch menu including a rib-eye panini w/ Gruyere, and "Brick Chicken", which you can get wrapped up, take home, and totally dominate in H.O.R.S.E. Boa's also got new artisanal cocktails like the Boa 405 (Grey Goose/strawberries/gomme syrup/lemon sour/balsamic vinegar/black pepper) and the Alchemist (Alchemia ginger vodka/Pama liquor/lemon sour/orange slices/orange bitters), as well a specialty ice machine that spits out perfect 1 1/2in x 1 1/2in cubes, which is certainly the most important part of this new restaurant.
Recommended Video
FORK YEAH: Del Posto's 100-Layer Lasagne

Previous Venue
Next Venue
Venue Description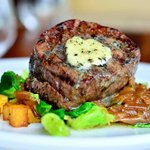 1. BOA
9200 Sunset Blvd, West Hollywood, CA 90069
This high-end steakhouse on the Strip is known for delicious steaks, sleek decor, and a glamorous clientele. Each cut of meat is perfectly juicy, and though you're undoubtedly here for the 40-day dry-aged New York strip or center-cut filet mignon, the mac & cheese side, made with smoked gouda and cheddar, is worth a trip in itself. And since this is LA, BOA has an entire menu dedicated to gluten-free food (thank god steak is GF).