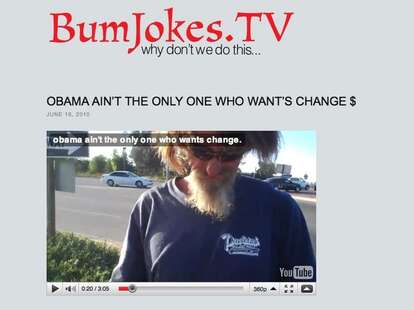 The homeless situation is such a touchy subject that there really is no tasteful way to make it funny, except maybe telling them to fight each other in an alley for a McRib, and putting it on YouTube, but, really, after that? Nothing. Possibly finding one other exemption, the dude behind Bum Jokes.
Bum Jokes is a video blog of, well, bums telling hilariously not-funny jokes all over the southland in exchange for cash and cigs, all from a guy who claims that he's just doing it to pay it forward, which, luckily for him, proves he's never seen the film. Among the gems:
"What's The Shiniest Part on a Piece of S**t": A punky Venice boardwalk couple tells jokes about crackheads and the cops, which ends when the woman asks for an extra dollar in exchange for her card and an invitation to "a venue for free" , which is cool, but it's not like Dave and Busters is that exclusive.
"Long Joke. But Funny...": A Del Taco-adjacent guy named Eddie "aka the worlds smartest redneck", tells a long, rambling tale about a kid's summer vacation that ends randomly with a non-sequitur punchline, all in exchange for "a handful of change", also Obama's tagline as advocated by a super-pragmatic consultant.
"Two Cannibals are Eating A Clown": An actually-funny duo of jokes from a down-on-his-luck guy who's been living in Bakersfield for 47 years, so, even if he were rich, he'd still be down-on-his-luck.
There're also a couple behind-the-scenes vids of the dudes from the site soliciting bums, plus some non-funny bums who'd rather give advice, like "when you're riding a skateboard, always take ecstasy" -- which is another touchy subject, literally.