Choice food and beer in a place that's rocked for a long time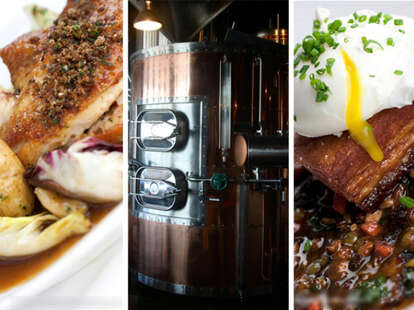 Opening Monday, Abigaile's a new farm-to-table brasserie and brewery, with food cooked up by a notable San Fran/Boston transplant, all in a former church that was once the rehearsal space for Black Flag and now's gussied up w/ graffiti art from one of the dudes behind Pennywise -- so even if you don't like their shows, don't expect to get a Nickelback.
Like dudes who transport stolen vehicles, the food's all about shared plates, with options like Rogue Creamery-blue-cheese-slathered fried slab bacon w/ red wine-glazed onion and watercress; grilled escarole salad w/ creamy anchovy vinaigrette, olive-chili salsa & egg; and tomato sauce/polenta-aided "Nana Carmella's Meatballs". If you ask nicely, they do have entree-sized ish, including a grilled double-cut pork chop w/ wild mushrooms, cippolinis, and bacon-marsala sauce; grilled flatiron steak w/ Parmesan mash; and a brown butter-fried branzino w/ pancetta, creamed fennel, and pearl onions that were roasted, marking the first time people cutting into them will actually cry with laughter.
Drinks-wise, the main attraction is house-brewed beer, w/ five options: dry-hopped pale ale, Canadian orange blossom ale, a double-pale, a brown sugar porter, and a vanilla-infused strong ale -- go to the bottom of every bottle and you'll finally know the answer to "Are we having fun yet?!?" Yeah yeah yeah ...no no.
Food photos by CaraTompkinsFoodPhoto.com