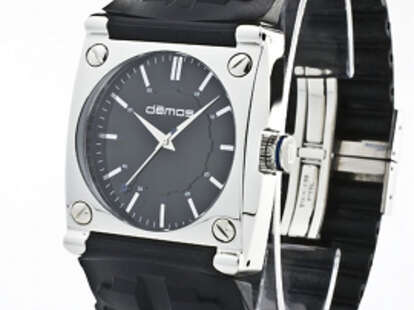 As an icon, motorcycles symbolize freedom and rebellion, and getting to call your girlfriend "old lady", even if she's only very tired. Now symbolizing that you're going to be late to work, Demos Watches.
Demos is a La Jolla-based watch outfit whose timepieces're based on the functional pieces of bikes and motorcycles, started by one Nissan designer and one watch/cycling enthusiast who went into the accessories business after he somehow got bored of selling industrial lasers. Fresh-color models just dropped in their two water-resistant designs, the first called the Chain, a round-faced, stainless steel number available in black/chrome with white or orange dials, whose band is made to look like a bike chain, with links spaced as close to real measurements as possible to add authenticity; though they don't list the exact weight, the company owner claims it's the heaviest watch he's ever felt, promising a future of having one super-jacked delt. The other model's the Tread, which gets a faux tire tread strap made from actual rubber, a square, convex glass face w/ a sprocket design in its, center and a heavy-duty screw at each corner, which is why you keep driving past there.
There're also plans in the works for another design based on Moto GP race motorcycles, with colors including Honda Red, Kawasaki Green, and BMW Blue, and a face modeled on a speedometer from a Harley -- a nice option if what's exhausting your girlfriend is you spending money on things you never wheel out of the garage.