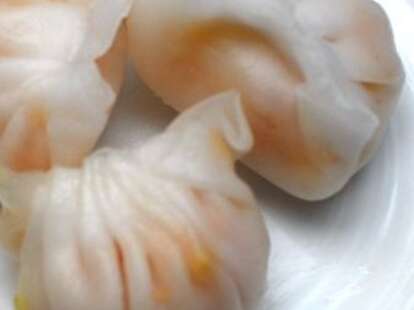 There are certain things you need after dark, but just never seem available, like a dentist, or a car repairman, or Benicio Del Toro, but guess who just up-and turned into a wolf? Knocking typically daytime Chinese grub off that list, the Dim Sum truck
The brainchild of a recent USC grad who did hard time learning his craft in a Chinese restaurant in San Jose, the Dim Sum Truck's a rolling ode to dumpling delicacies that's planning on being open and on the Westside far later than its lunchtime brick-and-mortar Chinatown brethren -- so, Venice barflys: 1, hungry Triads: 0. The truck's going to be doling out 9-or-more different selections per day, including a slew of traditional constants, like pork & shrimp shu mai, baked BBQ pork buns, sweet sesame balls, and beef sticky rice, any of which would make fantastically gross jokes, but, hey, this is about the food. They've also got some more unusual rotating goodness, including Peking duck tacos in a corn tortilla, pineapple BBQ buns, and chicken feet, as well their own proprietary sauce -- a spicy-and-savory combo of minced garlic, chilis, oyster sauce, and other secret ingredients hopefully strong enough to drown out the taste of chicken feet.
They'll be rolling quietly all this week with a formal launch party scheduled for Saturday from 7-10 at the Brig in Venice; mention Thrillist at any point through then for a free dessert, opening up the possibility that you'll need something else after dark that Benicio's no stranger to: elastic-waisted pants.