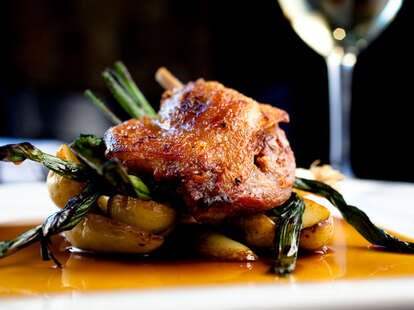 A long-awaited homecoming's great: visiting the old haunts, reconnecting with friends... hilariously calling Kristin Dutcher fat to those friends, after being shot down despite her alarming weight gain. Coming back to connect with your stomach, the chef behind Dish Bistro, opening Friday and taking reservations now.
Dish's a homey, mid-sized wood-and-exposed-brick ode to slow food, from a chef who was born in Pasadena but's spent the last few years honing his game at Sonoma's Manzanita, before making his way back downstate to show off his devotion to Cali cuisine, and more attractive girls. The small plates menu's heavy on made from-scratch pastas, handmade sausages, and house-cured bacons, with options including lobster ravioli w/ shaved Perigord truffles, seared mini lamb rack w/ roasted garlic and balsamic-braised shallots, and black cod, mussels, clams, bay scallops, and shrimp in a lobster-saffron broth, called the "Mini Boo-Ya," the catchphrase of a miniature Stuart Scott made even more annoying by his squeaky little voice. Entree-sized options range from crispy Sonoma liberty duck confit w/ grilled baby leeks, roasted baby fennel, and braised potatoes, to a Bodega Bay petrale sole filet w/ brown butter gold balsamic sauce, to an herb-and-garlic-chip-abetted bone-in NY strip, ironic given that garlic usually prevents bone in.
To keep your thirst at bay, they've also got drinks like a spicy mojito w/ serrano chili-infused citrus rum, coconut, cilantro, and muddled mint w/ agave syrup, and the Diplomatico Reserva/vanilla bean extract/bitters/sweet vermouth/dried cherry "Diplomatic Manhattan" which's exactly what you've got to be evaluating your homecoming options now that K Dutch is out of the picture.