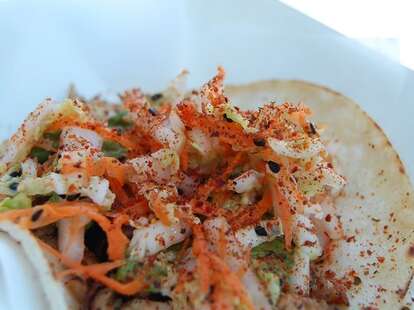 It's a solid move to get your feet wet before you dive into something, especially if that something is filled with fiscal uncertainty, and knives. Dipping their toes before taking on the restaurant game, The Flying Pig.
Just launched, The Flying Pig is a (fancy, this time!) food truck serving up Asian and Pacific Rim grub made via classic French techniques, from a couple guys who met at Le Cordon Bleu and were going to go into business with a brick & mortar restaurant, before they realized it'd be much safer to test their recipes on the road first, except for stop short grease scaldings. Most of the grub's served up as tacos, with selections including spicy pork w/ green papaya & cilantro cream; tamarind duck w/ toasted almond & pickled beet salad; smoked chicken w/ green curry & napa slaw; and grilled beef short rib w/ oyster mushrooms and "death sauce" -- actually a proprietary spicy/sweet hot sauce, and not Everclear. In addition to the tacos, they've got sliders w/ a beef/pork ground mixture, daikon sprouts and banana mustard; braised pork belly w/ red onion escabeche & sesame cucumber on a bao-type bun; and the fried, snack-like cilantro-lime chimichurri "Crab Balls" -- the collection and serving of which means Sebastian's got a much better chance of hitting "Kiss the Girl" high notes.
Though the truck'll scour the whole city, it'll start by concentrating on Santa Monica and Downtown. The duo's already got a space on Beverly for their eventual brick & mortar, scheduled to open this Winter -- 'cause the best thing about LA is you can swim anytime. And knives.