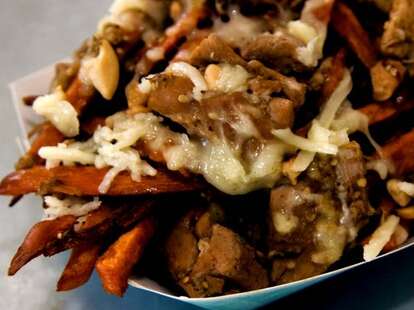 Like a sexy mistress, you've always just had fries on the side, which's great, until they start texting you at 4am, forcing you to lie to your girlfriend and tell her it's "just work," even though Hollister's been closed for hours. Well make those crazy fries your main squeeze, with Frysmith.
Finally launching this weekend after long delays due to everything from city permits to their truck-maker running away to Peru for a week, Frysmith's a gourmet food truck (powered by vegetable oil!) dedicated to making full french fry'd meals by topping those taters with a mess of ingredients that normally sit next to the fries on the plate, being like, "why are you always so salty!!?". Each dish starts with a base of hand-cut, canola-oil fried Kennebec potatoes (or sweet potatoes), with a main menu composed of 5 totally diet-kidney-punching dishes: Chili Cheese Fries (w/ Angus chili made with beer and chocolate & melted cheddar), Rajas Fries (shawarma-marinated steak w/ poblano chilis, caramelized onions, and Jack cheese), Kimchi Fries (w/ Kurobuta pork belly, onions, and cheddar), Chicken Sweet Potato fries (w/ a tomatillo-tamarind sauce and topped with cashews), as well as fries topped with vegan chili -- ok, so really only 4 choices. Frysmith's also going to have constantly rotating, crazy-ass specials, ranging from poutine w/ braised short rib and cheddar, to fries w/ albacore, corn, and Japanese pickled ginger, to sweet potato fries with chorizo, orange and Parmigiano, plus occasional TBA specials (like squash/coconut/chickpea soup) not even including fries -- BLASPHEMY!
The truck'll also have homemade, fresh-baked cookies (both traditional flavors like chocolate chunk as well as more unique offerings including apricot, white chocolate, and curry), and's rolling the streets incognito this weekend before the formal grand opening next week -- because it's not smart to make your mistress the main thing without first giving it a test drive.