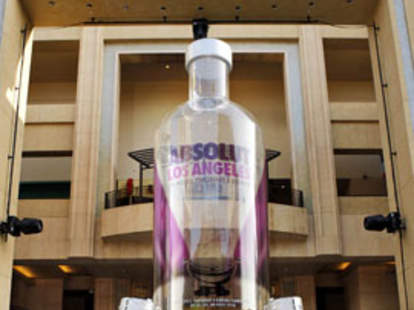 When something good's only around a while, you've got to use it for all it's worth, or else spend your life asking painful questions like "Why did I spend truffle season on the sidelines? Why?" Don't make that mistake with vodka: ABSOLUT LOS ANGELES is here for a limited time only, and it's ready for your cocktail.
ABSOLUT LA'S the Angelino representative of ABSOLUT's "Cities" campaign -- a limited run flavored with pomegranate, blueberry, acai, and acerola (which you might know as "wild crapemyrtle", but hopefully don't). To take full advantage while you can, try mixing one of these flick-themed cocktails, designed by vaunted LA mixologist Vincenzo Marianella:
Transsiberian: Made for day-drinking, with bite from basil, sweetness from crème de cassis and kiwi, tartness from lime juice, and ginger beer for that special effervescence you feel in your soul every time you hop a train for Mongolia.
Wanted: This number's topped with a thick, 5-6-egg-white foam sweetened and freshened up with pomegranate syrup, peach liqueur, and cucumber juice. So when someone asks, "Is that a cucumber in your hand, or are you just happy to see me?" you can confidently reply "What the hell is wrong with you?"
Mamma Mia: The most complex flavors of the three, with ingredients ranging from elderflower, to orange bitters, to kumquat marmalade. As for the name, you don't have to see it, you just have to drink it.
Lay your eyes on the recipes here
Furthering the "make-the-most-of-it" kick, ABSOLUT's donating the 20ft replica bottle currently towering outside the KODAK theatre to Aaron R. Thomas Design, who'll "upcycle" it into furniture, lighting, sculpture, etc, then send a portion of the proceeds to Green Way LA -- keeping our environment from disappearing faster than a fresh, delicious tuber.
ABSOLUT®. ACAI, ACEROLA, POMEGRANATE & BLUEBERRY FLAVORED VODKA. 40% ALC/VOL. ABSOLUT, ENJOY WITH ABSOLUT RESPONSIBILITY, ABSOLUT BOTTLE DESIGN AND ALL OTHER ABSOLUT TRADEMARKS ARE OWNED BY V&S VIN & SPRIT AB. ©2008 V&S VIN & SPRIT AB. ABSOLUT SPIRITS CO., NY, NY.