For bars, the Old World-theme's a risky one: taken too far and it'll feel like you're drinking in a Round Table Pizza, while undershooting means a coat of arms above the Megatouch 3000. For the right balance, check out The Griffin. Decked out with domed brick ceilings and red leather booths, The Griffin's a polished European tavern that in true Continental fashion facilitates drinking no matter the occasion. Behind the walnut bar a healthy selection of whiskeys and single malts compliments the usual European tap beer suspects ranging from easy-drinking Peroni to rich, creamy Boddingtons -- sure to rekindle tender, semester-abroad memories of drifting to sleep trying to keep down a bellyful of Boddingtons. There's also a comfortable smoking room in back, where you're free to puff away, filling the air with that most worldly of decorative touches, a haze of secondhand smoke. The Griffin's still working out its food menu, so for now you'll just have to drink your dinner -- then rage through the streets on the prowl for Erotic Photo Hunt and a King Arthur's Supreme.
Recommended Video
The 'Game of Thrones' Pop-Up Bar Is Now Open in Washington, DC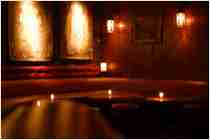 Previous Venue
Next Venue
Venue Description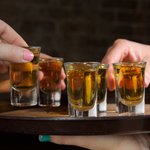 1. The Griffin
3000 Los Feliz Blvd, Los Angeles, CA 90039
Decked with arched brick ceilings, Gothic-style chandeliers, and red vinyl booths, The Griffin is like a medieval dungeon in Atwater Village. The cavernous lair is anchored by a stone platform with two fireplaces and a large bar, but it also features a spacious outdoor patio. The drinks are cheap, the menu full of burgers and beer, and the atmosphere low-key... unless you're a knight, in which case your coat of arms is not included.