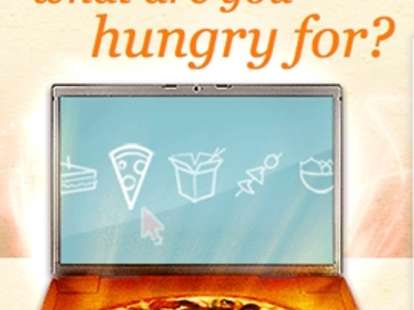 Since driving to grab a bite's such a pain, you consider yourself an expert on all places that deliver to your hood, but then again, you also consider yourself a sexpert. Ditch your lying self for the real experts at GrubHub.
Just launched in LA, GrubHub's a clickable online repository of over 1,200 local restaurants that deliver, all compiled in an ultra-interactive one-stop-shopping website, allowing you laziness so next-level, you're spared even the moderate bicep workout of opening your kitchen's "menu drawer". Using the site's uber-simple: input your address, and Grub'll dispense a list of all the restos that deliver to you, with notes that range from the hours of delivery to whether or not there's a fee for them to come to your door, to any coupons they may oblige, with most ordering available just via clicking on the menu items you'd like -- a convenient tool, sure, but who's going to appreciate your "Cream of Sum Young Guy" routine?? Registration's optional, but if you do choose membership there're some bonuses, including an online portfolio that keeps track of favorites and offers up suggestions; there's also a blog that announces new additions, as well as a twitter feed where you can interact with customer service agents, or just hear immediately when they spot Rosario Dawson at pilates.
To getcha going, Grub's offering a $10 discount for first-time users -- not that it's your first time, because you've done it a ton of times before.