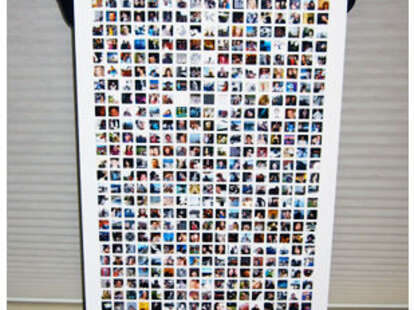 It's hard to keep track of all your friends on Facebook, mainly because those Friendster testimonials take forever to write. Now letting you keep track of your friends on your actual wall, Printing Facebook
PF's a so-simple-its-punkbillionaire genius app/biz developed by a SoCal grad student that creates a custom poster from all the friends you're linked to on the social network, but not on The Social Network, cuz then that grad student would already be Mez-a-rich. Using it's simple: let the app connect to your FB profile and download the pix of your friends, then choose the way you want it to look, with customizable options including margin size (small, medium, large, or none) and background color, which ranges from white, to black, to two shades of F-book blue, both of which are the natural result of finding your ex frenching Charlie Sheen in your newsfeed. All the art is printed on Fuji crystal archive paper using a photo-chemical process, and are 20inx40in, although occasionally they "come out a little shorter", also what the SWAT team negotiator yelled through his bullhorn when Warwick Davis held up a bank in high heels.
In case you're wildly popular, the limit on friends that'll fit on the poster's 4,500, with the lower limit being 200, and as of now he he's planning on making art next from Flickr, Tumblr, and Twitter -- a tough break for Friendster, if it weren't rolling in dough and having movies made about it.