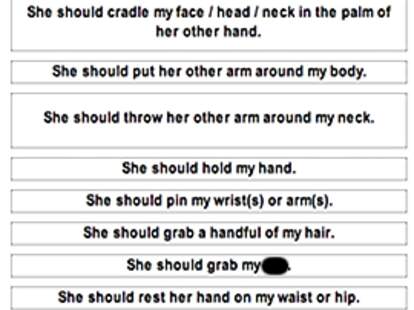 They say writing a book about yourself is the ultimate form of masturbation -- but what if you were to write a book about yourself that describes how best to masturbate you? What then, indeed: How To Make Love To...
HTMLT... is a just-launched website that surveys you on your sexual preferences, then presents the results in the form of a humorous book, all from the local guy who wrote the on-shelves-now tome How To Make Love To Adrian Colesberry, and fully customized the new site himself -- 'cause the only person you'd want to sex more than an author is an author/web programmer. Using the site's far easier than actually typing: after answering a few standard questions (M/F? Formal Name? Do you prefer your sex life written in first or third person?) and choosing which chapter to write ("Dating"/"Starting the Physical"/"Initiating the Sex" etc.), you'll be presented with multiple-choice questions ranging from innocent queries like "What's Your Attitude About Making Out or Mouth Kissing?" to full-monty details like "Are You Keeping Certain Activities or Body Parts In Reserve?", 'cause a man's gotta maintain some mystery, especially when it comes to his butt. Once you've submitted all your answers, you've got the option of actually writing a custom introduction or just viewing your original story, which gets graphic and detailed so as to train your lovers specifically, i.e. "Cheer yourself with the knowledge that I'd very much enjoy your fe**ating me, but that's it. I don't want to perform cu**ilingus on you in return" -- because honesty is the best policy (unless you plan on seeing each other again).
Right now, there're only seven chapters, but the author/programmer plans on adding more regularly, with the next one being "Fondling" -- which is fine, but you're going to need at least 20 minutes before you can even think about starting again.