Taking online dating offline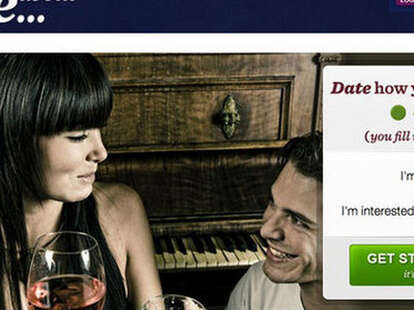 Like communism, online dating's great in theory, but in practice, you only end up getting the hotties if you're in the Politburo. Not solving that, but at least getting you off the laptop, Karl Marx HowAboutWe.
Just now launched in LA after first rolling out in cities with less attractive girls (Boston and Philly), HowAboutWe's a dating site that links you up with said mates via mutually interesting "fun dates" -- though good luck getting into clubs with the edible sweet fruit of a Middle Eastern palm tree. Using it's easy: once signed up, you'll help their algorithm by ranking a slew of possible dates ("guided microbrewery tour"; "see a midnight showing of an old black and white flick"; etc.), and then post a photo and answer just a couple basic questions: age, whether you exercise and smoke, education, and sex, to which you should answer "obviously not, or I wouldn't be on this thing, OK?!?". From there, you can scroll through date ideas or make one on your own; when you spot one you like, you can eye up the user who proposed it, then accept it, offer a counter date, or "poke" said proposer with the words "I'm Intrigued", though if the lady friend is anything like your dad, her immediate response will be "Hi intrigued, I'm Steve!".
New date ideas are posted daily, and are fine-tuned based on what you like, plus you have the option to forward along dates you think your buddies would like -- another move that's great in theory, until they actually meet Karl Marx Steve.