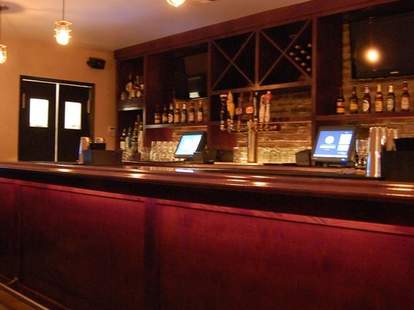 Nostalgia's a tricky beast that can even make you pine for things you've never actually experienced, like the 60s, and sexual intercourse. Capitalizing on that emotion: The Hudson.
Opening Thursday, The Hudson's a vintage-industrial barstaurant, with a massive, tree lined patio, dark wood booths, and a burgundy decor designed to make you feel like you're in a classic, pre-Prohibition Chicago-style establishment, all housed in what was formerly WeHo's first train station, with remnants of tracks outside to make you extra nostalgic for something you've never seen in LA. Food's upscale takes on typical bar grub, with starters like three cheese macaroni w/ slow roasted jalapenos, and wood grilled calamari w/ olives, arugula, and Meyer lemon vinaigrette sharing space with classy-like entrees including a grilled pork chop w/ a warm apple compote, mashed potatoes, and cider jus, and wood-grilled mahi w/ tabouli salad and mint yogurt, a dish that assumes you've got the (Space) balls to eat Mel Brooks. For boozin', the Hudson's got eight fairly straightforward drafts and 20+ bottles (Nectar Red Ale/Leffe Blonde/Czechvar), as well as specialty concoctions like The Bullet (Bulleit bourbon w/ sweet vermouth, orange bitters, and a dab of maple syrup), The Pike (Don Julio Blanco tequila w/ orange juice, sprite, and a splash of simple syrup), and the 10 Cane rum/fresh grapefruit/fresh lime/maraschino "Hemi," which, just like if it started with an "S", may keep you from standing up too quick.
The bar's also got a Sun-Wed late night happy hour w/ $3 drafts and $4 wells from 11pm-2am, and'll drop a free beer on opening night to Thrillist readers who knock on the bar three times when they place their order -- reminding you of something else nostalgic you never experienced: the code your college roommate was supposed to use when he thought you were finally getting ass.