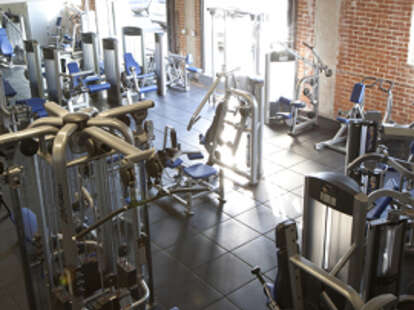 Working out at the gym is supposed to make you feel like a man -- but how manly can you feel when you're forced to wait politely for the Swedish stability ball? Get back to your manly roots, at Iron
Just opening this week, Iron's a glossy, two-story manned-up work out facility made to resemble a NYC loft, with vaulted wood ceilings, exposed-brick and faux-leather walls, helmed by a former Boston College lineman who's bulked up everyone from Kevin Garnett to Benjamin Bratt to Dave Matthews, who's always under the cable-crossover and dreaming. The equipment skews tough-guy, with an old-school-looking 80lb barbell stuffed with shotgun shot instead of sand; a rack machine with monstrous 50lb chains acting as the weights, and a room stocked with black "battle ropes" (made to slam into the ground for cardiovascular exercise); in addition, they've got four flatscreens visible gym-wide, showing either ESPN or "inspirational" photo montages of tastefully-topless Marissa Miller/Halle Berry/Cindy Crawford, as well as beefed-up dudes like Arnold Schwarzenegger and Bruce Willis, to ensure that guys aren't coyly stuck sitting at machines waiting out the effects of tastefully-topless Marissa Miller/Halle Berry/Cindy Crawford forever. Other awesome gear includes a boxing room stacked with top-of-the-line uppercut and speed bags from Cleto Reyes, a chest-press bar made of bamboo with ultra-wide rubber bands on its ends (to help train balance as well as strength), and a stationary bike with a built-in screen that simulates actual mountainous races, though the irritating grunting it inspires will mean it's more of a Tour-De-Glance.
Iron also offers personal trainers and a few classes (including a boxing class led by a former Tyson coach), and if you print this email and bring it in anytime in October they'll give you a full month membership free -- because what makes you feel more manly than being lavished with gifts?