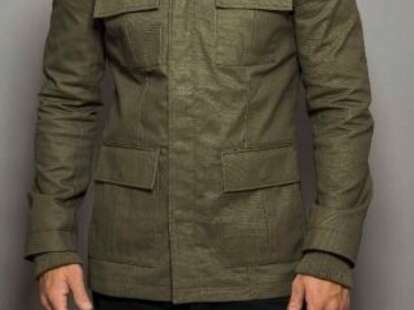 Some things are just never gonna change: you're always gonna wake up with coffee, you're always gonna wear jeans, and you're always gonna stand outside John Tesh's beachfront house, begging him to hum the NBA on NBC theme song, until that 'hole finally does it. Allowing you to break at least one of those conventions, Life After Denim
From a duo whose families have been in the garment business for generations, LAD's a local line dedicated to all sorts of wardrobe classics, from jackets to shirts to pants, with the notable exception of jeans, because they don't "want to compete in that category," the same excuse you give for never having maximized your potential in Sit 'N Reach. Most of the gear in the just-dropped Holiday line's helpfully outfitted with some sort of unexpected functionality: a large-shawled cardigan sweater's made from lambswool with nylon blended in to cut down on itchiness, a four front-pocketed military-style field jacket's wax-coated, which gives it a certain shininess/makes it waterproof, and their trench coat is reverseable, with one side beige canvas and the other a broken-twill, greyish color they call Castlerock, which is like yacht rock, if yachts were filled with super wealthy incestual aristocrats bent on domination -- so, just like yacht rock. Other gear includes v-necks with extra-wide material making up the "V", muted-plaid canvas slacks, and a crossweave-patterned button-up called the "Silverlake Shirt", which'll look nice with a mustache, and a detached, bemused rejection of network television.
For spring, the brand's planning on introducing ultra-bright shirts and pants, as well as a line of shorts -- 'cause some things are never gonna change, and one them is your embarrassing sweating issue.